Totti Berpisah dengan Roma, Laga Terakhir Hadapi Genoa
Roma Celebrated `Totti Day` as Their Legendary Skipper Played his Final Game
Editor : Ismail Gani
Translator : Novita Cahyadi

PUBLISHED: Senin, 29 Mei 2017 , 23:52:35 WIB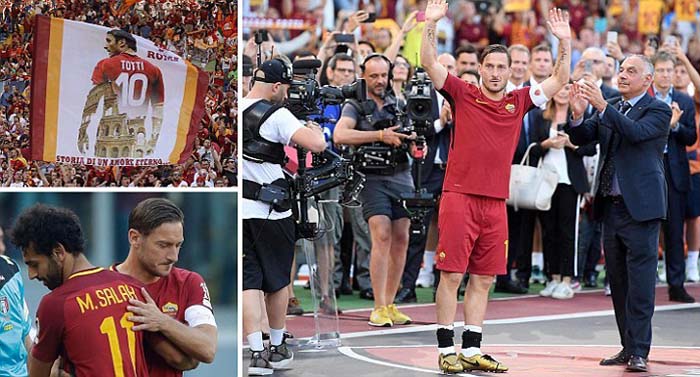 Foto2: MailOnline
DIA MUNGKIN tidak masuk daftar 11 pemain (starting XI) namun laga terakhir Roma musim ini menghadapi Genoa, yang menjadi bintang hanya satu orang, Francesco Totti.

Manajer Luciano Spalletti tidak akan mengakui dan tidak mau tunduk pada sentimen dengan memilih sang bintang, yang dipuji sebagai 'kebanggaan kota' oleh warga Roma selama ini, untuk mengawali laga terakhirnya.

Totti memang memasuki pertandingan untuk terakhir kalinya sebagai pemain Roma dalam 10 menit memasuki babak kedua dengan skor 1-1. Spalletti memberi waktu bagi pemilik jersey No 10 selama 40 menit untuk memenangkan pertandingan.

Ada drama tapi Totti bukan protagonis. Dalam laga di mana Pietro Pellegri, yang berusia 16 tahun bahkan belum saat Totti melakukan debutnya, membuka skor Edin Dzeko menyamakan kedudukan sebelum babak pertama. Daniele De Rossi mengira golnya akan menentukan kemenangan di menit ke-74 namun Darko Lazovic berhasil menyamakan skor.

Diego Perotti memastikan fans Roma bisa mengucapkan selamat tinggal pada ikon mereka dengan mengamankan posisi di penyisihan grup Liga Champions saat ia merangsek di menit terakhir pertandingan.

Setelah peluit akhir ditiupkan berlinang air mata dari pemain berusia 40 tahun saat ia melambaikan tangan mengucapkan selamat tinggal pada Stadion Olimpico. Dia mendapat bingkisan perpisahan berupa foto besar berpigura sementara para pendukungnya mengangkat kartu dengan nama dan nomor terkenalnya.

Dia kemudian berbicara di mikrofon untuk mengatakan sesuatu sebagai bukti perpisahan penuh emosional dengan pendukung klub, dengan menceritakan awal mula bergabung di klub, kebanggaan dan keinginannya yang luar biasa di masa depan.

Dia mengatakan: "Selama beberapa bulan terakhir, saya bertanya pada diri sendiri mengapa saya harus terbangun dari mimpi ini."

'Bayangkan Anda adalah anak yang memiliki mimpi yang indah ... dan ibumu membangunkan Anda untuk pergi ke sekolah. Anda ingin terus bermimpi ... Anda mencoba menyelinap kembali ke dalam mimpi tapi Anda tidak pernah bisa. Kali ini, ini bukan mimpi, tapi kenyataan dan saya tidak bisa lagi kembali bermimpi."

"Saya ingin mempersembahkan surat ini untuk Anda semua - kepada semua anak yang telah mendukung saya. Kepada anak-anak di masa lalu, yang kini sudah dewasa dan menjadi orang tua dan anak-anak sekarang, yang mungkin meneriakkan 'Tottigol'. Saya ingin berpikir bahwa untuk Anda, karir saya telah menjadi dongeng bagi Anda untuk diteruskan.

"Sudah berakhir sekarang. Saya harus melepas jersey klub untuk terakhir kalinya."

Meski Totti absen dari starting XI, klub belum menyatakan akan membuat upacara khusus. Untuk memperingati sang 'Raja Roma', saya Giallorossi mengenakan kaos khusus untuk menandai kesempatan tersebut. Logo 'Totti 10' terpampang di lengan baju, disertai pesan khusus yang berisi kutipan: 'Una squadra per la vita', yang diterjemahkan sebagai, 'satu tim untuk seumur hidup'.

Patung-patung itu dipasang di luar Stadion Olimpico dengan para penggemar memotret Totti dalam sejumlah pose terkenal. Sebuah pesawat kecil terbang di atas Olimpico dengan spanduk bertuliskan 'Terima kasih kapten'. Harian Romawi Il Tempo (The Time) bahkan mengubah masthead mereka di halaman depan untuk menandai kesempatan tersebut, mengadopsi moniker 'Totti's Time'.

Apa masa depan bagi Totti masih belum jelas. Dia belum secara resmi mengkonfirmasi masa pensiunnya, hanya menegaskan bahwa pertandingan Genoa akan menjadi yang terakhir baginya untuk mendukung Roma seperti dilansir MailOnline.
HE MAY not have been in the starting XI but Roma's season ending clash with Genoa was only really about one man, Francesco Totti.

Manager Luciano Spalletti was not going to admit as much and did not bow to sentiment by selecting the man, hailed as the 'core of the city' by one Roman daily, to start his farewell match.

Totti did enter the game for the final time as a Roma player in 10 minutes into the second half with the score at 1-1. Spalletti giving his No 10 40 minutes to win the game.

There was drama but Totti was not the protagonist. In a game where Pietro Pellegri, a 16-year-old not even born when Totti made his debut, opened the scoring Edin Dzeko equalised before half-time. Daniele De Rossi thought he'd got the winner in the 74th minute but Darko Lazovic levelled soon after.

Diego Perotti ensured the Roma fans could say farewell to their icon with a Champions League group stage place secure when he struck in the game's final minute.

After the final whistle there were tears from the 40-year-old as he waved goodbye to the Stadio Olimpico. He was presented with a framed shirt whilst fans held up cards bearing his name and famous number.

He then took the microphone to say what proved an emotional farewell to the club's supporters, during which he shared his early memories, his immense pride and thoughts on the future.

He said: 'Over the past few months, I've asked myself why I'm being awoken from this dream.

'Imagine you're a child having a good dream… and your mother wakes you up to go to school. You want to keep dreaming… you try to slip back into the dream but you never can. This time, it's not a dream, but reality and I can no longer slip back in.

'I want to dedicate this letter to all of you – to all the children that have supported me. To the children of yesterday, who have grown up and become parents and to the children of today, who perhaps shout 'Tottigol'. I'd like to think that for you, my career has become a fairytale for you to pass on.

'It's really over now. I'm taking off that jersey for the final time.'

Despite Totti's absence from the starting XI, the club were not going to stand on ceremony however. To commemorate 'the King of Rome', I Giallorossi wore special shirts to mark the occasion. A 'Totti 10' logo was emblazoned on the sleeves, accompanied by a special message containing the quote: 'Una squadra per la vita', which translates as, 'one team for a lifetime'.

Statues were erected outside the Stadio Olimpico with fans taking pictures of Totti in a number of famous poses. A small plane flew over the Olimpico with a banner reading 'Thank you captain'. Roman daily Il Tempo (The Time) even changed their masthead on the front page to mark the occasion, adopting the moniker 'Totti's Time'.

What the future holds for Totti is still unclear. He has not officially confirmed his retirement, only confirmed that the Genoa game will be his last for Roma.