Yerusalem Timur Diakui Arab Saudi sebagai Ibukota Palestina Merdeka, kata Raja Salman
Palestinians have Right to Jerusalem as Capital: Saudi King
Editor : Ismail Gani
Translator : Novita Cahyadi

PUBLISHED: Kamis, 14 Desember 2017 , 13:02:00 WIB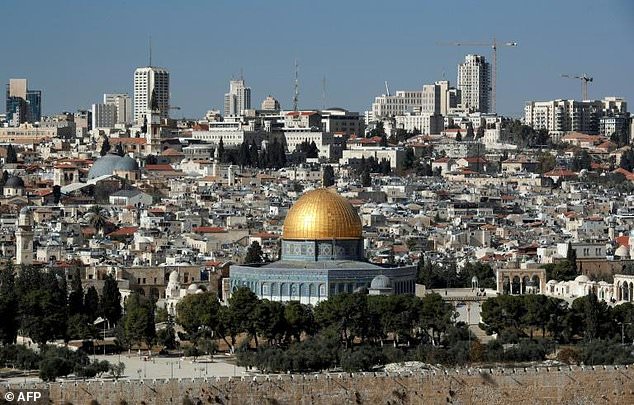 Kota Yerusalem (Foto: AFP/MailOnline)
RAKYAT PALESTINA memiliki hak atas Yerusalem Timur yang dianeksasi Israel sebagai ibukota mereka, kata Raja Arab Saudi Salman bin Abdulaziz Al Saud, dan Kerajaan Arab Saudi mengakui Yerusalem Timur sebagai ibukota Palestina.

"Kerajaan Arab Saudi telah meminta solusi politik untuk menyelesaikan krisis regional Timur Tengah. Yang terpenting adalah masalah Palestina dan pemulihan hak-hak mereka, termasuk mendirikan negara dengan Yerusalem Timur sebagai ibu kotanya," kata Raja Salman.

Raja Salman menyampaikan pernyataan tersebut di hadapan Dewan Syura Kerajaan Saudi di Riyadh pada Rabu yang disiarkan stasiun televisi pemerintah. Sikap resmi Raja Salman ini muncul di saat negara-negara Organisasi Kerja Sama Islam (OKI) menggelar KTT Luar Biasa di Istanbul, Turki.

Raja Salman memerintahkan Dewan Konsultatif Kerajaan Arab Saudi untuk hadir dalam pertemuan darurat di Istanbul sebagai respon atas pengakuan AS atas Yerusalem sebagai ibu kota Israel.

Salman menegaskan keputusan sepihak Presiden Amerika Serikat Donald Trump "menunjukan bias yang luar biasa terhadap hak rakyat Palestina di Yerusalem. Padahal, dia melanjutkan, hak masyarakat telah dijamin berdasarkan resolusi internasional."

Dalam pertemuan di Istanbul, Rabu, Presiden Turki Recep Tayyip Erdogan juga telah mengajak kepada negara di dunia untuk mengakui 'Yerusalem Timur sebagai ibu kota Palestina', sementara Presiden Palestina Mahmoud Abbas mengatakan, diakuinya Yerusalem sebagai Ibu Kota Israel oleh Presiden Donald Trump adalah sebuah kekejaman. Menurut dia, Amerika tak bisa lagi menjadi mediator yang jujur dan dapat diandalakan untuk menyelesaikan konflik di kawasan.

Presiden Iran Hassan Rouhani - musuh utama Saudi - melalui pidatonya mengecam kebijakan politik luar negeri Arab Saudi sebagai sekutu Washington di Timur Tengah.

"Beberapa negara di wilayah kita bekerja sama dengan Amerika Serikat dan rezim Zionis dalam menentukan nasib Palestina," katanya.

Raja Yordania Abdullah II, Presiden Lebanon Michel Aoun, para emir Qatar dan Kuwait dan presiden Afghanistan, Indonesia dan Sudan semuanya bergabung dalam pertemuan puncak tersebut.

Namun Arab Saudi, yang menjadi markas sekretariat OKI, hanya mengirim seorang pejabat senior kementerian luar negeri dalam KTT tersebut.

Salman kemudian balik mengecam kritik dari Iran.

"Kerajaan ini bekerja sama dengan mitranya untuk mengatasi fenomena campur tangan dalam urusan internal orang lain untuk mengurangi tekanan sehingga memperparah keamanan di wilayah ini."

Dia mengatakan Arab Saudi "berada di garis depan perang melawan terorisme dan mengeringkan pendanaannya."

Salman memberikan dukungan kuat terhadap reformasi yang dipimpin oleh putranya, Putra Mahkota Mohammed bin Salman, termasuk sebuah program yang luas untuk merestrukturisasi ekonomi untuk mengurangi ketergantungan pada produksi minyak dan bergerak maju untuk menghapus larangan wanita menonton film di bioskop dan mengendarai kendaraan bermotor seperti dikutip AFP yang dilansir MailOnline.
PALESTINIANS have the right to Israeli-annexed east Jerusalem as their capital, Saudi King Salman said Wednesday, echoing calls at an Islamic summit in Istanbul from which he had stayed away.

"The kingdom has called for a political solution to resolve regional crises, foremost of which is the Palestinian issue and the restoration of the Palestinian people's legitimate rights, including the right to establish their independent state with east Jerusalem as its capital," the king said.

Salman's address to the kingdom's Consultative Council came as the world's main pan-Islamic body held an emergency summit in Istanbul in response to last week's US recognition of Jerusalem as Israel's capital.

The king renewed his condemnation of President Donald Trump's decision, saying it "represents an extreme bias against the rights of the Palestinian people in Jerusalem that have been guaranteed by international resolutions".

At Wednesday's summit, Turkish President Recep Tayyip Erdogan called on the world to recognise east Jerusalem as the "capital of Palestine", while Palestinian leader Mahmud Abbas warned there could be no peace in the Middle East until such a move was made.

Iranian President Hassan Rouhani -- a Saudi arch foe -- used his speech to make a thinly veiled jab at Washington's Arab allies.

"Some countries in our region are in cooperation with the United States and the Zionist regime in determining the fate of Palestine," he said.

Jordanian King Abdullah II, Lebanese President Michel Aoun, the emirs of Qatar and Kuwait and the presidents of Afghanistan, Indonesia and Sudan all joined the summit.

But Saudi Arabia, which hosts the pan-Islamic bloc's secretariat, sent only a senior foreign ministry official.

Salman made an oblique reference to Iran in his speech.

"The kingdom is working with its partners to deal with the phenomenon of interfering in the internal affairs of others to fan confessional tensions and to destabilise the region".

He said Saudi Arabia was "at the forefront of the fight against terrorism and drying up its funding."

Salman gave strong backing to reforms led by his son, Crown Prince Mohammed bin Salman, including a wide-ranging programme to restructure the kingdom's oil-dependent economy and moves to end longstanding bans on cinemas and women driving.

"Your country seeks to develop its present, build its future and move forward on the path of development, modernisation and continuous development in a manner that does not contradict our values and constants," the king said.

"Our message to all is that there is no place among us for radicals who see moderation as a sign of decay and exploit our tolerant faith to achieve their goals."