Dubes Rusia di Turki Ditembak Mati, "Allahu Akbar.. Kami Mati di Aleppo, Anda Mampus di Sini"
Russian Ambassador to Turkey is Shot Dead by Gunman Screaming: ´Allahu Akbar... We Die in Aleppo, You Die Here`
Editor : Ismail Gani
Translator : Novita Cahyadi

PUBLISHED: Selasa, 20 Desember 2016 , 05:41:00 WIB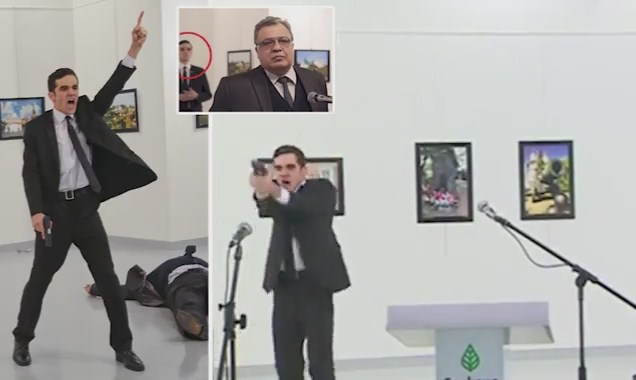 Hal ini diyakini ia menggunakan ID polisi untuk mengelabui staf keamanan di pameran. Situs berita pro Kremlin melaporkan bahwa Dubes Karlov ditembak 11 kali (Foto2: MailOnline)
DUTA Besar Rusia untuk Turki pada Senin malam waktu setempat ditembak mati oleh seorang personel polisi Turki yang sedang cuti di sebuah galeri seni di Ankara yang tampaknya merupakan serangan ´balas dendam´ atas konflik di Suriah.

Dubes Andrei Karlov, 62, ditembak berkali-kali dari jarak dekat oleh penembaknya seraya berteriak: "Allahu Akbar. Kami mati di Aleppo, Anda mati di sini!" Dia juga berteriak" "Hanya maut yang membawa saya keluar dari sini."

Penembak telah diidentifikasi adalah Mevlut Mert Altintas, 22, polisi anggota satuan anti huru-hara kepolisian Ankara, yang melepas tembakan ke atas sebelum menembak mati duta besar. Tiga orang lainnya juga terluka, menurut media lokal.

Foto-foto dari hasil screenshots memperlihatkan Altintas, mengenakan jas dan dasi, mondar-mandir di galeri sambil mengacungkan pistol dengan satu tangan. Dia ditembak mati 15 menit kemudian oleh polisi dari satuan khusus.

Presiden Rusia Vladimir Putin menyatakan pembunuhan tersebut merupakan ´provokasi´ sementara juru bicara Kremlin menyebutnya sebagai ´serangan teror´. Menteri luar negeri Turki mengatakan, kedua negara akan bekerja sama untuk menyelidiki pembunuhan tersebut.

Pembunuhan tersebut menyusul protes di Turki setelah Rusia mengambil alih peran di Suriah dan terjadi hanya satu hari sebelum Rusia meminta Turki dan menteri luar negeri Iran untuk membahas evakuasi warga sipil dari Aleppo.

Rusia secara resmi mengutuk penembakan tersebut sebagai "aksi teroris" dan Putin menuding hal itu ´sangat mungkin´ bahwa hal itu direncanakan oleh ´dinas rahasia dari anggota NATO.´

Menteri Luar Negeri Inggris Boris Johnson menuding hal itu sebagai tindakan ´pengecut´ dan ´tercela.´ Dalam pernyataan resminya, Departemen Luar Negeri AS mengutuk ´aksi kekerasan´, seraya menambahkan: "Pikiran dan doa kami dengan dia dan keluarganya."

Karlov ditembak saat dia menyampaikan pidato pada pembukaan pameran di Pusat Seni Kontemporer Ankara, dekat dengan kedutaan Rusia dan hanya 100 m dari Kedubes Amerika Serikat (AS).

Peristiwa mencekam tersebut direkam oleh jurnalis yang meliput kegiatan pembukaan galeri.

Rekaman menunjukkan Mr Karlov tersandung dan jatuh ke tanah setelah ditembak. Altintas, mengenakan jas dan dasi, terlihat mondar-mandir galeri sambil mengacungkan pistol di satu tangan.

Dia berteriak: ´Allahu Akbar´ dan kemudian berbicara tentang berjanji setia kepada jihad dalam bahasa Arab.

Beralih ke bahasa Turki, dia kemudian bilang: ´Jangan lupakan Suriah, jangan lupakan Aleppo. Semua orang yang berpartisipasi dalam tirani ini akan bertanggung jawab,´

Dia juga berteriak: ´Mundur! Mundur! Hanya kematian akan membawa saya keluar dari sini. Siapapun yang memiliki peran dalam penindasan ini akan mati satu per satu. "

Hal ini diyakini ia menggunakan ID polisi untuk mengelabui staf keamanan di pameran. Situs berita pro Kremlin melaporkan bahwa Dubes Karlov ditembak 11 kali. Dia kemudian dibawa ke rumah sakit namun kemudian dinyatakan meninggal.

Badan Keamanan Turki Anadolu mengatakan pria bersenjata itu telah ´dinetralkan´. Laporan menunjukkan dia dibunuh oleh polisi di lokasi.

CNN Turk melaporkan adik dan ibu Altintas telah ditahan di provinsi asalnya Aydin seperti dilansir MailOnline.
THE RUSSIAN ambassador to Turkey was tonight shot dead by an off-duty Turkish police officer at an art gallery in Ankara in an apparent ´revenge´ attack at the conflict in Syria.

Ambassador Andrei Karlov, 62, was repeatedly shot in the back at close range by a gunman shouting: ´Allahu Akbar (God is Great). We die in Aleppo, you die here!´ He also screamed: ´Only death will take me out of here.´

The gunman has been identified as Mevlüt Mert Altintas, 22, a member of Ankara´s police riot squad, fired into the air before taking aim at the ambassador. Three others were also injured, according to local media

Shocking footage of the attack shows Altintas, dressed in a suit and tie, pacing the gallery while brandishing a gun in one hand. The killer was shot dead after a 15-minute standoff with special forces police.

Putin has declared the assassination a ´provocation´ while a Kremlin spokeswoman called it a ´terror attack´. Turkey´s foreign minister tonight said the two countries would work together to investigate the killing.

The assassination follows days of protests in Turkey over Russia´s role in Syria and comes just one day before the Russians are due to host Turkey and Iran´s foreign ministers for talks on the evacuation of civilians from Aleppo.

Russia officially condemned the shooting as a ´terrorist act´ as a top Putin ally said it was ´highly likely´ that it had been planned by the ´secret services of a Nato country´.

British Foreign Secretary Boris Johnson branded the attack ´cowardly´ and ´despicable´. In a statement, the US State Department condemned the ´act of violence´, adding: ´Our thoughts and prayers are with him and his family.´

Mr Karlov was shot as he delivered a speech at the opening of an exhibition at the Ankara Center for Contemporary Art, close to the Russian embassy and just 100m from the American embassy.

The horrific scene was filmed by journalists covering the opening.

Footage shows Mr Karlov stumbling and falling to the ground after being shot. Altintas, dressed in a suit and tie, can also be seen pacing the gallery while brandishing a gun in one hand and waving his other in the air.

He shouted: ´Allahu Akbar´ (´God is greatest´) and then talks about pledging allegiance to jihad in Arabic.

Switching to Turkish, he then said: ´Don´t forget about Syria, don´t forget about Aleppo. All those who participate in this tyranny will be held accountable´.

He also screamed: ´Stand back! Stand back! Only death will take me out of here. Anyone who has a role in this oppression will die one by one.´

It is believed he used his police ID to bypass security staff at the exhibition. One pro-Kremlin news website reported that Mr Karlov was shot 11 times. He was taken to hospital but later declared dead.

Turkey´s Anadolu Agency has said the gunman has been ´neutralised´. Reports suggest he was killed by police on site.

CNN Turk reports Altintas´s sister and mother have been detained in his home province of Aydin.