Jangan Ditiru! Bintang Instagram Ketahuan Unggah Foto Edit PhotoShop
Instagram Star is Caught Out Faking Some of Her Most Stunning Travel Pictures
Editor : Ismail Gani
Translator : Novita Cahyadi

PUBLISHED: Sabtu, 15 Juli 2017 , 15:47:45 WIB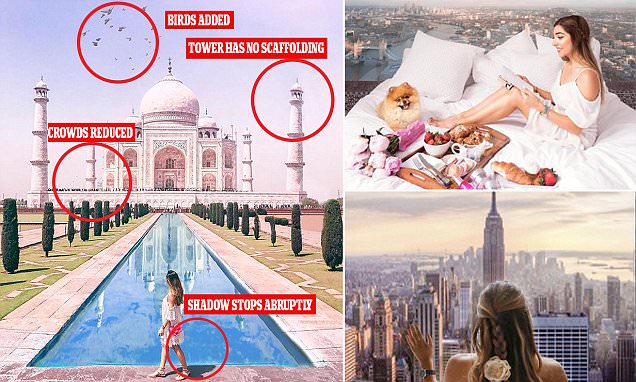 Ada hal aneh, yang disorot followers, adalah scaffolding di bagian tenggara dari menara, dan bayangannya terhenti di tepi kolam air, menunjukkan sebagai hasil foto edit di Taj Mahal (Foto: MailOnline)
SEORANG blogger perjalanan yang produktif dituding mengunggah foto-foto dirinya di destinasi terkenal di dunia

Amelia Liana kepergok ketika dia menggunggah foto dirinya di New York di Instagram.

Para followers-nya melihat ada sesuatu yang janggal - foto-foto tersebut diperkirakan dilakukan di bagian atas Rockerfeller Center di Manhattan, namun Freedom Tower yang berdiri empat tahun lalu tidak terlihat.

Seseorang menulis: 'Lucu! Itu adalah gedung pengganti World Trade Center (yang baru) padahal ... panoramanya sangat, sangat berbeda sekarang.'

Dan yang lain menulis: 'Panorama tersebut hasil edit Photoshop? Bangunannya sekarang berbeda."

Komentar lain masih menyoroti hal yang sama: 'Tidak seperti kondisi terkini NYC ... dan bayangan Anda di cermin tidak terbalik ... hanya disalin dan disisipkan di atasnya ....'

Di samping foto tersebut, yang diunggah pada 25 Mei tahun ini, Liana menulis: 'Selamat datang di NYC #TopOfTheRock'

Pakar dari redaksi foto The Times mengonfirmasi bahwa foto blogger tersebut hasil rekayasa yang ditaruh di atas foto lama New York.

Foto lain yang juga mengundang pertanyaan adalah foto Liana di depan Taj Mahal di India.

Hal yang tampak janggal adalah tidak adanya kerumunan wisatawan yang biasanya terlihat di destinasi wisata tersebut.

Ada hal aneh, yang disorot followers, adalah scaffolding di bagian tenggara dari menara, dan bayangannya terhenti di tepi kolam air, menunjukkan sebagai hasil foto edit.

Mengacu pada sekawanan burung dalam foto tersebut, seseorang berkomentar: 'Sebenarnya ini adalah hal konyol dengan mengedit foto tersebut. Faktanya foto kerumunan burung adalah hasil edit juga.'

Komentar yang lain: 'Sangat menggelikan. Hasil edit foto yang sangat buruk.'

Seorang warga London usia 26 tahun, yang kerap mengunggah foto-foto dari produk kecantikan dan merek mahal seperti tas Gucci di akun Instagram - yang memiliki hampir 450.000 followers - telah dihubungi untuk memberikan komentar.

Foto Liana memegang es krim sepertinya juga menarik perhatian para followers-nya.

Pada sebuah posting Instagram yang tengah memegang es krim di Florence, Italia, satu pengguna Instagram menulis: 'Tidak masalah dengan mengedit instagrams Anda, tapi ketika Anda mengeditnya sama seperti Anda benar-benar berbohong kepada pengikut Anda? Jus menunjukkan bahwa beberapa orang terlalu terobsesi dengan gaya hidup yang "tidak dapat dipikirkan" ... '

Dan di samping gambar es krim yang belum meleleh di New York, seseorang berkomentar, 'Bagaimana mungkin?! Tempat es krim itu bukan berada di tempat Anda 'berfoto' memegang es krim.'

Dalam sebuah pernyataan kepada The Times, Liana mengatakan: 'Saya memiliki banyak pengikut setia yang saya anggap sebagai teman-teman saya dan saya tidak akan pernah menipu mereka dengan menempatkan diri saya dalam sebuah foto dimana saya tidak berada di lokasi yang saya datangi.'

"Saya berusaha menyajikan foto-foto saya dengan cara terbaik namun tetap setia kepada pengikut saya dengan memotret di lokasi yang sebenarnya."

Biografinya di situs web agen Storm menyatakan: 'Pengaruhnya terhadap gaya dan kecantikan Amelia ke adegan YouTube pada 2013 dengan channel dan blog amelialiana dan dengan cepat berkembang menjadi keterkaitan yang disayangi dan terbuka dengan publik yang terus bertambah.'

"Gaya dan pesonanya yang santai membuat Amelia menjadi figur yang disukai oleh para pengikutnya, yang memungkinkannya memberikan nasehat dan panduan yang tak ternilai harganya untuk topik yang lebih menarik melampaui kecantikan dan mode."

Dia bermukim antara London dan New York, di mana sejumlah gambar Instagramnya diunggah.

Blogger itu kemarin terlihat di kerumunan penonton menyaksikan kompetisi tenis di Wimbledon.

Setelah diberitahu oleh penggemar bahwa mereka melihatnya di tayangan televisi, Liana menulis: "Rupanya saya sedang menonton TV di Wimbledon! Apakah ada yang memotretnya? Ha ha!! Saya ingin melihat!'

Satu foto yang diunggah di Instagram oleh blogger muncul untuk menunjukkan bahwa dia berjalan menuju lalu lintas yang melaju di New York, mendorong beberapa pengguna untuk memperingatkan tentang keselamatannya seperti dilansir MailOnline.
A PROLIFIC travel blogger has been accused of posting doctored pictures of herself in beauty spots around the world.

Amelia Liana was caught out when she shared a picture of herself in New York on Instagram.

Her followers spotted there was something amiss - her image was purportedly taken at the top of the Rockerfeller Center in Manhattan, but the four-year-old Freedom Tower was nowhere to be seen.

One wrote: 'Cute! That's pre-World Trade Center (the new one) though...the skyline is very, very different now.'

And another wrote: 'Why is this skyline completely photoshopped? The buildings are different now.'

A further comment on the image said: 'Thats not what NYC looks like...and your reflection in the mirror isnt reversed...its just copy and pasted on top...'

Alongside the image, posted on May 25 this year, Liana wrote: 'What a welcome to NYC #TopOfTheRock'

Experts from The Times picture desk confirmed that an image of the blogger had been superimposed over an old image of New York.

Another picture that raised questions was an image of Liana in front of the Taj Mahal in India.

Noticeable by their absence were the crowds of tourists usually seen at the tourist attraction.

Also missing, eagle-eyed viewers spotted, was scaffolding at the side of the landmark, and her shadow stopped at the side of the water, suggesting a picture of her had been superimposed.

Referring to a flock of birds in the image, one commenter wrote: 'It's actually ridiculous how much you photoshop your content. The fact that you've EDITED IN these birds.'

Another posted: 'This is hilarious. Do (sic) badly edited.'

The 26-year-old Londoner, who frequently posts pictures of beauty products and merchandise such as Gucci handbags on her Instagram account - which has nearly 450,000 followers - has been contacted for a comment.

Pictures of Liana holding ice cream seemed to particularly ire followers.

On an Instagram post showing an ice cream being held up in Florence, Italy, one Instagram user wrote: 'No problem with editing your instagrams, but when u edit them as much as you do you're straight up lying to your followers ?? Jus shows that some people are far too obsessed with having an "instagrammable" lifestyle...'

And next to a picture of an unmelted ice cream being held in New York, a commenter wrote: 'How is this possible?! That ice cream place is no where near were you "took the pic"'

In a statement to The Times she said: 'I have lots of loyal followers that I consider my friends and I would never cheat on them by putting myself in a picture where I wasn't in a natural location.

'I do strive to present my photographs in the best possible way but always remain faithful to my followers by taking my pictures in real locations.'

Her biography on agency Storm's website states: 'Style and beauty influencer Amelia stormed onto the YouTube scene in 2013 with her channel and blog amelialiana and has quickly developed a cherished and open relationship with her growing audience.

'Her relaxed style and charm has led to Amelia becoming a trusted confidante to her followers, enabling her to deliver invaluable advice and guidance on more delicate topics beyond traditional beauty and fashion.'

She is based between London and New York, where a number of her Instagram images are posted from.

The blogger was yesterday spotted in the crowd watching tennis at Wimbledon.

After being alerted by fans to the fact she had appeared on television, Liana wrote: 'Apparently am on TV at Wimbledon! Did anyone get a picture? Haha!! I wanna see!'

One image posted on Instagram by the blogger appears to show her walking into oncoming traffic in New York, prompting some users to warn about her safety.