Wi-Fi Digantikan Li-Fi, Kelak Lampu Rumah Gantikan Fungsi Router
Forget Wi-Fi, Get Ready for Li-Fi is 100 Times Faster than Current Systems
Editor : Ismail Gani
Translator : Novita Cahyadi

PUBLISHED: Rabu, 24 Februari 2016 , 19:19:24 WIB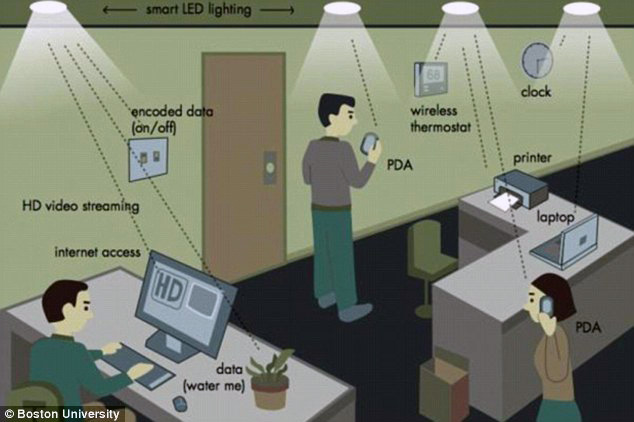 Ilustrasi: MailOnline
HANYA dalam dua tahun, lampu di rumah Anda dapat memberikan Anda akses internet dengan kecepatan 100 kali lebih cepat dari Wi-Fi.

Pada Mobile World Congress di Barcelona pekan ini, perusahaan start-up Prancis, Oledcomm menunjukkan kemampuan Li-Fi, dengan hanya menggunakan lampu kantor untuk menggunakan video smartphone.

Li-Fi menggunakan komunikasi cahaya tampak seperti 'setara kode Morse digital,' sehingga tidak bisa menembus dinding. Hal ini memberikan potensi untuk membuat jaringan yang lebih cepat dan lebih aman, dengan sedikit gangguan.

Li-Fi merupakan kependekan dari 'light fidelity', dan bekerja dengan kecepatan cahaya.

Sistem ini menggunakan komunikasi cahaya (VLC), antara 400 dan 800 Terahertz (THz) untuk mengirimkan pesan dalam kode biner, tetapi beroperasi pada kecepatan yang terlalu tinggi untuk dideteksi dengan mata telanjang.

Li-Fi bekerja pada frekuensi yang dihasilkan oleh lampu LED.

Li-Fi mampu mencapai kecepatan lebih dari 200 Gbps di laboratorium, cukup cepat untuk 'men-download setara 23 cakram DVD dalam satu detik,' kata Suat Topsu, pendiri dan kepala Oledcomm, kepada AFP seperti dikutip MailOnline.

'Li-Fi memungkinkan kecepatan 100 kali lebih cepat dari W-Fi, yang menggunakan gelombang radio untuk mengirimkan data, "kata Topsu.

Teknologi ini muncul dari laboratorium pada 2015 yang akan diuji dalam penggunaan sehari-hari di Prancis, termasuk museum dan pusat perbelanjaan.

Ini juga telah diuji di Belgia, Estonia dan India.

Para pengamat memperkirakan bahwa perangkat yang tersambung ke internet akan melambung menjadi 50 juta hanya dalam empat tahun, dan pasokan pendek dari gelombang radio yang digunakan untuk Wi-Fi akan menjadi lebih padat.

"Kami akan menghubungkan mesin kopi kami, mesin cuci kami, sikat gigi kami. Namun Anda tidak dapat memiliki lebih dari sepuluh benda untuk terhubung ke Bluetooth atau Wi-Fi tanpa gangguan," kata Topsu kepada AFP.

Kini, Li-Fi mampu bertindak melebihi kemampuan Wi-Fi.

Deepak Solanki, pendiri dan kepala eksekutif Velmenni perusahaan dari Estonia yang menguji Li-fi di ruang industri tahun lalu, mengatakan kepada AFP ia berharap bahwa 'dua tahun ke depan teknologi dapat dikomersialkan dan orang-orang dapat melihat penggunaannya pada tingkat yang berbeda. '

Namun, tidak jelas apakah Li-Fi akan mendorong Wi-Fi selain di tahun-tahun mendatang.

"Ini masih merupakan teknologi percobaan di laboratorium,' kata Frederic Sarrat, seorang analis dan konsultan perusahaan PwC, kepada AFP.

Wi-Fi dapat terus berkembang, dan meningkatkan kemampuan sendiri, dan ini bisa menentukan bagaimana faktor peran Li-Fi, menurut kepala analis Gartner Jim Tully.

'Wi-Fi telah menunjukkan kemampuan untuk terus meningkatkan kecepatan komunikasi dengan setiap generasi dari teknologi, "katanya kepada AFP.

Sejak Li-Fi bekerja pada komunikasi cahaya, tidak dapat menembus dinding, dan perangkat harus langsung bersentuhan dengan cahaya.

Dan, perangkat yang mampu Li-Fi harus dilengkapi dengan card reader, atau dongle, untuk kompatibel dengan teknologi, yang merupakan 'kelemahan biaya,' menurut Tully.

Ruang kendala bertindak baik sebagai kelemahan dan keunggulan, membatasi penggunaan untuk ruang yang lebih kecil, tapi lebih baik perangkat melindungi dari pencurian data.

'Tidak seperti Wi-Fi, Li-Fi dapat berpotensi diarahkan dan penggunanya dapat meningkatkan privasi transmisi, "kata Tully kepada AFP.

Di tempat-tempat seperti rumah sakit atau sekolah, Li-Fi bisa menjadi pilihan yang ideal.

'Li-fi akan tampil prima di rumah sakit karena tidak mengakibatkan pada perangkat medis,' Joel Denimal, kepala produsen pencahayaan Prancis Coolight, kepada AFP.

Bahkan bisa digunakan di supermarket atau museum, untuk memberikan informasi terhadap benda di dekatnya, atau pesawat udara dan fasilitas bawah tanah.

Sistem Li-Fi dikembangkan bukan bertujuan menggantikan Wi-Fi sepenuhnya di tahun-tahun mendatang, dan mengubah infrastruktur yang tersedia menjadi tidak layak.

Namun kedua teknologi ini dapat digunakan dalam untuk saling melengkapi sehingga jaringan lebih cepat dan lebih aman.

Perusahaan peralatan medis Belanda dan pencahayaan dari kelompok Philips dilaporkan tertarik pada teknologi Li-Fi, dan Apple berniat mengintegrasikannya dalam iPhone 7, yang akan keluar pada akhir tahun.

Bulan lalu, seorang pengguna Twitter menampilkan foto untuk menunjukkan bahwa Apple berniat menguji teknologi Li-Fi pada iPhone 7, yang berarti transmisi data berjalan pada gelombang cahaya, bukan frekuensi radio.
IN JUST two years, the lights in your home may provide you with internet access at speeds 100 times faster than Wi-Fi.

At the Mobile World Congress in Barcelona this week, French start-up Oledcomm demonstrated the capabilities of Li-Fi, using just an office lamp to start playing a smartphone video.

Li-Fi uses visible light communication like the 'digital equivalent of Morse code,' so it cannot pass through walls. This gives it the potential to create a faster and more secure network, with less interference.

Li-Fi is short for 'light fidelity,' and performs with lightning speed.

The system uses visible light communication (VLC), between 400 and 800 terahertz (THz) to transmit messages in binary code, but operates at speeds that are too high to be detected by the naked eye.

It works on the frequencies generated by an LED bulb.

Li-Fi has hit speeds of more than 200 Gbps in the lab, fast enough to 'download the equivalent of 23 DVDs in one second,' Suat Topsu, founder and head of Oledcomm, told AFP.

'Li-Fi allows speeds that are 100 times faster than W-Fi, which uses radio waves to transmit data,' Topsu said.

This technology emerged from the laboratories in 2015 to be tested in everyday settings in France, including museums and shopping malls.

It has also been tested in Belgium, Estonia and India.

Analysts have predicted that internet-connected devices will soar to 50 million in just four years, and the short supply of radio waves used for Wi-Fi will become crowded.

'We are going to connect our coffee machine, our washing machine, our tooth brush. But you can't have more than ten objects connected in Bluetooth or Wi-Fi without interference,' Topsu told AFP.

Now, Li-Fi may not be a far off reality.

Deepak Solanki, the founder and chief executive of Estonian firm Velmenni which tested Li-Fi in an industrial space last year, told AFP he expected that 'two years down the line the technology can be commercialised and people can see its use at different levels.'

Still, it's unclear whether Li-Fi will push Wi-Fi aside in the years to come.

'It is still a laboratory technology,' Frederic Sarrat, an analyst and consultancy firm PwC, told AFP.

Wi-Fi may continue to evolve, and improve its own capabilities, and this could determine how the role of Li-Fi factors in, according to Gartner chief analyst Jim Tully.

'Wi-Fi has shown a capability to continuously increase its communication speed with each successive generation of the technology,' he told AFP.

Since Li-Fi is based on visible light communication, it can't pass through walls, and the device has to be directly in contact with the light.

And, Li-Fi capable devices must be equipped with a card reader, or dongle, to work with the technology, which is a 'cost disadvantage,' according to Tully.

The space constraint acts as both a drawback and advantage, limiting usage to a smaller space, but better protecting devices from data theft.

'Unlike Wi-Fi, Li-Fi can potentially be directed and beamed at a particular user in order to enhance the privacy of transmissions,' Tully told AFP.

In places like hospitals or schools, Li-Fi could be the ideal option.

'Li-fi has a place in hospitals because it does not create interference with medical materials,' Joel Denimal, head of French lighting manufacturer Coolight, told AFP.

It could even have use in supermarkets or museums, to provide information for nearby objects, or aircraft and underground facilities.

The system isn't likely to replace Wi-Fi entirely in the years to come, and ripping out the existing infrastructure isn't feasible.

But the two could be used in partnership to create faster and safer networks.

Dutch medical equipment and lighting group Philips is reportedly interested in Li-Fi, and Apple may integrate it in the iPhone 7, which is due out at the end of the year.

Last month, a Twitter user revealed an image to show that Apple may be testing Li-Fi technology for the iPhone 7, which would mean data transmission runs on visible light waves, instead of radio.