Bocor Data Presiden, Indonesia Makin Rentan Kebocoran Data
Privacy Alarm in Indonesia Over President´s Leaked Vaccine Certificate
Editor : Kemal A Praghotsa
Translator : Novita Cahyadi

PUBLISHED: Sabtu, 04 September 2021 , 20:14:00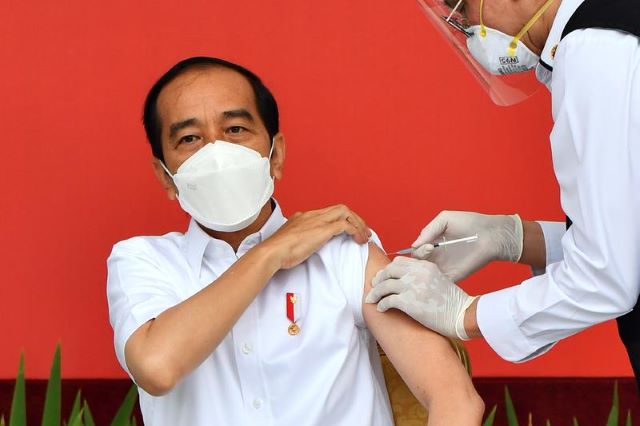 KEAMANAN DIGITAL: Data vaksin Presiden Jokowi yang diakses menggunakan aplikasi PeduliLindungi telah dibagikan secara luas di media sosial. [Foto: Reuters]
KEBOCORAN data sertifikat vaksin Covid-19 milik Presiden RI Joko Widodo telah meningkatkan kehawatiran tentang keamanan informasi di Indonesia.
Data vaksin Presiden Jokowi yang diakses menggunakan aplikasi PeduliLindungi telah dibagikan secara luas di media sosial. Hal ini menumbulkan pertanyaan di antara para ahli tentang komitmet pemerintah terhadap keamanan data.
Analis digital, Ismail Fahmi mengatakan kebocoran itu menunjukkan betapa mudahnya melihat atau menggunakan sertifikat vaksinasi milik orang lain, bahkan dari seorang Presiden.
"Jika ada perlindungan, akan ada penyelidikan mengapa masalah ini berlanjut, mengapa catatan pribadi dapat dengan mudah ditambang, tetapi kan tidak ada perlindungan seperti itu," katanya.
Menteri Kesehatan Budi Gunadi Sadikin pada hari Jumat mengatakan catatan pejabat tidak dapat diakses lagi.
Beberapa pengguna media sosial menyatakan kekecewaannya atas kekurangan dalam aplikasi, yang bulan lalu diwajibkan.
"Saya semakin tidak mempercayai aplikasi pemerintah setelah ini," kata seorang pengguna Twitter dengan nama @delrellove.
Pengguna lain, Denny Siregar, yang memiliki lebih dari satu juta pengikut, mengatakan: "Perlindungan data kami sangat rendah. Bahkan presiden pun bocor."
Aplikasi ini mencakup biodata pribadi dan menampilkan tanggal dan jenis vaksinasi yang diberikan. Penggunaannya diperlukan untuk perjalanan udara dan memasuki mal.
Juru Bicara Presiden RI, Fadjroel Rachman mengatakan pihaknya menyayangkan pelanggaran tersebut.
"Kami berharap instansi terkait dapat melakukan prosedur tertentu untuk mencegah kejadian serupa terjadi, termasuk perlindungan data masyarakat," katanya.
RUU perlindungan data yang diajukan ke parlemen tahun lalu, belum kunjung disahkan.
Pemerintah pada hari Selasa mengatakan sedang menyelidiki masalah di versi sebelumnya dari aplikasi PeduliLindungi yang mengekspos data sekitar 1,3 juta orang, seperti dikutip Reuters yang dilansir MailOnline.
"Masalahnya masih sama, tidak ada grand strategy untuk melindungi data warga," kata kelompok advokasi digital SAFEnet, Damar Juniarto.
Menurutnya, standar dan desain privasi yang baik, harus ada batasan untuk melihat data orang lain, apalagi presiden.
Seperti diketahui, lebih dari 200 juta data peserta Badan Penyelenggara Jaminan Sosial [BPJS] Kesehatan disinyalir dibocorkan oleh peretas pada Mei lalu.
A LEAK online of the president´s COVID-19 vaccine certificate has heightened concern in Indonesia about information security, coming in the same week as a data breach affecting 1.3 million users of a government contact-tracing application
President Joko Widodo´s vaccine records were accessed using the app, PeduliLindungi (care protect), and shared widely on social media, raising questions among experts about the government´s commitment to data security.
Digital analyst Ismail Fahmi said the leak showed how easy it was to view or potentially use another individual´s vaccination certificate, even that of a head of state.
"If there was protection, there would be an investigation into why this problem persists, why personal records can be easily mined," he said.
"But there is no such protection."
Health minister Budi Gunadi Sadikin on Friday said officials´ records could no longer be accessed.
Some social media users expressed dismay over flaws in the application, which was last month made mandatory.
"I trust the government´s apps less and less after this," said a Twitter user under the handle @delrellove.
Another user, Denny Siregar, who has more than a million followers, said: "Our data protection is very low. Even the president´s got leaked."
The application includes private biodata and displays vaccination dates and types administered. Its use is required for air travel and entering malls.
Fadjroel Rachman, a presidential spokesman, said his office regretted the breach.
"We hope that relevant authorities can conduct certain procedures to prevent similar incidents from happening, including the protection of the people´s data," he said.
A data protection bill was submitted to parliament last year but has yet to be passed.
The government on Tuesday said it was investigating a problem in an earlier version of the app that exposed data of about 1.3 million people.
It came a few months after an alleged breach of social security data by a state insurer.
"The problem is still the same, there is no grand strategy to protect citizen data," said Damar Juniarto of digital advocacy group SAFEnet.
"With good privacy standards and design, there should be limits on being able to check other people´s data, let alone the president´s."