HKTI Moeldoko Diapresiasi Mentan, "Petani Jaman Now Harus Melek Teknologi"
Indonesian Farmers´ Association Hailed by Agriculture Minister
Reporter : Gusmiati Waris
Editor : Cahyani Harzi
Translator : Dhelia Gani

PUBLISHED: Senin, 12 Februari 2018 , 00:31:00 WIB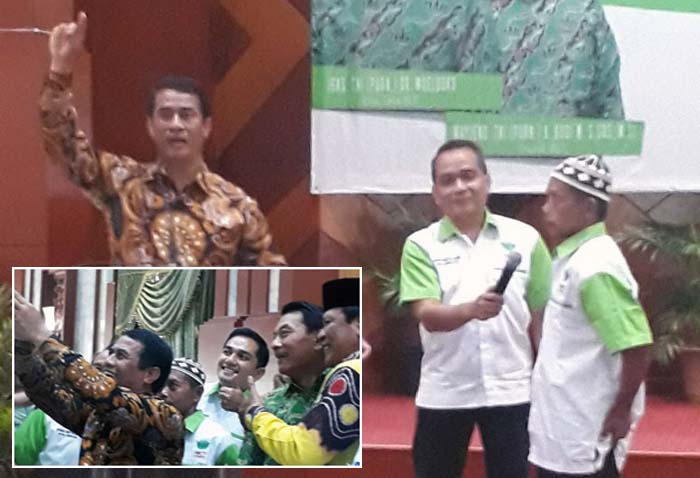 PELANTIKAN PENGURUS HKTI: Mentan Andi Amran Sulaiman memberikan arahan di Banjarmasin, dan selfie dengan Moeldoko dan petani (Foto2: Humas Kementan/Makmur H)
Jakarta (B2B) - Komitmen dan eksistensi Himpunan Kerukunan Tani Indonesia (HKTI) di bawah kepemimpinan Jenderal (Purn) Moeldoko mendukung kinerja Pemerintah RI diapresiasi oleh Menteri Pertanian Andi Amran Sulaiman, yang mengajak para petani mengubah paradigma dan melek teknologi untuk meningkatkan produksi pertanian melalui sinergi dengan peneliti dan perguruan tinggi.

"Kami lihat beliau (Moeldoko) ikhlas membantu petani, dan sekarang ditakdirkan menjadi kepala kantor staf kepresidenan. Saya juga mengajk petani jaman now harus melek teknologi. Caranya? Sinergi dengan peneliti dan perguruan tinggi," kata Mentan Amran Sulaiman pada pelantikan pengurus DPP dan DPD HKTI di Banjarmasin, Kalsel pada Sabtu (10/2).

Mentan mengapresiasi dukungan para petani di seluruh Indonesia mendorong peningkatan produksi padi, jagung, dan bawang merah sehingga Indonesia mampu swasembada beras dan jagung, bahkan ekspor bawang merah ke mancanegara.

"Bawang merah sudah ekspor padahal dulu langganan impor, itu serangan balik dari Indonesia. Kita juga sekarang tanam (beras) di perbatasan, jadi setelah panen tinggal lempar ke negara tetangga (Papua Nugini). Doakan mimpi besar dapat menguasai negara tetangga," kata Amran Sulaiman dalam arahannya.

Sementara Moeldoko menegaskan visi dan misi HKTI sebagai ´rumah besar´ bagi petani, dan kepentingannya harus dilindungi dari praktik-praktik yang merugikan petani, dan pengurus baru HKTI dapat melaksanakan tugas sebaik-baiknya untuk kepentingan petani, bangsa dan negara.

"Apa pun kebijakan pemerintah, HKTI akan mendukung sepenuhnya. Kalau ada hal yang merugikan petani, bila perlu HKTI demo di depan kantor Kementan. Tapi saya yakin Pak Amran Sulaiman membuat kebijakan yang menguntungkan petani dan masyarakat banyak," kata Moeldoko.
Jakarta (B2B) - Commitment and existence of Indonesian Farmers´ Association or the HKTI after being led by General (Ret.) Moeldoko support the Indonesian government was hailed by Agriculture Minister Andi Amran Sulaiman, which invites farmers to change the paradigm and understanding of information technology to increase agricultural production through synergy with researchers and universities.

"He (Moeldoko) sincere help farmers, and was appointed as head of the presidential staff. I also ask farmers to understand information technology. How? Synergy with researchers and universities," said Minister Sulaiman at the inauguration of HKTI´s central and regional administrations in Banjarmasin of South Kalimantan province on Saturday (February 10).

Mr. Sulaiman appreciated support of farmers across the country to boost rice, corn and shallot production, enabling Indonesia to be self-sufficient in rice and corn, and export shallot to foreign countries.

"The shallot has been exported. We also planted rice at the border, so after harvest will direct export abroad," he said in his direction.

While Moeldoko affirms HKTI´s vision and mission as a ´big house´ for farmers, and its interests must be protected from harmful practices of farmers, and new HKTI executives can do their best for the benefit for farmers and people.

"Whatever the government´s policy, HKTI will support. If there are losses to farmers, if necessary HKTI will demo in agriculture ministry office but I believe Minister Sulayman has made a positive policy for farmers and communities," said Moeldoko, who like many Indonesian uses one name.