FAO Akui Komitmen RI Dukung Ketahanan Pangan Keluarga dan Milenial
FAO Recognized Indonesia`s Commitment to Support Food Security Family
Reporter : Gusmiati Waris
Editor : Cahyani Harzi
Translator : Dhelia Gani

PUBLISHED: Jum'at, 31 Mei 2019 , 03:27:00 WIB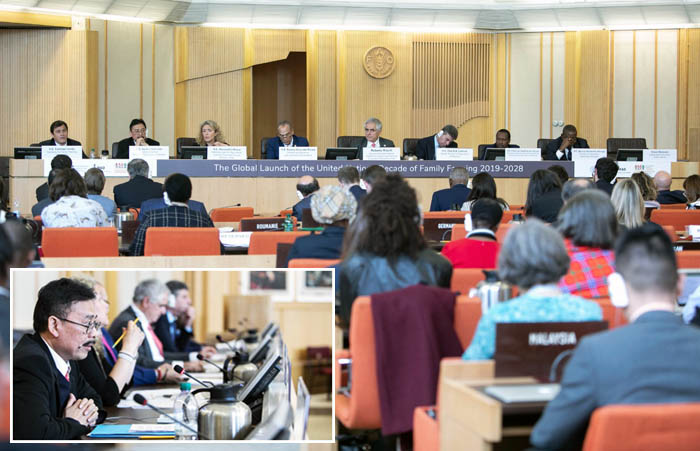 DELEGASI INDONESIA: Sekjen Kementan Syukur Iwantoro pada sesi ministerial segment bersama tiga menteri pertanian dari Angola, Costa Rica dan Sao Tome dan Principe [Foto2: Biro Humas Kementan]
Roma, Italia [B2B] - Organisasi Pangan Dunia [FAO] mengakui komitmen Indonesia memperkuat ketahanan pangan keluarga dengan program Kawasan Rumah Pangan Lestari [KRPL], Bedah Kemiskinan Rakyat Sejahtera [#Bekerja] dan Penumbuhan Wirausahawan Muda Pertanian [PWMP] pada peluncuran Global Dekade dan Rencana Aksi Pertanian Keluarga PBB 2019 - 2028 di kantor pusat Food and Agriculture Organization [FAO] di Roma, Italia pada Rabu siang waktu setempat [29/5].
Pengakuan dan apresiasi PBB dikemukakan oleh Direktur Jenderal FAO, Jose Graziano da Silva disaksikan ratusan perwakilan negara anggota FAO kepada Sekjen Kementerian Pertanian, Syukur Iwantoro selaku ketua delegasi Indonesia.
Dirjen FAO Jose Graziano da Silva menyampaikan apresiasi kepada Indonesia, sebagai salah satu dari 24 negara anggota internasional steering committee yang secara aktif mendukung pelaksanaan ´Dekade Pertanian Keluarga´.
Menurutnya, komitmen Indonesia menginisiasi pertemuan regional conference untuk wilayah Asia Tenggara pada April 2019 di Jakarta dipandang sebagai wujud konkrit komitmen Pemerintah RI mendukung pelaksanaan ´Dekade Pertanian Keluarga´.
"Program KRPL, #Bekerja dan PWMP mendorong peran generasi muda di sektor pertanian, menjadi tiga program utama dalam mendorong peran pertanian mewujudkan tujuan pembangunan berkelanjutan atau SDGs di Indonesia," kata Sekjen Syukur Iwantoro.
Syukur Iwantoro yang hadir mewakili Menteri Pertanian RI Andi Amran Sulaiman menjadi panelis pada sesi ministerial segment mengatakan bahwa program KRPL yang dilaksanakan sejak 2010 berdampak positif bagi masyarakat Indonesia.
"Pemanfaatan pekarangan rumah sebagai lahan tanam terbukti berhasil mengubah pola pengeluaran dan konsumsi pangan rumah tangga. Pola diet masyarakat meningkat dan prevalensi stunting ditekan ke 30,8 persen pada 2018 dari 37,2 persen pada 2013," kata Syukur I pada sesi ministerial segment bersama tiga menteri pertanian dari Angola, Costa Rica dan Sao Tome dan Principe.
Dia juga menguraikan tentang PWMP yang dikembangkan Politeknik Pembangunan Pertanian (Polbangtan) merupakan program untuk generasi muda mendukung pertanian Indonesia. Dalam penerapan strateginya, digital agriculture juga dipromosikan untuk menarik generasi milenial ke sektor pertanian. [Budi]
Rome of Italy [B2B] - The Food and Agriculture Organization of the United Nations recognizes Indonesia´s commitment to strengthen family food security with an urban farming program or Sustainable Food House Area [KRPL], Chicken Livestock overcome Poverty [#Bekerja] and Agriculture Young Entrepreneurs Development [PWMP] at the Global Launch of the United Nations Decade of Family Farming 2019 - 2028 at ´the Global launch of the Decade and the United Nations Family Farming Action Plan 2019-2028 in Rome, Italy on Wednesday afternoon [May 29].
The FAO´s acknowledgment and appreciation was conveyed by FAO Director General, Jose Graziano da Silva, witnessed by hundreds of representatives of FAO member countries to Syukur Iwantoro, Secretary General of Indonesian Agriculture Ministry, as the head of Indonesian delegation.
FAO Director General Jose Graziano da Silva expressed his appreciation to Indonesia, as one of 24 international steering committee member countries that actively supported the ´Family Farm Decade´.
According to him, Indonesia´s commitment to initiate a regional conference meeting for the Southeast Asia region in April 2019 in Jakarta is seen as a concrete manifestation of the Indonesian government´s commitment to support the ´Family Farm Decade´.
"The KRPL, #Bekerja and PWMP program pushes younger generation into agricultural sector, three main programs to encourage role of agriculture realize goal of Sustainable Development Goals or SDGs in Indonesia," Iwantoro said.
Iwantoro who was present on behalf of Agriculture Minister Andi Amran Sulaiman as panelist at the ministerial segment session said the KRPL program implemented since 2010 had positive impact for Indonesian people.
"The use of backyard as the planting area is proven to change the pattern of household food expenditure and consumption," said Iwantoro said at the ministerial segment session with agriculture ministers of Angola, Costa Rica and Sao Tome and Principe.
He also explained about the PWMP was developed by agricultural polytechnic colleges, Agricultural Development Polytechnic as the millennial generation program to support Indonesian agriculture. In implementing its strategy, digital agriculture was also promoted to attract millennial generations to agricultural sector.