#Serasi, Selamatkan Rawa Sejahterakan Petani Diluncurkan Mentan
Indonesian Govt Launched the Swamp Land Program for Agriculture
Reporter : Gusmiati Waris
Editor : Cahyani Harzi
Translator : Dhelia Gani

PUBLISHED: Kamis, 22 November 2018 , 01:09:00 WIB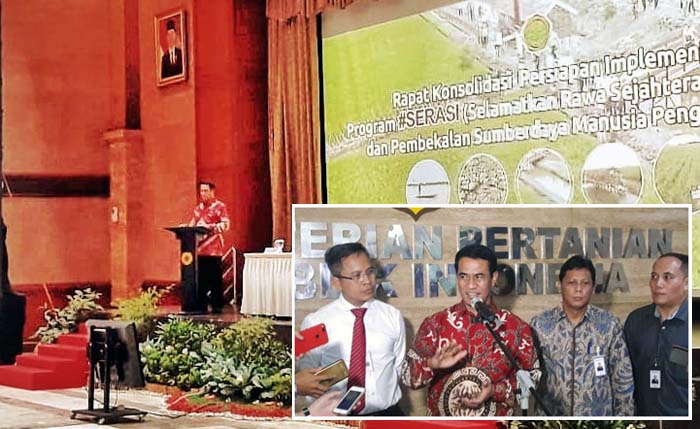 KORPORASI PETANI: Mentan Andi Amran Sulaiman meluncurkan program #Serasi, dan menjawab pers didampingi para pejabat terkait (Foto2: Humas Kementan & B2B/Mya)
Jakarta (B2B) - Program Selamatkan Rawa Sejahterakan Petani disingkat #Serasi untuk mengolah 400.000 hektar lahan rawa menjadi lahan pertanian produktif di enam provinsi diluncurkan Menteri Pertanian RI Andi Amran Sulaiman, dari target sembilan provinsi di seluruh Indonesia, untuk mendorong kesejahteraan petani berbasis koperasi yang dikorporasikan melalui program #Serasi.
Keenam provinsi dimaksud adalah Jambi, Sumatera Selatan, Lampung, Kalimantan Selatan, Kalimantan Barat dan Kalimantan Tengah. Tiga provinsi target berikutnya adalah Riau, Kalimantan Utara, dan Papua.
Mentan Amran Sulaiman mengaku optimistis bahwa program #Serasi akan berdampak positif pada semua pihak, apalagi pengelolaannya ditangani profesional seperti pensiunan pejabat Kementerian Pertanian RI maupun purnawirawan dari instansi lain seperti TNI AD.
"Kalau pensiunan kan sudah pasti mengerti sesuai kompetensi dan pengalaman yang dimiliki. Kita ingin menggerakan pertanian modern sesuai harapan Presiden RI Joko Widodo," katanya pada peluncuran #Serasi di Jakarta, Rabu (22/11).
Mentan menambahkan, pemanfaatan potensi lahan rawa akan terintegrasi dengan lahan untuk sawah, peternakan, perkebunan dan sawah sebagai 'mimpi lama' yang baru terealisasi tahun ini.
Jakarta (B2B) - Indonesian government launched the swamp land use program for agriculture or the #Serasi, by Agriculture Minister Andi Amran Sulaiman, with an initial target of 400,000 hectares in six provinces of nine provinces across the country aim to support the welfare of farmers based cooperative.
The six provinces include Jambi, South Sumatra, Lampung, South Borneo, West Borneo and Central Borneo. The next targets are Riau, North Borneo and Papua.
Minister Sulaiman said he was optimistic that the #Serasi program would have a positive impact for the people, which will be handled by professionals such as retired ministry officials and other agencies such as the Indonesian Army.
"The government chooses retired ministry officials according to their competence and work experience, to develop modern agriculture, in accordance to President Joko Widodo's expectations," he said.
Minister Sulaiman said the swamp land for agriculture will be integrated to the fields, farms, plantations were realized this year ministry.