1 Juta Ha, Target Cetak Lahan Rawa dan Pasang Surut 2018 - 2022
Indonesian Govt Developed a Million hectares of Swamp Land for Farmers
Reporter : Gusmiati Waris
Editor : Cahyani Harzi
Translator : Dhelia Gani

PUBLISHED: Kamis, 22 November 2018 , 02:47:00 WIB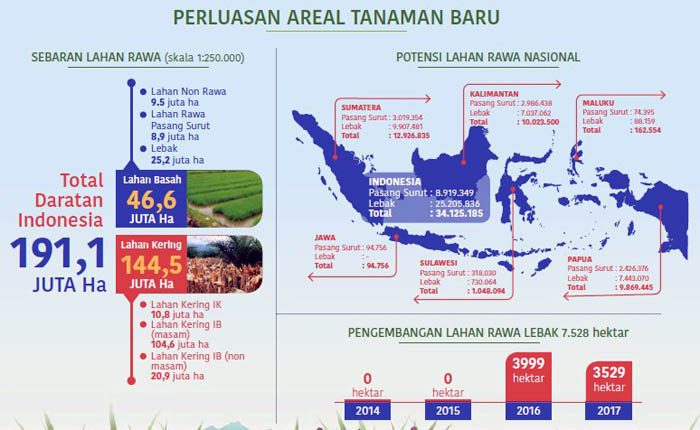 Tabel & Data: Kementan
Jakarta (B2B) - Kementerian Pertanian RI menargetkan perluasan areal tanaman baru melalui pengembangan 1 juta hektar lahan rawa dan pasang surut di sembilan provinsi pada 2018 - 2022, hingga 2017 telah dikembangkan lahan rawa lebak seluas 7.528 hektar, sementara potensi lahan rawa nasional mencapai 34,12 juta ha terdiri atas lahan pasang surut 8,9 juta ha dan lahan lebak 25,20 juta ha dari total daratan Indonesia seluas 191,1 juta ha berupa lahan basah 46,6 juta ha dan lahan kering 144,5 juta ha.

Target 1 juta hektar dari program Selamatkan Rawa Sejahterakan Petani disingkat #Serasi yang diluncurkan Menteri Pertanian Andi Amran Sulaiman, Rabu (21/11) meliputi sembilan provinsi yakni Riau 116.000 ha, Jambi 63.000 ha, Sumatera Selatan 17.000 ha, Lampung 9.000 ha atau total 205.000 ha di Sumatera. Untuk Kalimantan tersebar di Kalimantan Barat 250.000 ha, Kalimantan Tengah 300.000 ha, Kalimantan Selatan 55.000 ha, dan Kalimantan Utara 90.000 ha atau total 695.000 ha sementara di Papua terpusat di Kabupaten Merauke.

Menteri Pertanian RI Andi Amran Sulaiman mengatakan terobosan Kementan akan dikerjakan bersama lintas sektoral dan sinergi dengan para pemangku kepentingan seperti Kementerian BUMN, Kementerian Pekerjaan Umum dan Perumahan Rakyat (PUPR) didukung sejumlah lembaga keuangan. Saat ini Kementan tengah melakukan penyisiran dan akurasi data terkait potensi baru yang bisa dimanfaatkan sebagai lahan pertanian dan membangun koperasi petani yang terkorporasi.

"Strategi percepatan implementasi ini adalah mencari alternatif lahan untuk mewujudkan cita-cita Indonesia sebagai lumbung pangan. Apalagi potensi lahan rawa dan lahan lebak lebih dari 34 juta hektar di seluruh Indonesia," kata Mentan Amran Sulaiman pada peluncuran Program Selamatkan Rawa Sejahterakan Petani disingkat #Serasi di Jakarta, Rabu (21/11).

Koperasi Petani Terkorporasi
Sekretaris Jenderal Kementan, Syukur Iwantoro mengatakan program #Serasi sesuai arahan Presiden RI Joko Widodo untuk kepentingan petani, untuk membangun koperasi petani yang terkorporasi. Tahapan awal, pengembangan lahan rawa lebak seluas 200 ha di bawah kontrol dan tanggung jawab 50 tenaga harian lepas (THL) yang melaksanakan fungsi teknis.

"Kegiatan pengelolaan dilakukan dengan teknologi yang mutakhir, jadi kendala pada kondisi tanah seperti masam, PH nya kurang, dan lain-lain kini bisa teratasi dan bukan lagi masalah," kata Syukur.

Pemanfaatan potensi lahan rawa akan terintegrasi dengan lahan untuk sawah, peternakan, perkebunan dan sawah sebagai ´mimpi lama´ yang baru terealisasi tahun ini.

Mentan Amran Sulaiman mengaku optimistis bahwa program #Serasi akan berdampak positif pada semua pihak, apalagi pengelolaannya ditangani profesional seperti pensiunan pejabat Kementerian Pertanian RI maupun purnawirawan dari instansi lain seperti TNI AD.
Jakarta (B2B) - Indonesian Agriculture Ministry is targeting the expansion of cropland through the development of 1 million hectares of swamp and tidal land in nine provinces in 2018 - 2022, lowland swamp land development in 2017 reached 7528 hectares, while the national potential reaches 34.12 million hectares, while the national potential reaches 34.12 million hectares, tidal land is 8.9 million hectares and swamp land is 25.20 million hectares of Indonesia´s land area of 191.1 million hectares.

The target of 1 million hectares the swamp land use program for agriculture or the #Serasi, covering nine provinces namely Riau 116,000 hectares, Jambi 63,000 hectares, South Sumatra 17,000 hectares, Lampung 9,000 hectares or a total of 205,000 hectares in Sumatra. For Borneo spread in West Borneo 250,000 hectares, Central Borneo 300,000 hectares, South Borneo 55,000 hectares, and North Borneo 90,000 hectares or a total of 695,000 hectares while in Papua concentrated in Merauke district, Central Kalimantan 300,000 hectares, South Kalimantan 55,000 hectares, and North Kalimantan 90,000 hectares total of 695,000 hectares while in Papua concentrated in Merauke district.

Agriculture Minister Andi Amran Sulaiman said the ministry´s breakthrough would be carried out jointly across sectors and synergy with stakeholders such as the Ministry of SOEs, Ministry of Public Works and Public Housing or the supported by number of financial institutions.

"The strategy for accelerating this implementation is to find alternative land to realize Indonesia´s ideals as a food barn. Moreover, the potential of swamp land and swamp land is more than 34 million hectares throughout the country," said Minister Sulaiman here on Wednesday (November 21).

Farmer Corporation
Secretary General of Agriculture Minister, Syukur Iwantoro said the #Serasi program was in line with President Joko Widodo´s direction for the benefit of farmers to develop a farmer´s corporation.

"Management activities are supported by agricultural mechanization, so that constraints on soil conditions such as acid, poor PH, and so on," Mr Iwantoro said.

The swamp land for agriculture will be integrated to the fields, farms, plantations were realized this year ministry.

Minister Sulaiman said he was optimistic that the #Serasi program would have a positive impact for the people, which will be handled by professionals such as retired ministry officials and other agencies such as the Indonesian Army.