STPP Yogyakarta Dorong UPJA Muntilan Kelola Alsintan, Mandiri dan Profesional
Indonesian`s Agriculture Extension College Conducts Training for Youth Farmers
Editor : M. Achsan Atjo
Translator : Dhelia Gani

PUBLISHED: Selasa, 27 Maret 2018 , 01:35:00 WIB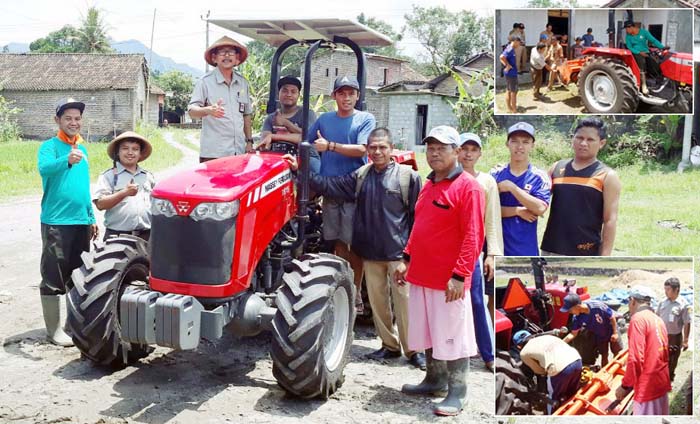 PELATIHAN UPJA: Sebagian peserta pelatihan UPJA Agro Makmur Jaya Muntilan bersama Koordinator Tim Alsintan STPP Yogyakarta, Irwan JS (topi petani) dan kedua instruktur Alsintan (Foto2: Humas STPP Yogyakarta)
Yogyakarta, DIY (B2B) - Sejumlah generasi muda pertanian pengelola dan pengguna unit pelayanan jasa alsintan (UPJA) Agro Makmur Jaya di Kecamatan Muntilan, Kabupaten Magelang, Provinsi Jawa Tengah mengikuti pelatihan operasional dan perawatan Alsintan yang digelar oleh Sekolah Tinggi Penyuluhan Pertanian Yogyakarta - STPP Yogyakarta, Senin (26/3) untuk meningkatkan kompetensi teknis SDM pengelola UPJA sebagai komponen utama sistem produksi pertanian.
Ketua STPP Yogyakarta Ali Rachman mendorong sekaligus mendukung pelatihan teknis bagi pengelola UPJA Agro Makmur Jaya agar memahami peran dan fungsi Alsintan sehingga dapat menganalisa kesesuaian dan kebutuhan Alsintan, menganalisa biaya operasional Alsintan, identifikasi dan analisa potensi wilayah UPJA, mengembangkan tata kelola kelembagaan UPJA dan memahami perkembangan UPJA dalam memperkuat program upaya khusus padi, jagung dan kedelai (Upsus Pajale).
"Pelatihan juga diharapkan meningkatkan kompetensi generasi muda pertanian sebagai pengelola UPJA untuk memberi pelayanan jasa Alsintan kepada petani, UPJA pun mampu mendampingi petani dengan baik meningkatkan hasil usaha tani, dan usaha jasa pelayanan Alsintan dapat tumbuh berkembang mandiri dan berkesinambungan," kata Ali Rachman melalui pernyataan tertulis.
Menurutnya, STPP Yogyakarta sebagai unit pelaksana teknis (UPT) dari Badan Penyuluhan dan Pengembangan SDM Pertanian (BPPSDMP) di Kementerian Pertanian RI membuka diri terhadap UPJA lain di wilayah kerjanya yang berminat mengikuti pelatihan di STPP Yogyakarta, hal itu sesuai instruksi Mentan Andi Amran Sulaiman dan arahan dari Kepala BPPSDMP Kementan, Momon Rusmono.
Kegiatan pelatihan UPJA dipimpin oleh Koordinator Tim Alsintan STPP Yogyakarta, Irwan Johan Sumarno didukung para instruktur di antaranya Kodrad Winarno dan Budi Wijayanto.
Irwan JS mengatakan Alsintan merupakan salah satu komponen sistem produksi yang sangat vital dalam peningkatan produktivitas untuk menekan biaya produksi, meningkatkan kualitas produksi, dan menyejahterakan para petani. Namun banyak petani tidak memahami secara detail perawatan alsintan yang harus dipelihara agar dapat digunakan untuk jangka panjang sebagaimana halnya barang modal.
"Harus ada manajemen bisnis, nanti labanya nggak jelas ke mana, dan keuntungan usaha bermanfaat perawatan, membeli bahan bakar, upah operator, dan membeli mesin baru. Kalau tidak dikelola secara profesional dengan pendekatan bisnis maka begitu mesinnya rusak, mereka tidak bisa memperbaiki apalagi membeli mesin baru," kata Irwan JS yang juga menjabat Kabag Administrasi Umum STPP Yogyakarta.
Menurutnya, modernisasi pertanian melalui pengembangan mekanisasi pertanian dari pra panen, panen, pasca panen, pengolahan hasil sudah menjadi tuntutan dalam pembangunan pertanian, dan meningkatkan kesejahteraan petani. Pemerintah daerah diharapkan dapat menginisiasi terwujudnya konsolidasi lahan sebagai prasarana untuk mekanisasi pertanian.
"Di dalam UPJA ada operator yang mengoperasikan alsintan. Tidak semua petani mengoperasikan alsin seperti halnya tidak semua masyarakat menjadi supir angkot. Kita cukup naik angkot dan membayar, begitu pula dengan peranan UPJA untuk memfasilitasi kebutuhan petani terhadap alsintan," kata Irwan yang akrab disapa IJS.
Yogyakarta (B2B) - A number of young farmers, managers and users of agricultural machinery service unit or UPJA Agro Makmur Jaya in Magelang district, Central Java province attended the operational training and maintenance of farm machinery held by the Yogyakarta´s Agriculture Extension College or STPP Yogyakarta on Monday (March 26) to improve technical competence of UPJA´s human resources manager as main component of agricultural production system.
The Rector of STPP Yogyakarta, Ali Rachman support and encourage of youth farmers improve technical training for UPJA manager can understand the role and function of agricultural machinery so that it can analyze the needs, operational cost, identification and analysis, develop institutional governance, and understand the field condition to support the achievement of food self-sufficiency.
"The training is expected to improve the competence of Gempita as UPJA´s manager to support the performance of farmers, and service of agricultural machinery can develop continuously," Mr Rachman said.
According to him, the STPP Yogyakarta as a technical implementation unit or UPT of the Directorate General of Agricultural Human Resource Development or BPPSDMP in Indonesian Agriculture Ministry, and opening up to other UPJAs in his work area interested in undergoing training in STPP Yogyakarta, it as instructed Agriculture Minister Andi Amran Sulaiman and Director General of BPPSDMP Momon Rusmono.
The training activities were led by Team Coordinator of the STPP Yogyakarta, Irwan Johan Sumarno supported by instructors, Kodrad Winarno and Budi Wijayanto.
Mr Sumarno said mechanization of agriculture in Indonesia has become a vital component to reduce production costs, improve the quality of production, and welfare of the farmers. However, many farmers do not comprehend treatment, which must be maintained for long-term use as well as capital goods.
"It must be managed professionally so that business profits could be used for treatment, provide fuel, to pay wages, and to buy a new machine. If it is not managed by a business approach so that the engine was broken, they can not improve, and incapable to buy a new machine," said Mr Sumarno who was served as the Head of General Affairs of STPP Magelang.
According to him, modernization of agriculture through the development of agricultural mechanization of pre-harvest, harvest, post-harvest and processing of agricultural production into demands in agricultural development, and improve the welfare of farmers. The local government is expected to initiate the consolidation of land as an infrastructure for agricultural mechanization.
"The role of special units hinted that not all farmers have to operate agricultural machinery, as well as not all people become drivers of public transport. For example bus passenger shall pay the fare, as well as the role of a special unit to facilitate the needs of farmers to agricultural machinery," Mr Sumarno said.