Dukung Pasokan Sayuran DKI, Mentan Serahkan Bibit Gratis untuk Petani KBT
Indonesian Govt Provide Free Assistance of Vegetable Seeds for Urban Farmers
Reporter : Gusmiati Waris
Editor : Cahyani Harzi
Translator : Dhelia Gani

PUBLISHED: Minggu, 15 Juli 2018 , 03:28:00 WIB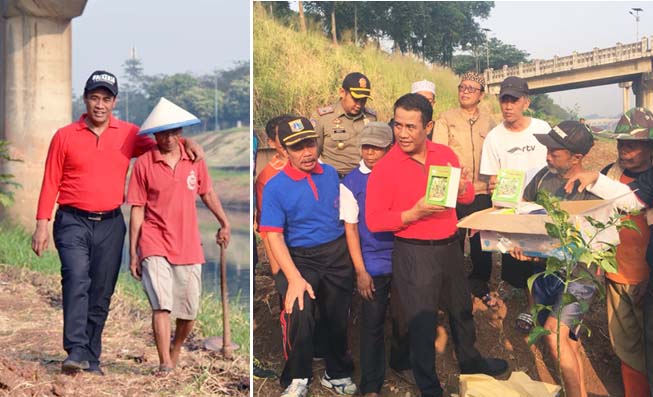 Mentan Andi Amran Sulaiman menyerahkan bantuan bibit sayuran gratis kepada petani di bantaran sungai Kanal Banjir Timur (KBT) di Jakarta Timur (Foto2: Humas Kementan)
Jakarta (B2B) - Kementerian Pertanian RI menyerahkan bantuan bibit sayuran secara gratis kepada warga yang memanfaatkan lahan bantaran sungai Kanal Banjir Timur (KBT) di Jakarta Timur untuk bercocok tanam, sehingga dapat mendukung mereka mengembangkan kawasan rumah pangan lestari (KRPL) sehingga hasil produksi ´petani kota´ tersebut dapat memasok komoditas sayuran untuk warga di ibukota Jakarta.
Menteri Pertanian RI Andi Amran Sulaiman memastikan bahwa seluruh bantuan budidaya, kegiatan pendampingan dan pengawalan diberikan secara gratis oleh kementerian sebagai komitmen dari pemerintahan Joko Widodo dan Jusuf Kalla.
"Inilah komitmen Jokowi dan JK untuk petani. Seluruh kebutuhan petani di sini diberikan gratis," kata Mentan kepada pers usai menyerahkan bantuan bibit gratis kepada petani di bantaran sungai KBT, Sabtu (14/7).
Menurutnya, potensi lahan di KBT tergolong luas, sepanjang 25 km atau luas 50 hektar apabila dikelola dengan serius, akan meningkatkan pasokan sayuran untuk warga Jakarta dan sekitarnya, sekaligus menjadi sumber mata pencaharian petani setempat.
"Kalau kita hitung, luas bantaran sungai ini sekitar 50 hektar apabila rata-rata produksi 10 ton per hektar akan menghasilkan 500 ton, tentu akan menambah pasokan sayuran utama seperti cabai dan lainnya untuk Jakarta," kata Mentan.
Dia menambahkan, pemanfaatan lahan perkotaan untuk urban farming akan diarahkan untuk pemenuhan kebutuhan rumah tangga. "Kita akan kerjasama dengan organisasi kewanitaan seperti Iwapi, Persit dan lainnya."
Jakarta (B2B) - The Indonesian Ministry of Agriculture provides free assistance of vegetable seeds to people who use the land of river banks in East Flood Canal or KBT in East Jakarta, to support urban farming development so that the production of ´urban farmers´ can supply vegetable commodities in the Indonesian capital.
Indonesian Agriculture Minister Andi Amran Sulaiman ensured that all cultivation assistance, guidance and escort activities were provided free of charge by the ministry as a commitment of Joko Widodo administration.
"This is the commitment of Joko Widodo administration for the farmers," Minister Sulaiman told the press here on Saturday (July 14).
According to him, the potential land in the KBT classified as extensive, along 25 km or 50 hectares if seriously managed, will increase the supply of vegetables for Jakarta and surrounding areas, as well as a source of livelihood of local farmers.
"If we count the breadth of this river about 50 hectares if the average production of 10 tons per hectare will produce 500 tons, it will increase the supply of main vegetables such as chili and others for Jakarta," Minister Sulaiman said.
He added, urban land use for urban farming will be able to meet the needs of households. "We will cooperate with women´s organizations such as Iwapi, Persit and others."