Trend Global Beralih, Indonesia Berupaya Tingkatkan Ekspor Nanas Segar
Indonesia Seeks to Increase Exports of Fresh Pineapple Abroad
Reporter : Gusmiati Waris
Editor : Cahyani Harzi
Translator : Dhelia Gani

PUBLISHED: Senin, 02 September 2019 , 00:43:00 WIB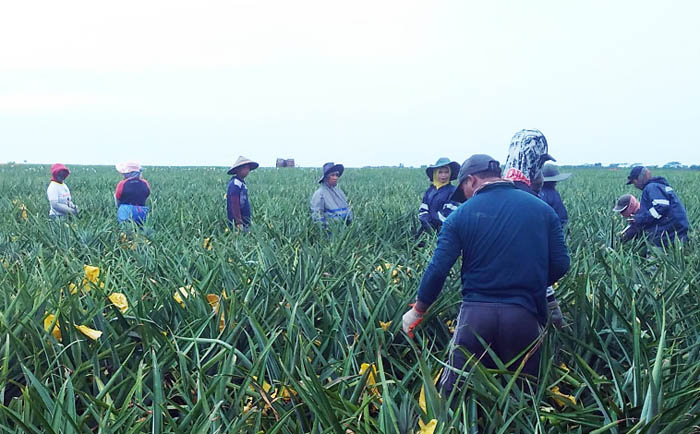 Foto: Biro Humas Kementan
Jakarta [B2B] - Indonesia berupaya memperluas pasar nanas segar ke mancanegara khususnya Amerika Serikat [AS] dan China. Volume dan nilai ekspor 2018 mencapai 13.366 ton senilai Rp117 miliar sebagian besar produk olahan, sementara kecenderungan pasar global beralih ke nanas segar sebagai trend back to nature. Produksi nasional 2018 mencapai 1,8 juta ton menurut data produksi Badan Pusat Statistik [BPS].
"Pola hidup sehat dan trend back to nature mendorong pergeseran permintaan pasar dunia dari produk olahan ke nanas segar. Peluang emas bagi Indonesia karena potensi produksinya sangat besar," kata Liferdi Lukman, Direktur Buah dan Florikultura - Ditjen Hortikultura Kementan melalui pernyataan tertulis, Sabtu [31/8].
Menurut Liferdi Lukman, Ditjen Hortikultura Kementan tengah menyiapkan grand design pengembangan hortikultura termasuk nanas, untuk mempertahankan posisi Indonesia sebagai eksportir nanas terbesar di dunia.
"Untuk mendukung ekspor, pengawasan mutu dan pasokan merupakan kunci penting dalam budidaya buah antioksidan ini. Para petani harus dilatih untuk mengintroduksi sistem agribisnis yang kuat dalam proses tanam," katanya.
Pihak swasta sebagai off taker menjadi mitra petani untuk menjaga kerja sama bisnis, maka perusahaan perlu membina dan mengawal teknologi budidaya agar produksi ekspornya memenuhi standar ekspor.
"Pemerintah bersama perusahaan swasta perlu saling mendukung. Kementan sebagai regulator turut menjembati perusahaan dan petani membentuk kerja sama korporasi seperti korporasi pisang di Tanggamus - Lampung antara PT GGP dengan para petani lokal. [Budi]
Jakarta [B2B] - Indonesia seeks to expand the fresh pineapple market to foreign countries, especially the United States and China. The export volume and value of 2018 reached 13,366 tons amounting to IDR117 billion, mostly processed products, while global market trends are shifting to fresh pineapple as a back to nature trend. National production in 2018 will reach 1.8 million tons, according to data from the Central Statistics Agency [BPS] according to the senior official of Indonesian agriculture ministry.