Bertemu Dubes Rusia, Mentan Buka Peluang Ekspor Buah Tropis khas Indonesia
Indonesia Encourages the Export of Tropical Fruits to Russia
Reporter : Gusmiati Waris
Editor : Cahyani Harzi
Translator : Dhelia Gani

PUBLISHED: Sabtu, 09 Juni 2018 , 03:35:00 WIB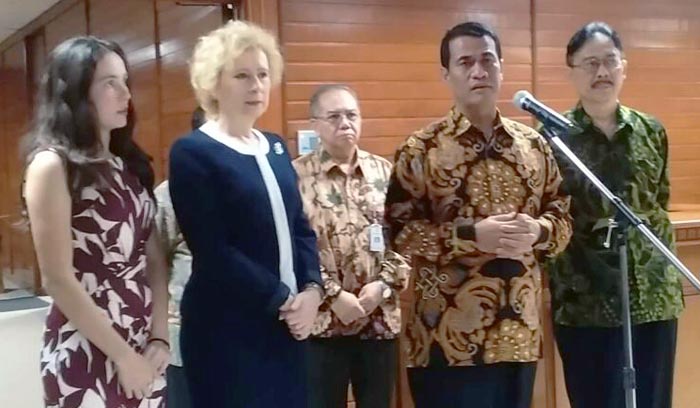 Mentan Andi Amran Sulaiman (ke-2 kanan) menjawab pers bersama Dubes Rusia untuk RI, Lyudmila Georgievna Verobieva (ke-2 kiri) didampingi Sekjen Kementan, Syukur Iwantoro (kanan) Foto: B2B/Gusmiati Waris
Jakarta (B2B) - Indonesia dan Rusia sepakat meningkatkan perdagangan komoditas pertanian antara kedua negara, mengingat perbedaan iklim kedua negara di wilayah tropis dan subtropis sehingga membutuhkan hasil produksi pertanian yang berbeda. Kementerian Pertanian RI akan meningkatkan ekspor minyak sawit, dan membuka peluang ekspor manggis, salak, dan nanas.
Hal itu dikemukakan Duta Besar Rusia untuk RI, Lyudmila Georgievna Verobieva usai pertemuan bilateral dengan Menteri Pertanian Andi Amran Sulaiman di Jakarta, Jumat (8/6).
"Rusia membuka peluang ekspor buah-buahan Indonesia ke negara kami, khususnya manggis, salak, dan nanas yang tidak bisa tumbuh di Rusia sebagai negara yang berada di iklim subtropis, tentu membutuhkan buah-buahan tropis," kata Lyudmila GV usai bertemu dengan Mentan Amran Sulaiman.
Badan Pusat Statistik (BPS) melansir nilai ekspor pertanian RI pada 2017 mencapai US$33,1 miliar, naik 24% ketimbang 2016 sebesar US$26,7 miliar sehingga RI memperoleh surplus US$15,9 miliar atau meningkat 48,8% dari 2016 yang surplus US$10,9 miliar.
"Indonesia akan memperkuat ekspor minyak sawit, dan mendorong peluang ekspor buah tropis seperti manggis, salak dan nenas," kata Mentan kepada pers usai pertemuan dengan Dubes Rusia Lyudmila GV di ruang kerjanya, di kawasan Ragunan, Jakarta Selatan.
Dalam kesempatan tersebut, Dubes Lyudmila GV menginginkan Indonesia meningkatkan impor gandum, kacang kedelai, barley dan jagung. Khusus tentang jagung, Mentan Amran Sulaiman menolak rencana Rusia karena Indonesia sudah surplus produksi jagung dan hasilnya telah diekspor ke enam negara.
"Kalau jagung sorry, kita sudah ekspor. Kami tidak terima, yang gandum dan non GMO lebih menarik," kata Mentan.
Jakarta (B2B) - Indonesia and Russia have agreed to increase trade in agricultural commodities, climate differences in the tropics and subtropics that require different agricultural production. Indonesia Agriculture Ministry will increase export of palm oil, and opens opportunities for export of mangosteen, salak, and pineapple.
It was stated by Russia´s ambassador to Indonesia, Lyudmila Georgievna Verobieva after a bilateral meeting with Agriculture Minister Andi Amran Sulaiman here on Friday (June 8).
"Russia is interested in importing fruit typical of Indonesia, especially mangosteen, salak, and pineapple that can not be planted in Russia with subtropical climate," said Mrs Verobieva after met with Minister Sulaiman.
The Central Statistics Agency or BPS said the value of Indonesian agricultural exports in 2017 reached US$33.1 billion, up 24 percent from 2016 of US$26.7 billion so that Indonesia achieve surplus of US$15.9 billion an increase of 48.8 percent from 2016 with or surplus of US$10.9 billion.
"Indonesia will increase the export value of palm oil, and encourage the export opportunities of tropical fruits such as mangosteen, salak and pineapple," Minister Sulaiman said.
On the occasion, Ambassador Mrs Verobieva On the occasion, Ambassador Lyudmila GV wants Indonesia to increase imports of wheat, soybeans, barley and corn. Especially about corn, Minister Sulaiman is not interested for corn from Russia, because Indonesia surplus of corn and is exported to six countries.
"If corn sorry, we already export. Indonesia is more interested for wheat and non GMO," Minister Sulaiman said.