Kepala BPPSDMP Targetkan Revolusi Mental Pendidikan, Penyuluhan dan Pelatihan
Indonesian Govt Improves the Development of Agricultural Human Resources
Reporter : Gusmiati Waris
Editor : Cahyani Harzi
Translator : Dhelia Gani

PUBLISHED: Rabu, 19 Juli 2017 , 04:51:00 WIB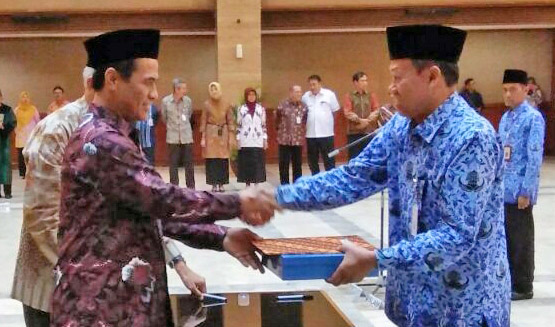 Mentan Andi Amran Sulaiman mengucapkan selamat pada Kepala BPPSDMP terpilih, Momon Rusmono usai penandatanganan SK pengangkatan sebagai pejabat eselon satu Kementan (Foto: B2B/Gusmiati Waris)
Jakarta (B2B) - Kepala Badan Penyuluhan dan Pengembangan SDM Pertanian (BPPSDMP) Kementerian Pertanian, Momon Rusmono akan melakukan revolusi mental di bidang pendidikan, penyuluhan dan pelatihan sesuai arahan Menteri Pertanian RI Andi Amran Sulaiman untuk mendukung percepatan pencapaian kedaulatan pangan nasional.

Momon Rusmono mengatakan program utama di bidang pendidikan adalah revitalisasi dan transformasi seluruh sekolah tinggi penyuluhan pertanian (STPP) di seluruh Indonesia menjadi politeknik pembangunan pertanian disingkat Politani, sementara Politani yang ada saat ini berada di Payakumbuh di Sumatera Barat, Samarinda (Kalimantan Timur), Pangkajene Kepulauan (Sulawesi Selatan) dan Kupang (Nusa Tenggara Timur).

"BPPSDMP Kementan melakukan revitalisasi sistem pendidikan untuk membuka program studi baru, dan selanjutnya harus berinisiatif melakukan transformasi kelembagaan pendidikan dari sekolah tinggi menjadi politeknik pertanian," kata Momon Rusmono kepada pers setelah dilantik sebagai Kepala BPPSDMP, Selasa (18/7) menggantikan Pending Dadih Permana yang alih tugas menjadi Dirjen PSP sejak 31 Januari lalu.

Bidang penyuluhan dan SDM pertanian bukan hal baru bagi Momon, yang sebelumnya menjabat Sekretaris BPPSDMP, karena menurutnya, pengembangan STPP menjadi Politani sebagai pengembangan kelembagaan dan program studi vokasional bidang pertanian sesuai kebutuhan pasar, sumber daya pendidikan terstandar, dan jejaring kerjasama.

Menurutnya, selain STPP maka BPPSDMP Kementan juga akan meningkatkan kelembagaan pendidikan sekolah menengah kejuruan pertanian pembangunan (SMK-PP) di Palembang (Sumsel) dan Banjarbaru (Kalsel) menjadi Politani.

Momon juga menargetkan penguatan balai penyuluhan di tingkat kecamatan dengan pendekatan teknologi informasi melalui pengembangan sistem informasi teknologi penyuluhan cyber extention, sehingga komunikasi penyuluh dan petani di seluruh Indonesia dapat berlangsung interaktif, terkontrol dan terukur target kinerja penyuluh mendukung peningkatan produksi pertanian di seluruh kecamatan di Indonesia.

"BPPSDMP Kementan juga meningkatkan kualitas pelatihan berorientasi standar kompetensi, dengan skala prioritas adalah sertifikasi profesi di sektor tenaga kerja pertanian didukung pengembangan pusat pelatihan pertanian dan pedesaan swadaya disingkat P4S," kata Momon.

Dukungan aset balai pelatihan di seluruh Indonesia, Momon akan meningkatkan kegiatan pelatihan pada kebutuhan tenaga kerja dengan pendekatan on the job training, sehingga kompetensi peserta pelatihan lebih meningkat.
Jakarta (B2B) - Indonesian senior official, Momon Rusmono as the Director General of Agency for Agricultural Extension and Human Resources Development (BPPSDMP) targets mental revolution in education, counseling and training as instructed by Agriculture Minister Andi Amran Sulaiman supports the achievement of national food sovereignty.

Mr Rusmono said the main program of agricultural education is revitalization and transformation of college of agricultural extension called the STPP across the country into polytechnics agricultural development called the Politani such as Politani in Payakumbuh of West Sumatera province, Samarinda (East Kalimantan), Pangkajene Islands (South Sulawesi) and Kupang (East Nusa Tenggara).

"The Indonesia´s BPPSDMP will revitalize the education system with new study program, and then have to take initiative transform the institutional education from college to agricultural polytechnic," he told the press after inaugurated as new director general here on Tuesday (July 18) replace Pending Dadih Permana
served as Director General of Agricultural Infrastructure since January 31.

Mr Rusmono who previously served as Secretary of the BPPSDMP said the development of Politani is an institutional improvement of agricultural vocational programs as consequence of market demand, standardized educational resources, and networking cooperation.

According to him, the ministry will also improve the institutional status of vocational high school agricultural development called the SMK-PP in Palembang of South Sumatra province and Banjarbaru in South Borneo into the Politani.

Mr Rusmono also targets the strengthening of extension centers in each sub-district by approaching information technology through the development of information systems of extension technology, so that communication between agricultural extension workers and farmers accross the archipelago is interactively, controlled and measurable for support of increasing agricultural production.

"The ministry will also improve the quality of competency-oriented training, the priority scale is professional certification in the agricultural labor sector, supported by the development of an independent rural agricultural training center called the P4S," he said.

Mr Rusmono said it will improve training activities with on the job training approach, so as to improve the competence of trainees.