Cegah Kartel, Mentan Awasi 26 Perusahaan Peraih Ijin Impor Bawang Putih 2018
Indonesian Agriculture Minister overseen the Garlic Importer Company
Editor : M. Achsan Atjo
Translator : Dhelia Gani

PUBLISHED: Minggu, 03 Juni 2018 , 06:16:00 WIB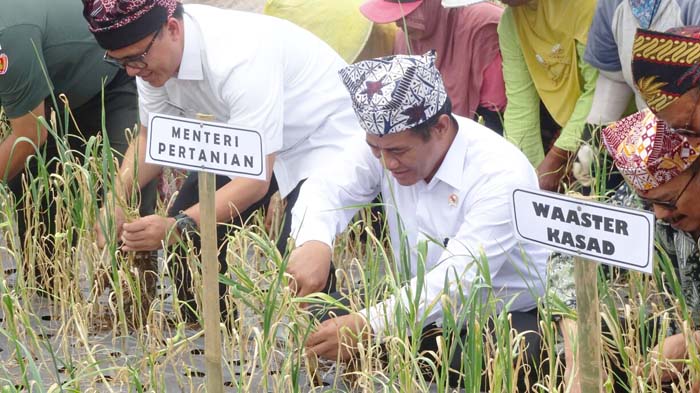 Mentan Andi Amran Sulaiman (tengah) menanam bawang putih di Kabupaten Banyuwangi, Jawa Timur (Foto: Humas Kementan)
Jakarta (B2B) - Menteri Pertanian RI Andi Amran Sulaiman mengingatkan 26 perusahaan untuk tidak coba-coba melakukan praktik kartel, meski telah mendapatkan ijin impor bawang putih 2018, karena akan terus dipantau dan diawasi oleh penyidik PNS di Kementerian Pertanian RI, dan akan langsung di-blacklist beserta grup perusahaannya apabila terbukti curang dan manipulasi wajib tanam bawang putih sesuai ketentuan Pemerintah RI.
"Kita harus bersih-bersih. Sikat habis mafia pangan. Bagi 26 importir yang sudah mendapat ijin impor bawang putih 2018, terus kami evaluasi, apabila terbukti melakukan kartel, kami tidak akan segan mem-blacklist perusahaan berikut grup usahanya," kata Mentan Amran Sulaiman kepada pers di Jakarta, Jumat (1/6) usai upacara peringatan ´Hari Lahir Pancasila´ di kantornya.
Menurutnya, blacklist diberlakukan bagi perusahaan yang bermasalah dengan hukum; impor pangan tidak sesuai peruntukan; mempermainkan harga sehingga disparitas tinggi, 500 hingga 1000 persen; manipulasi wajib tanam dan lainnya.
Mentan Amran Sulaiman kemudian mengumumkan mencabut dan memasukkan dalam daftar hitam (blacklist) enam perusahaan yang terindikasi menyalahgunakan izin importasi pangan. Keenam importir adalah PT PTI, PT TSR, PT CGM, PT FMT dan PT ASJ yang kini menjalani proses penyidikan di Badan Reserse dan Kriminal di Markas Besar Polri (Bareskrim Mabes Polri) atas dugaan menyalahgunakan izin impor bawang putih.
Dia menambahkan, bagi importir nakal yang pemiliknya telah ditetapkan sebagai tersangka oleh Polri tersebut, maka Kementan langsung bersikap tegas dengan menerapkan blacklist. "Perusahaan dan kroninya kami tutup. Tidak boleh bisnis di sektor pangan."
"Bertepatan dengan Hari Lahir Pancasila, saya serukan perangi mafia pangan. Tutup perusahaan nakal, dan buka lebar-lebar bagi perusahaan dan investor yang profesional dan berintegritas," kata Mentan yang didampingi Kepala Badan Penyuluhan dan Pengembangan SDM Pertanian (BPPSDMP) Momon Rusmono.
Tata kelola pangan diperbaiki dengan kebijakan baru. Perusahaan yang di-blacklist yakni PT PTI, PT TSR, PT CGM, PT FMT dan PT ASJ digantikan oleh BUMD Sumbar, BUMD Jatim, BUMD NTB, Perusahaan Daerah (Perusda) Sulsel, BUMN maupun perusahaan lokal masuk ke dalam bisnis bawang putih.
"Bila di pasar terjadi gejolak harga, perusahaan tersebut yang akan menstabilkan harga dengan operasi pasar. Mereka pun wajib tanam melalui kemitraan dengan petani. Pola kemitraan petani saya yakini menguntungkan petani dan pengusaha," katanya lagi.
Tampak hadir pula Dirjen Prasarana dan Sarana Pertanian (PSP) Pending Dadih Permana, dan Kepala Badan Karantina Pertanian (Barantan) Banun Harpini.
Jakarta (B2B) - Indonesian Agriculture Minister Andi Amran Sulaiman warned 26 companies that are allowed to import garlic to avoid attempting to practice cartels, because it remains overseen by civil servant investigators at the ministry, and manipulate mandatory garlic planting according to government regulations.
"For 26 importers who are allowed to import garlic this year, we will continue to evaluate, if proven to do cartel, we directly blacklist the company following group company," Minister Sulaiman told the press here on Friday (June 1)
According to him, blacklists apply to companies that violate the law; illegal food imports; triggering price disparities above 500 percent, manipulation is mandatory to plant garlic and others.
Minister Sulaiman then declared about revoked the permission of six companies indicated to abuse food import permit in blacklist. The six importers are PT PTI, PT TSR, PT CGM, PT FMT and PT ASJ who are currently undergoing investigation at the Criminal Investigation Division of National Police headquarters or Mabes Polri on suspicion of abusing the garlic import permit.
He said, for the fraudulent importers who have been designated as suspects by the Police, the ministry apply blacklist. "The company and our cronies are closed, No business in the food sector."
"I call on against the food mafia," Minister Sulaiman said who was accompanied by Director General of Agricultural Extension and Agricultural Human Resources or the BPPSDMP, Momon Rusmono.
Food governance improved with new policies. Companies that are blacklisted PT PTI, PT TSR, PT CGM, PT FMT and PT ASJ replaced by several regional-owned enterprises (BUMD) such as BUMD West Sumatra, BUMD East Java, BUMD NTB, BUMD Sulsel, and private companies into the business of garlic.
"If the turmoil in the market, the company will stabilize the price with cheap bazaar. They are also required to plant garlic in partnership with farmers," he said.
Also attended Director General of Infrastructure and Agricultural Facility, Pending Dadih Permana, and and Director General of Indonesian Agricultural Quarantine Agency Banun Harpini.