Suswono Prihatin pada Keterbatasan Lahan Milik Petani
Suswono Apprehensive at the Limited Land Owned by Farmers
Reporter : Gusmiati Waris
Editor : Heru S Winarno
Translator : Parulian Manalu

PUBLISHED: Kamis, 13 Juni 2013 , 09:02:01 WIB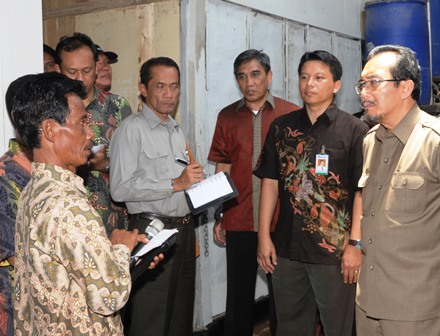 Menteri Pertanian Suswono (kanan) berdialog dengan petani gurem di Kendal, Jawa Tengah (Foto: Kementan)
Pontianak (B2B) - Menteri Pertanian Suswono mengaku prihatin dengan tingkat kepemilikan lahan oleh petani maksimal hanya 0,3 hektar atau sepetak lahan. Akibatnya, petani sulit meningkatkan produksi yang berdampak pada tingkat kesejahteraan dan terbatasnya dukungan pada program swasembada pangan.

"Kondisi tersebut diperparah dengan penyerapan masyarakat petani menjadi buruh tani lantaran tidak memiliki lahan. Kondisi itu membuat kontribusi pertanian terhadap pendapatan domestik bruto atau PDB tidak bergerak dari 14%," kata Menteri Pertanian Suswono dalam kunjungan kerja di Pontianak, Kalimantan Barat, Rabu (12/6).

Idealnya, kata Suswono, keterbatasan hasil produk pertanian dapat diserap oleh industri sehingga mendorong peningkatan pendapatan petani agar kesejahteraan meningkat. Pada gilirannya dapat membuat petani mampu membeli lahan untuk meningkatkan produksi pertaniannya.

"Bisnis pangan di Indonesia belum banyak melirik padahal potensinya sangat luas dan menjanjikan laba tinggi. Lihat saja dari tingginya impor produk pangan, holtikultura dan daging yang turut menentukan laju inflasi di Indonesia," ungkap Suswono.

"Bisnis pangan itu menarik dan terkait dengan kedaulatan suatu negara. Berdasarkan UU Ketahanan Pangan maka basisnya adalah kedaulatan negara agar negara lain tidak dapat mendikte Indonesia melalui produk impor. Negeri di wilayah tropis yang kaya matahari ini seharusnya menjadi modal dasar untuk mengembangkan pertanian."
Pontianak (B2B) - Agriculture Minister Suswono admitted concern with the level of land ownership by farmers only 0.3 hectares. As a result, farmers difficult to increase production, the impact on the welfare and limited support for food self-sufficiency program.

"The condition is exacerbated by the uptake a farm workers because farmers do not have land. Conditions that make agriculture´s contribution to gross domestic product or GDP is not moving from the 14%," said Agriculture Minister Suswono during a working visit in Pontianak, West Kalimantan, on Wednesday (12/6).

Ideally, said Suswono, limitations of agricultural products can be absorbed by the industry thus encouraging an increase in the income of farmers in order to increase welfare. In turn enables them to buy the land to increase agricultural production.

"Business has not been a lot of Indonesian food in a glanced when the potential is vast and promising high returns. Look of high imports of food products, horticulture and meat that determines the inflation rate in Indonesia," said Suswono.

"The business of food was interesting and related to the sovereignty of a country. Based Food Security Act then the base is state sovereignty, so that other countries can not dictate to Indonesia via imports. State in the rich tropical sun is supposed to be the basis for developing agriculture."