Kesejahteraan Petani, BPS Lansir NTP dan NTUP Naik 0,89% dan 0,48%
Indonesian Statistics Agency Declare that Farmers` Welfare Increases
Reporter : Gusmiati Waris
Editor : Cahyani Harzi
Translator : Dhelia Gani

PUBLISHED: Minggu, 16 September 2018 , 14:19:00 WIB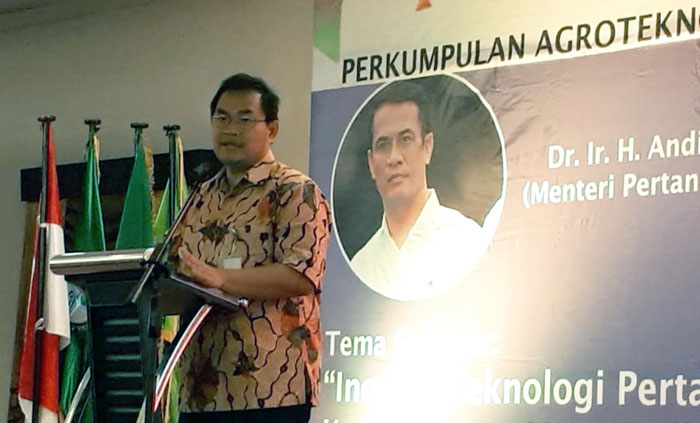 SEMINAR AGROTEKNOLOGI: Karo Humas Kementan, Kuntoro Boga Andri pada seminar dan lokakarya nasional IV Perkumpulan Agroteknologi/Agroekoteknologi Indonesia (PAGI) di Makassar (Foto: Humas Kementan)
Makassar, Sulsel (B2B) - Badan Pusat Statistik (BPS) melansir kesejahteraan petani pada Agustus 2018 meningkat, terukur dari nilai tukar petani (NTP) naik 0,89% menjadi 102,56 sementara NTP pada Agustus 2017 hanya 101,60. Begitu pula dengan nilai tukar usaha rumah tangga pertanian disingkat (NTUP) naik 0,48% menjadi 112,08 dibanding NTUP bulan sebelumnya.
"Harga gabah kering panen di tingkat petani naik 3,05 persen dan harga beras medium di penggilingan turun 0,28 persen. Kenaikan NTP dikarenakan indeks harga yang diterima petani atau It naik 0,75 persen, sementara indeks harga yang dibayar petani atau Ib turun 0,14 persen," kata Kepala Biro Hubungan Masyarakat dan Informasi Publik, Kementerian Pertanian (Kementan), Kuntoro Boga Andri di Makassar, belum lama ini, pada seminar dan lokakarya nasional IV Perkumpulan Agroteknologi/Agroekoteknologi Indonesia (PAGI).
"Tren positif kenaikan NTP menunjukkan peningkatan kemampuan daya beli. Semakin tinggi NTP, akan semakin kuat tingkat kemampuan atau daya beli petani," kata Kuntoro mengutip data BPS.
Kuntoro menambahkan daya beli petani pada Agustus 2018 ini tidak hanya lebih tinggi ketimbang bulan sebelumnya, akan tetapi jika dibandingkan Agustus 2017, daya beli petani pada Mei 2018 ini pun lebih tinggi.
"NTP pada Agusuts 2017 hanya 101,60. NTP pada Agustus 2018 ini naik ke 112,08. Jadi dari kedua nilai tukar ini yang semakin naik, penduduk di pedesaan terbukti semakin sejahtera," kata Kuntoro.
Karena itu, Kuntoro Boga menegaskan Kementan optimis raihan positif ini terus berlanjut. Pasalnya, Kementan selalu berkomitmen untuk menjalankan program pertanian yang secara signifikan meningkatkan produksi pangan dan kesejahteraan langsung. Pada 2018, Kementan tengah melaksanakan Program Bedah Kemiskinan Rakyat Sejahtera disingkat Bekerja, sasaranya untuk menurunkan tingkat kemiskinan masyarakat petani yang tinggal di desa.
"Selain itu, program Kementan yang menyasar langsung penurunan kemiskinan yakni optimasi penggunaan alat mesin pertanian. Program ini merupakan salah satu upaya pemberdayaan petani dilakukan dengan membangun jiwa kewirausahaan petani dan penguatan kelembagaan petani," tegasnya.
Dengan mekanisasi, para petani dapat berproduksi lebih efisien, lebih cepat, dan lebih produktif, serta menghasilkan produk berkualitas. Penggunaan teknologi dan mekanisasi ini mampu menarik minat generasi muda terjun ke pertanian."
Makassar of South Sulawesi (B2B) - Indonesia´s Central Statistics Agency launches states the welfare of farmers across the country in August 2018 measured from the farmer´s exchange rate or the NTP rose 0.89% to 102.56 while NTP in August 2017 was only 101.60. Similarly, the exchange rate of agricultural household businesses or the NTUP up 0.48% to 112.08 compared to the previous month´s of the NTUP.
"The price of harvested dry grain at the farmer level rose 3.05 percent and the price of medium rice in milling fell 0.28 percent. Increase of the NTP because the price index is accepted by farmers or It rises 0.75 percent, while the farmers´ expenditure index or the Ib fell by 0.14 percent," said spokesman of the Agriculture Ministry, Kuntoro Boga Andri here recently.
"A positive trend of rising NTP shows increased purchasing power. Increased of the NTP shows the stronger purchasing power of farmers,"said Mr Andri cited the BPS data.
He added that the purchasing power of farmers in August 2018 was not only higher than the previous month, however, compared to August 2017, the purchasing power of farmers in May 2018 was also higher.
"The NTP in 2017 is only 101.60. The NTP in August 2018 rose to 112.08. The increase in the exchange rate indicates that the rural population is increasingly prosperous," Mr Andri said.
Mr Andri stressed the ministry´s optimism for the positive trend. This is due to the ministry´s commitment to carry out programs to increase food production and farmers´ welfare. In 2018, the ministry is implementing a Work program to reduce the poverty level of rural farmers.
"In addition, the ministry program that targets direct poverty reduction is agricultural mechanization. The program is an effort to empower farmers through entrepreneurship and institutional strengthening of farmers," he said.
Agricultural mechanization encourages farmers´ production more efficient, faster, more productive, and produce quality products. Technology and mechanization attract young people to the agricultural sector.