Petani Sejahtera Picu Penurunan Kemiskinan di Pedesaan, Ini Faktanya ....
Indonesian Statistics Agency Claims the Number of Poor Villagers has Declined
Editor : M. Achsan Atjo
Translator : Dhelia Gani

PUBLISHED: Jum'at, 21 Juli 2017 , 17:22:00 WIB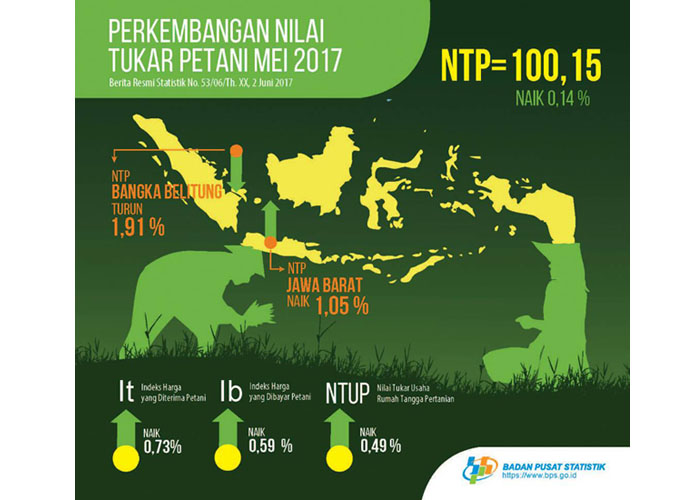 Infografis: Humas Kementan
Jakarta (B2B) - Kerja keras Pemerintah RI oleh Kementerian Pertanian dinilai berhasil mendorong peningkatan kesejahteraan petani, nilai tukar petani (NTP) Juni menembus 100,53 atau naik 0,38 poin dari Mei 2017 sementara nilai tukar usaha petani (NTUP) naik dari 109,15 pada Mei menjadi 109,59 pada Juni 2017, begitu pula dengan gini ratio atau tingkat ketimpangan di pedesaan pada Maret 2017 adalah 0,320 dibanding periode yang sama 2016 mencapai 0,327.

Hal itu dikemukakan oleh Ketua Umum Kontak Tani Nelayan Andalan Nasional(KTNA) Winarno Tohir dan Kepala Bidang Data Sosial Ekonomi dari Pusat Data dan Informasi Pertanian (Pusdatin) Kementan Lutful Hakim mengacu pada catatan angka kemiskinan dari Badan Pusat Statistik (BPS) yang menyebutkan bahwa jumlah warga miskin di pedesaan turun dari 181.290 orang per September 2016 menjadi 17.010 orang per Maret 2017. Namun sebaliknya warga miskin di perkotaan meningkat menjadi 27,77 juta jiwa per Maret 2017 ketimbang September 2016.

"Artinya, ada perbaikan kemiskinan di perdesaan yang umumnya adalah masyarakat petani. Dengan demikian kerja keras Kementan dalam meningkatkan kesejahteraan petani berbuah manis," kata Winarno Tohir di Jakarta pada Kamis (20/7).

"Program Kementan selama ini kan tidak hanya diarahkan pada peningkatan produksi untuk mencapai swasembada, tapi ada program pemberdayaan untuk mensejahterakan petani."

Winarno memberi contoh peningkatan NTP dan NTUP 2017 khususnya NTP Juni 2017 menembus 100,53 atau naik 0,38 poin dari Mei 2017, sementara NTUP naik 109,15 pada Mei menjadi 109,59 pada Juni 2017. Begitu pula dengan gini ratio di pedesaan pada Maret 2017 mencapai 0,320 padahal tahun lalu 0,327.

Hal itu tampak dari distribusi pengeluaran pada kelompok 40% terbawah di pedesaan sebesar 20,36% yang mengindikasikan kategori ketimpangan rendah. Dilihat dari indikator upah nominal harian buruh tani nasional Juni 2017 mencapai Rp49.912 per hari atau naik 0,26% dibanding sebulan sebelumnya, Rp49.782 per hari.

"Ini merupakan informasi bagus dan menunjukkan satu indikator petani lebih sejahtera," kata Winarno.

Kesejahteraan Petani
Menurut Lutful Hakim kesejahteraan petani juga terkait dengan lonjakan produksi yang didukung beberapa program kementerian. Misalnya, perbaikan jaringan irigasi untuk tiga juta hektar, bantuan alat mesin pertanian 80 ribu unit setiap tahun, bantuan benih unggul, pupuk bersubsidi, perluasan areal tanam, dan pola tanam jajar legowo.

Realisasi produksi menunjukkan kinerja positif seperti padi naik 11,7% menjadi 8,3 juta juta ton gabah kering giling (GKG) yang setara Rp38,2 triliun, produksi jagung naik 4,2 juta ton atau 21,9% yang setara Rp13,2 triliun.

Lutful kemudian menguraikan beberapa program dilakukan Kementan untuk mendukung peningkatan kesejahteraan petani seperti pemberdayaan melalui pelatihan dan pendampingan, pengembangan kawasan rumah pangan lestari (KRPL), perlindungan harga melalui penetapan harga atas dan harga bawah.

Langkah tersebut didukung program serap gabah dan kemitraan petani jagung dengan Gabungan Perusahaan Makanan Ternak (GPMT), kemudahan akses Kredit Usaha Rakyat (KUR), dan asuransi usaha tani padi dan sapi.

"Kementan pun fokus pada memperpendek rantai pasok tata niaga pangan dengan mengembangkan Toko Tani Indonesia disingkat TTI dan membentuk Satgas Pangan didukung Polri, kementerian perdagangan dan kementerian dalam negeri," kata Lutful.
Jakarta (B2B) - Indonesian Agriculture Ministry has contributed to the improvement of farmers´ welfare, farmers´ purchasing power (NTP) of June reached 100.53 or up 0.38 points of May 2017, while the farmer´s trade exchange rate (NTUP) increased from 109.15 in May to 109.59 In June 2017, as well as the rural gini ratio in March 2017 was 0.320 compared to the same period of 2016 reached 0.327.

It was stated by the Chairman of Indonesian Farmers and Fishermen Association (KTNA) Winarno Tohir and Director of the Socioeconomic Data of agriculture ministry (Pusdatin) Lutful Hakim refers to the poverty data of Statistics Agency claimed the number of rural poor per September reached 181,290 people down to 17,010 people in March 2017. But on the contrary, the urban poor of March 2017 increased to 27.77 million people compared to September 2016.

"This means the poor villagers are reduced, so the hard work of ministry improve the welfare of farmers is successful," Mr Tohir said here on Thursday (July 20).

"The ministry program has not only been aimed at increasing production to achieve self-sufficiency, but there is an empowerment program for the welfare of farmers."

Mr Tohir gave an example of an increase the NTP of June 2017 through 100.53 or up 0.38 points of May 2017, while the NTUP rose from 109.15 in May to 109.59 in June 2017. Similarly, the gini ratio of rural March 2017 reached 0.320 than the same period last year was 0.327.

In fact, the distribution of expenditure in the lowest 40% group in rural areas of 20.36% indicates the category of low inequality. Seen from the indicator of daily nominal wage of national laborer in June 2017 reached 49,912 rupiah per day or rose 0,26% from one month before, 49,782 rupiah per day.

"This is good information as an indicator of the welfare of farmers," he said.

Farmers Welfare
According to Lutful Hakim the welfare of farmers is also related to the increase of food production supported by the ministry. For example, the repair of irrigation networks for three million hectares, 80 thousand units of agricultural machinery for free from the government for farmers, superior seeds, subsidized fertilizers, extensification of planting areas, and improved cropping patterns.

Production realization showed positive results such as paddy rose by 11.7% to 8.3 million tons of milled rice or equivalent to 38.2 trillion rupiah, corn production rose 4.2 million tons or 21.9% or equivalent to 13.2 trillion rupiah.

Mr Hakim then outlined some ministry programs to support farmers´ welfare improvement such as empowerment through training and assistance, urban farming, protection of grain prices through top and bottom price fixing.

The policy is supported by the program of purchasing dried unhulled rice from farmers and partnership of corn farmers with the Association of Indonesian Vegetable Foods, community business loans, and agricultural insurance.

"The agriculture ministry also focuses on shortening the supply chain of food trade by developing the kiosks farmers called the TTI, and and established special unit of food supervision supported by the police, the trade ministry and the interior ministry," Mr Hakim said.