MoU Kementan - Kadin, Sinergi Ketersediaan Pangan dan Percepatan Investasi
Indonesian Chamber of Commerce Supports the Target of Food Self-sufficiency
Reporter : Gusmiati Waris
Editor : Cahyani Harzi
Translator : Dhelia Gani

PUBLISHED: Kamis, 06 September 2018 , 18:34:00 WIB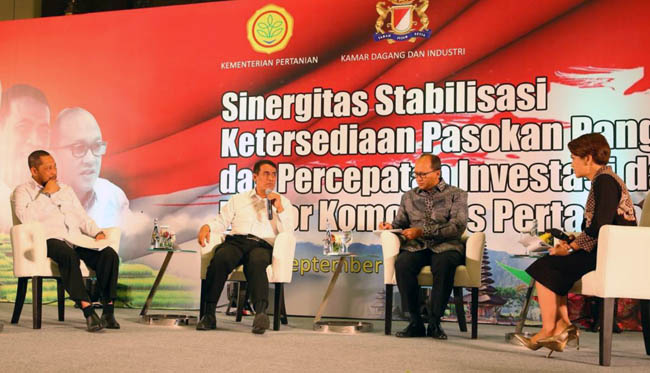 PASOKAN PANGAN: Mentan Andi Amran Sulaiman (ke-2 kiri) dan Ketua Umum Kadin, Rosan P Roeslani (ke-2 kanan) dalam dialog di Bali usai penandatanganan MoU (Foto: Humas Kementan)
Denpasar, Bali (B2B) - Kementerian Pertanian RI dan Kamar Dagang Indonesia (Kadin) menandatangani nota kesepahaman (MoU) dengan Kamar Dagang Indonesia (Kadin), dengan ruang lingkup stabilisasi ketersediaan pasokan pangan, memperkuat sinergitas bisnis antarpetani produsen, dan pertukaran data dan informasi komoditas pertanian.
"Kesepakatan Kementan dan Kadin diharapkan mampu mendorong kerjasama yang erat dengan pelibatan dan pemberdayaan petani produsen, badan usaha milik daerah atau BUMD, BUMN dan perusahaan swasta," kata Menteri Pertanian Andi Amran Sulaiman usai menandatangani MoU dengan Ketua Umum Kadin, Rosan P Roeslani di Denpasar, Bali pada Kamis (6/9).
"MoU Kementan dan Kadin bertujuan meningkatkan pencapaian yang berhasil diraih Kementan selama empat tahun pemerintahan Jokowi dan JK didukung para pemangku kepentingan di sektor pertanian," kata Amran Sulaiman kepada pers.
Data pertanian menyebutkan, nilai produksi 2017 mencapai Rp1.344 triliun atau naik Rp350 triliun dari 2013. Ekspor Indonesia 2017 mencapai US$168,81 miliar, naik 16,26% dari 2016 sebesar US$145,18 miliar, sedangkan nilai ekspor pertanian 2017 mencapai Rp440 triliun atau meningkat 24%.
Guna mendukung upaya Pemerintah RI mengendalikan neraca perdagangan, Kementan berupaya mengembangkan 13 komoditas substitusi impor seperti gandum, tebu, sapi/daging sapi, kedelai, kapas, susu, bawang putih, kacang tanah dan pati ubi kayu.
"Komoditas tersebut sangat dimungkinkan untuk disubstitusi dengan komoditas yang sama, atau komoditas lain yang dapat dikembangkan di Indonesia," kata Mentan.
Dia memperkirakan kebutuhan total investasi komoditas substitusi impor sebesar Rp68,08 triliun atau Rp13,62 triliun per tahun. Investasi ini memberikan penciptaan total kesempatan kerja sebesar 1,87 juta orang, atau 0,37 juta orang per tahun, serta potensi penghematan devisa Rp83,76 triliun selama lima tahun.
"Hal ini sangat dimungkinkan karena pemerintah telah menerbitkan Peraturan Presiden (Perpres) No 91 Tahun 2017 tentang percepatan pelaksanaan berusaha," kata Amran.
Denpasar of Bali (B2B) - Indonesian Agriculture Ministry and Indonesian Chamber of Commerce or the Kadin sign a memorandum of understanding (MoU) with the Kadin to support the availability of food supply, strengthen business synergy between farmers, and exchange of data and information of agricultural commodities.
"The ministry and Kadin´s agreement is expected to encourage cooperation to empower farmers as food producers, regional owned enterprises or the BUMD, SOEs and private companies," said Agriculture Minister, Andi Amran Sulaiman after signed the MoU with the Chairman of Kadin, Rosan P Roeslani here on Thursday (September 6).
"The ministry´s MoU with Kadin aims to improve during the four years of Joko Widodo administration supported by stakeholders in the agricultural sector," Minister Sulaiman told the press.
Agricultural data said that 2017 production reached IDR 1,344 trillion, up IDR 350 trillion from 2013. Indonesian exports in 2017 reached US$ 168.81 billion, up 16.26% from 2016 of US$ 145.18 billion, while agricultural exports in 2017 reached IDR 440 trillion, an increase of 24%.
To support the Indonesian government´s efforts to control the trade balance, the ministry seeks to develop 13 imported substitution commodities such as wheat, sugar cane, beef / beef, soybeans, cotton, milk, garlic, peanuts and cassava starch.
"These commodities will be the same commodity substitution or other commodities to be developed in Indonesia," Minister Sulaiman said.
He estimates the need for total investment in imported substitute commodities to reach IDR 68.08 trillion or IDR 13.62 trillion per year. The investment opens employment opportunities for 1.87 million people, or 0.37 million people per year, and saving foreign exchange IDR 83.76 trillion over five years.
"It is possible because the government has issued presidential regulation number 91 of 2017 concerning the acceleration of business opportunities," he said.