Mentan Lantik Momon Rusmono dan Agung Hendriadi, Pimpin BPPSDMP dan BKP
Indonesian Minister Inaugurated the High-ranking Officials of HR Agriculture and Food Security
Reporter : Gusmiati Waris
Editor : Cahyani Harzi
Translator : Dhelia Gani

PUBLISHED: Selasa, 18 Juli 2017 , 22:13:00 WIB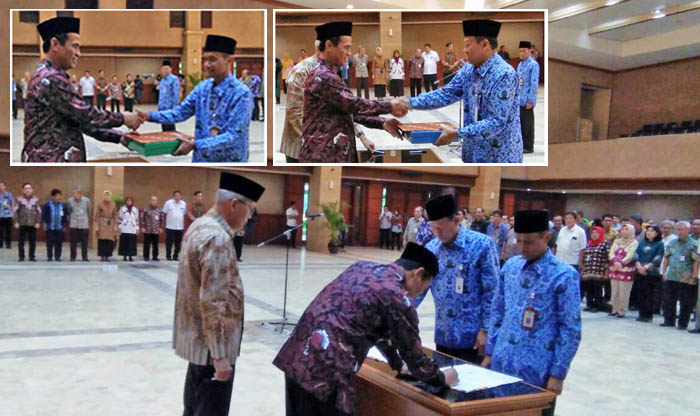 Mentan Andi Amran Sulaiman didampingi Sekjen Hari Priono meneken SK pengangkatan dan mengucapkan selamat pada Agung Hendriadi dan Momon Rusmono sebagai Kepala BPPSDMP dan Kepala BKP (Foto: B2B/Gusmiati Waris)
Jakarta (B2B) - Momon Rusmono dan Agung Hendriadi dilantik sebagai Kepala Badan Penyuluhan dan Pengembangan Sumber Daya Manusia Pertanian (BPPSDMP) dan Kepala Badan Ketahanan Pangan (BKP) oleh Menteri Pertanian RI Andi Amran Sulaiman, Selasa (18/7), setelah 168 hari Pending Dadih Permana dan Gardjita Budi ditetapkan sebagai Dirjen Prasarana dan Sarana (PSP) dan Staf Ahli Menteri Bidang Bioindustri pada Selasa (31/1).

Selama 168 hari Kepala BPPSDMP dan Kepala BKP dirangkap oleh Sekjen Kementerian Pertanian Hari Priono, dan Kepala BKP oleh Dirjen Hortikultura Spudnik Sujono sebagai pelaksana tugas (Plt).

Sebelum dilantik sebagai pejabat eselon satu Kementan, Momon Rusmono menjabat Sekretaris BPPSDMP dan Agung Hendriadi adalah Kepala Biro Humas dan Informasi Publik Kementan.

Mentan mengatakan seleksi pejabat tinggi madya dilakukan secara transparan dan taat hukum melalui lelang jabatan, yang disepakati bebas dari intervensi dan titipan sebagai komitmen mencegah praktik korupsi, kolusi dan nepotisme (KKN).

"Hari ini pemerintah melantik kepala BKP dan SDM. Harap diingat, setiap pejabat kapan saja bisa diganti. Kita sepakat, tugas pejabat mencapai target pemerintah, kalau tidak tercapai maka pejabat menjadi target untuk diganti," kata Mentan Amran Sulaiman dalam sambutannya usai pelantikan yang dihadiri oleh para pejabat eselon satu dan dua Kementan.

Kepada Momon Rusmono dan Agung Hendriadi, Mentan meminta keduanya mampu meningkatkan kinerja yang telah dicapai sebelumnya di sektor ketahanan pangan dan SDM, dan pihaknya akan terus melakukan evaluasi setiap saat baik harian hingga bulanan untuk menjaga kinerja kementerian mencapai target yang ditetapkan Presiden Joko Widodo.

"Sistem yang melakukan evaluasi apabila seorang pejabat gagal mencapai target, yang berlangsung setiap hari dan setiap bulan," kata Mentan.
Jakarta (B2B) - Indonesian senior officials, Momon Rusmono and Agung Hendriadi inaugurated as Director General of Agency for Agricultural Extension and Human Resources Development (BPPSDMP) and Director General of Food Security Agency (BKP) by Agriculture Minister Andi Amran Sulaiman here on Tuesday (July 18) after 168 days of Pending Dadih Permana and Gardjita Budi were inaugurated as Director General of Agricultural Infrastructure and the Bioindustry Ministerial Expert Staff in January 31.

Previously, the Secretary General of Agriculture Ministry Hari Priono and Director General of Horticulture Spudnik Sujono served as ad interim officials of Director General of the BPPSDMP and the BKP.

Prior to being inaugurated as the first echelon official of the ministry, Momon Rusmono served as Secretary of BPPSDMP and Agung Hendriadi was the Head of Public Relations and Public Information Bureau.

Minister Sulaiman said the selection of high-ranking Indonesian officials was transparent, and free of intervention as a commitment to prevent corruption, collusion and nepotism.

"Keep in mind that any government official can be fired at any time. We agree, the duty of state officials to reach the government´s target," Minister Sulaiman in his speech after the inauguration.

Specifically to Momon Rusmono and Agung Hendriadi, Minister Sulaiman asked them to improve the competence of agricultural human resources, and food security, and it will evaluate daily to keep the ministry´s performance in line with the target set by President Joko Widodo.

"The system conducts an evaluation if a high official fails to reach the target, evaluates every day until every month," Minister Sulaiman said.