Potensi 10,90 Juta Ha, 500 Ribu Ha Lahan Rawa Target Ditjen PSP 2019
Indonesian Govt Targets 500.000 Hectares of Swamp Land for Agriculture
Editor : M. Achsan Atjo
Translator : Dhelia Gani

PUBLISHED: Jum'at, 08 Februari 2019 , 02:23:00 WIB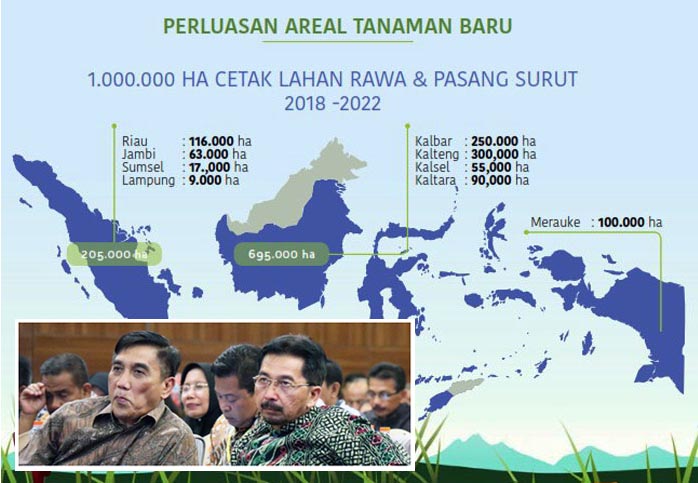 PROGRAM #SERASI: Target pengembangan lahan rawa di seluruh Indonesia, Dirjen PSP Kementan, Sarwo Edhy (kanan) dan Sesditjen PSP Mulyadi Hendiawan (inset) Tabel & Foto: Humas Ditjen PSP Kementan
Yogyakarta, DIY (B2B) - Potensi lahan rawa di seluruh Indonesia seluas 33,4 juta ha, 23,05 juta ha lahan pasang surut dan rawa lebak 10,35 juta ha, dari jumlah tersebut yang potensial untuk pertanian mencapai 10,90 juta hektar. Ditjen Prasarana dan Sarana Pertanian (PSP) Kementerian Pertanian RI untuk 2019 ditargetkan mendukung pembangunan dan perbaikan infrastruktur serta bantuan Alsintan untuk luas lahan 500.000 ha.
Dirjen PSP Sarwo Edhy mengatakan sesuai arahan Menteri Pertanian RI Andi Amran Sulaiman, potensi lahan rawa yang sangat besar ini akan digarap dalam kerangka kegiatan optimasi lahan untuk peningkatan produksi pangan nasional, melalui program ´selamatkan rawa sejahterakan petani´ disingkat #Serasi.
"Tahun ini, pengembangan lahan rawa akan ditargetkan seluas 500 ribu hektar tersebar di lima provinsi yakni Sumatera Selatan, Kalimantan Selatan, Jambi, Lampung, dan Sulawesi Selatan," kata Dirjen Sarwo Edhy dalam arahannya saat membuka ´rapat teknis pengelolaan anggaran Ditjen PSP´ di Yogyakarta, Rabu (6/2), yang diikuti lebih 100 peserta dari seluruh Indonesia.
Untuk merealisasikan target #Serasi, Ditjen PSP Kementan sesuai tugas dan fungsinya bertanggung jawab terhadap aspek pembangunan dan perbaikan infrastruktur yang diperlukan serta bantuan Alsintan pra panen yang diperlukan.
Dia mengingatkan bahwa optimasi lahan rawa melalui #Serasi adalah fokus pertama dari lima fokus utama kebijakan Ditjen PSP untuk TA 2019. Fokus kedua, kegiatan cetak sawah terkait dengan pencapaian target NawaCita dan evaluasi pelaksanaannya.
"Ketiga, pemberdayaan dan pendayagunaan bantuan alat dan mesin pertanian, khususnya excavator berat, dan Alsintan lainnya. Keempat, konsepsi pembentukan badan layanan umum (BLU) pembiayaan pertanian. Kelima, alokasi pupuk bersubsidi melalui penyusunan e-RDKK dan pendekatan kartu tani," kata Dirjen Sarwo Edhy.
Yogyakarta (B2B) - Indonesia´s swamp land potential reaches 33.4 million hectares, 23.05 million hectares of tidal land and dry swamps of 10.35 million hectares, and 10.90 hectares potential for agricultural land. This year, the Directorate General of Agricultural Infrastructure and Facilities at the Agriculture Ministry or the Ditjen PSP target support of construction and repair of infrastructure and agricultural machinery for 500,000 hectares of land.
Director General of Agricultural Infrastructure and Facilities, Sarwo Edhy, quoted the instructions of Agriculture Minister Andi Amran Sulaiman, the potential of swamp land supports increased national food production, through the ´save the swamp land for farmers´ welfare´ program or the #Serasi.
"This year, swamp land development will be targeted at 500 thousand hectares in five provinces namely South Sumatra, South Kalimantan, Jambi, Lampung and South Sulawesi," said Director General Sarwo Edhy in his direction while opened the technical meeting here on Wednesday (February 6).
To realize the #Serasi target, the Ditjen PSP responsible for the development and repair of infrastructure and pre-harvest agricultural machinery.
He reminded that the optimization of swamp land through #Serasi is the first focus of the five main focus policies for the 2019 budget year. The second focus, opening new fields related to NawaCita targets and evaluating their implementation.
"Third, empowering and utilizing agricultural machinery, especially heavy excavators, Fourth, the establishment of agricultural finance public service. Fifth, the allocation of subsidized fertilizer through Farmers Card," Sarwo Edhy said.