Digitalisasi Sistem, Kementan Upaya Tingkatkan Layanan Publik
Indonesian Agriculture is Moving towards the Digitalization Era 4.0
Reporter : Kemal Agus Praghotsa
Editor : Cahyani Harzi
Translator : Dhelia Gani

PUBLISHED: Kamis, 03 Desember 2020 , 23:55:00 WIB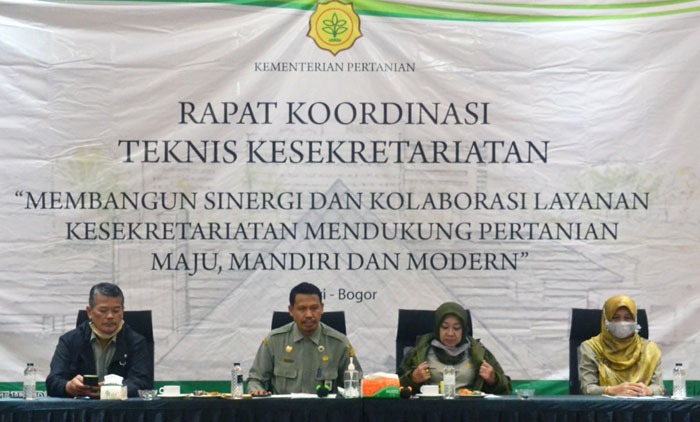 RAKORNIS KESEKRETARIATAN: Perbaikan dengan sistem digital dapat dijadikan input menuju reformasi birokrasi berbasis digital untuk memudahkan pekerjaan seluruh sektor [Foto: Kementan]
Bogor, Jabar [B2B] - Kunci dalam membangun dan meningkatkan kinerja yang efektif dan efisien, untuk memberikan pelayanan terbaik adalah komunikasi dan koordinasi. Hal ini disampaikan oleh Sekretaris Jenderal Kementerian Pertanian, Momon Rusmono di Ciawi, Bogor, pada Kamis [3/12]
"Jangan mudah puas dengan keberhasilan yang telah diraih, karena dengan itu kita dapat mengantisipasi permasalahan di depan. Kita bisa menjadi the winning team, komunikasi dan koordinasi harus ditingkatkan, sehingga semua permasalahan dapat diatas jika kita berkomunikasi dan berkoordinasi dengan baik. Jangan cepat geer kalau dibilang hebat, hebat itu kalau kita bisa bekerjasama," katanya.
Ia berharap kedepannya dapat peluang untuk perbaikan sistem dengan e-government agar pelayanannya lebih baik, efektif, akuntabel dan mudah diakses oleh publik.
Berkaitan dengan pelaksanaan Penilaian Mandiri Pelaksanaan Reformasi Birokrasi [PMRPB] yang merupakan instrumen penilaian kemajuan pelaksanaan reformasi birokrasi yang mencakup penilaian dua komponen, yakni pengungkit dan hasil. Momon kepada seluruh peserta Rapat Koordinasi Teknis Kesekretarian se-Kementan, menyampaikan arahan untuk memperbaiki input dan hasil yang akan diproyeksikan agar terealisasikan.
"Nilai Kenaikan PMRB tidak pernah lebih dari dua point, saya mau tahun depan naiknya dua digit. Ini bisa dilakukan jika melakukan terobosan-terobosan dengan memperbaiki reformasi birokrasi dari segala aspek," kata Momon.
Menurutnya, perbaikan dengan sistem digital dapat dijadikan input menuju reformasi birokrasi berbasis digital untuk memudahkan pekerjaan seluruh sektor.
Senada dengan arahan Momon, Staf Khusus Bidang Kebijakan Pertanian Kementan, Imam Mujahid menyampaikan bahwa reformasi birokrasi di lingkup Kementan penting untuk ditingkatkan demi mendukung terwujudnya pertanian yang maju, mandiri dan modern.
Imam menyebutkan pelayanan administrasi memiliki peran penting bagi organisasi dengan memperhatikan optimalisasi sistem pengendalian, agar upaya mencapai akuntabilitas pelayanan dan juga memperhatikan penerapan penggunaan teknologi informasi, seperti e-government dengan smart Aparatur Sipil Negara [ASN], untuk beradaptasi dengan perkembangan dan merespon perubahan-perubahan yang ada.
"Bagaimana birokrasi bekerja secara transparan sehingga publik merasa terpenuhi kebutuhan informasi mereka, seperti Grand Design di KemenpanRB. Tahun 2024 menghendaki smart ASN. Kita berharap bisa menjadi pemerintahan yang smart," pungkasnya.
Bogor of West Java [B2B] - Indonesia´s Agricultural Development Strategy Command or KostraTani will carry out and oversee Indonesia´s agricultural development into the digital era. Empowerment of duties, functions and roles of the Agricultural Extension Agency or BPP refers to the qualifications for the 4.0 industrialization era, according to the senior official of Indonesian Agriculture Ministry.