Panen Jagung Malang, Sesditjen PSP Apresiasi Kerja Keras Petani
Tenacity of Indonesia`s Malang Corn Farmers overcomes Infertile Land
Reporter : Gusmiati Waris
Editor : Cahyani Harzi
Translator : Dhelia Gani

PUBLISHED: Rabu, 27 Februari 2019 , 02:37:00 WIB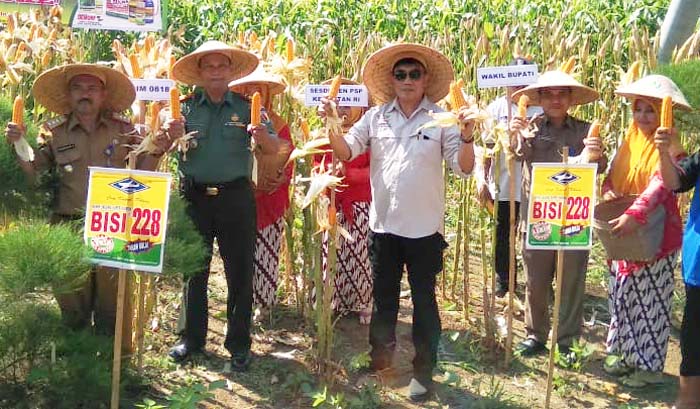 HARGA BAGUS: Sesditjen PSP Kementan, Mulyadi Hendiawan (kemeja krem) panen bersama Asisten Bupati Abdul Rachman dan Kadis TPH Budiar di Desa Sindurejo, Kecamatan Gedangan (Foto: Humas Ditjen PSP)
Malang, Jatim (B2B) - Kerja keras petani berhasil mengatasi kondisi tanah yang kurang subur di Kabupaten Malang, Provinsi Jawa Timur, khususnya di Kecamatan Gedangan untuk panen jagung dari potensi lahan seluas 2.000 hektar, dan Direktorat Jenderal Prasarana dan Sarana Pertanian - Kementerian Pertanian RI (Ditjen PSP) memberi bantuan traktor tangan, hand sprayer, dan ganclong.
"Kita harus mengapresiasi petani jagung di sini bahwa mereka luar biasa. Bertanam dengan bagus, produksi bagus dan hasilnya juga luar biasa bagus," kata Sekretaris Ditjen PSP, Mulyadi Hendiawan kepada pers usai panen jagung di Desa Sindurejo, Kecamatan Gedangan, Senin (25/2).
Menurutnya, berbagai upaya dilakukan Ditjen PSP untuk mendukung peningkatan produksi padi, jagung dan kedelai disingkat Pajale, mulai dari memberikan bantuan prasarana dan sarana hingga pendampingan petani untuk meningkatkan produksi pangan strategis tersebut.
Tampak hadir Asisten Bupati bidang Pemerintahan dan Kesejahteraan Masyarakat, Abdul Rachman; Kepala Dinas Tanaman Pangan, Hortikultura, dan Perkebunan Pemkab Malang, Budiar.
Berdasarkan data, luas panen perdana di Desa Sindurejo mencapai 200 hektar, dari potensi 2.000 hektar di Kecamatan Gedangan. Sementara potensi panen jagung di Kabupaten Malang hingga Maret 2019 diperkirakan mencapai 300.000 ton.
"Harga jual juga tidak masalah, karena pasar menerima hasil panen petani di atas harga Inpres. Pemerintah berterima kasih atas keuletan petani di sini sehingga Jawa Timur menjadi salah satu lumbung jagung terbesar di Indonesia," kata Mulyadi Hendiawan.
Malang of East Java (B2B) - Tenacity of corn farmers overcome conditions of infertile land in Malang district of East Java province, especially in Gedangan subdistrict to developing 2,000 hectare corn field, and the Directorate General of Agricultural Infrastructure and Facilities at the Indonesian Agriculture Ministry or the Ditjen PSP provide hand tractors and hand sprayers.
"We must appreciate the corn farmers here that they are extraordinary. Plant well, produce well and harvest extraordinary," Secretary of Ditjen PSP, Mulyadi Hendiawan told the press here after the corn harvest in Sindurejo village of Gedangan subdistrict, Monday (February 25).
According to him, various efforts were made by the Ditjen PSP to support increased production of rice, corn and soybeans or Pajale, starting from providing assistance to agricultural infrastructure and facilities.
Based on data, the initial harvest area in Sindurejo village reached 200 hectares, of potential 2,000 hectares in Gedangan subdistrict. Meanwhile the potential for corn harvest in Malang Regency until March 2019 is estimated at 300,000 tons.
"The price of corn is profitable for farmers, because the market buys above the price of government provisions. The government is grateful for the tenacity of farmers here, so that East Java is one of Indonesia´s corn barns," said Hendiawan.