Brigade Alsintan, Realisasi Fisik 2.143 Ha dari Target 257.300 Ha #Serasi Kalsel
Target Indonesia`s South Borneo Swamp Land for Farming 257.30 Hectares
Reporter : Gusmiati Waris
Editor : Cahyani Harzi
Translator : Dhelia Gani

PUBLISHED: Senin, 27 Mei 2019 , 02:56:00 WIB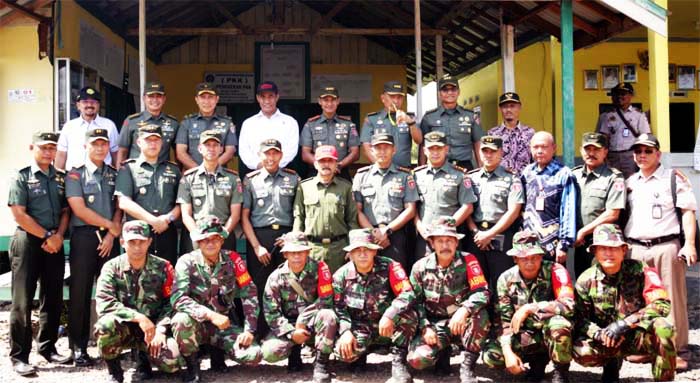 PENDAMPINGAN TNI AD: Dirjen PSP Kementan, Sarwo Edhy [deret ke-3 kiri] dan Mentan Amran Sulaiman [kemeja putih ke-4 kiri] bersama Danrem dan Dandim serta Babinsa dari seluruh Kalsel [Foto: Humas Kementan]
Barito Kuala, Kalsel [B2B] - Pemerintah RI memanfaatkan potensi lahan rawa untuk pertanian, khususnya di Provinsi Kalimantan Selatan melalui Program ´Selamatkan Rawa Sejahterakan Petani´ #Serasi ditargetkan 257.300 hektar [ha]. Realisasi konstruksi fisik irigasi hingga Mei 2019 adalah 2.143 hektar ha, kategori calon petani/calon lahan [CPCL] yang sudah masuk 160.481 ha, 43.188 ha sudah disurvai dan realisasi disain 38.121 ha setelah dirintis bertahap sejak dua tahun lalu.
Hal itu dikemukakan Menteri Pertanian RI Andi Amran Sulaiman saat meninjau perkembangan Program Selamatkan Rawa Sejahterakan Petani #Serasi di Desa Kokida, Kecamatan Barambai, Sabtu [25/5] didampingi Direktur Jenderal Prasarana dan Sarana Pertanian [Dirjen PSP Kementan] Sarwo Edhy; Kepala Dinas Tanaman Pangan dan Hortikultura [TPH] Batola, Zulkifli Yadi Noor.
"Untuk mendukung percepatan realisasi program #Serasi maka harus dikerahkan sedikitnya enam excavator di satu lokasi. Bergerak dalam satu tim, melalui Brigade Alsintan, pekerjaan berlangsung cepat serta pengawasan akan lebih mudah dan murah," kata Mentan Amran Sulaiman.
Menurutnya, istilah brigade tidak selalu identik dengan militer, Kementerian Pertanian RI menggunakan istilah brigade untuk menggambarkan cara penggunaan alat dan mesin pertanian [Alsintan] yang lebih efektif dan efisien di lahan pertanian, khususnya lahan rawa #Serasi.
"Beda spiritnya. Kalau dengan Brigade Alsintan akan lebih cepat, berbeda jauh hasilnya apabila bekerja sendiri-sendiri, biaya akan lebih mahal dan butuh banyak orang untuk pengawasan," kata Mentan.
Dirjen PSP Sarwo Edhy mengatakan bantuan Alsintan kepada kelompok tani [Poktan/Gapoktan] harus dikondolidasikan pemanfaatannya dan dioperasionalkan sebagai Brigade Alsintan, sesuai instruksi Mentan Amran Sulaiman.
"Harus difahami bahwa Alsintan bukan sekadar alat atau mesin tetapi juga barang modal yang harus dapat berkembang sebagai modal usaha dari unit pelayanan jasa Alsintan disingkat UPJA," kata Sarwo Edhy.
Kepala Dinas TPH Zulkifli Yadi Noor memastikan pola Brigade Alsintan sudah dilaksanakan di Batola sesuai instruksi Mentan Amran Sulaiman agar pengerjaan lahan rawa lebih optimal.
"Mekanisasi pertanian dengan Alsintan mengubah mindset petani tradisional menjadi modern, dan Brigade Alsintan mendorong pemanfaatannya lebih efektif dan efisien," kata Zulkifli YD. [Sur]
Barito Kuala of South Borneo [B2B] - Indonesian government uses potential of swamp land for agriculture, especially in South Borneo province through the #Serasi Program it is targeted to 257,300 hectares. Realization of irrigation construction until May 2019 is 2,143 hectares, ready to be cultivated by farmers 160,481 hectares, realization of survey 43,188 hectares and realization of design of 38,121 hectares.
"To support acceleration of realization of #Serasi program, at least six excavators must be deployed in one location. Physical irrigation work will be faster and supervision is easier and cheaper," said Agriculture Minister Andi Amran Sulaiman.
According to him, the term brigade is not always identical with military, the Indonesian Agriculture Ministry uses term of brigade to describe how to use agricultural machinery more effectively and efficiently on swamp land # Serasi.
"The spirit is different. If agricultural machinery brigades will be faster, the results will be different if they work individually, more expensive and need more people for supervision," Minister Sulaiman said.
Director General of Ministry´s Infrastructure and Facilities Sarwo Edhy Agricultural machinery assistance to farmer groups must be consolidated and operationalized as Alsintan Brigades, according to Minister Sulaiman´s instructions.
"It must be understood that agricultural machinery is just a tool or machine, but also capital goods that must develop as venture capital for farmers," DG Edhy said.
Head of the Barito Kuala Agriculture Office, Zulkifli Yadi Noor, confirmed that the Alsintan Brigade pattern had been implemented in Barito Kuala according to Minister Sulaiman´s instructions so that the development of swamps into agricultural land was more optimal.
"The mechanization by agricultural machinery changed the traditional farmer´s mindset to be modern," Noor said.