Produksi 2016 Naik 18,23%, Indonesia Berpeluang Ekspor Jagung
Indonesia Will Export Maize after 2016 Production Increased 18.23%
Reporter : Gusmiati Waris
Editor : Cahyani Harzi
Translator : Dhelia Gani

PUBLISHED: Sabtu, 08 Juli 2017 , 05:27:03 WIB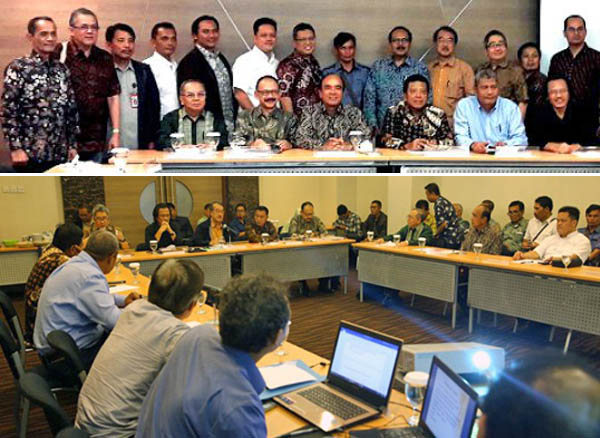 Forum Group Discussion (FGD) bertema ´Menjadikan Indonesia Eksportir Jagung´ di Jakarta pada Kamis malam (7/7) Foto2: B2B/Gusmiati Waris
Jakarta (B2B) - Indonesia berpeluang menjadi eksportir jagung didukung luas lahan dan kesuburan tanah di negara tropis, asalkan didukung regulasi yang berkesinambungan dengan memprioritaskan pencapaian swasembada untuk jagung memenuhi kebutuhan dalam negeri sebelum menargetkan ekspor pada 2018, dengan pencapaian produksi 23,19 juta ton pada 2016 atau meningkat 18,23% dari tahun sebelumnya, 19 juta ton.

Optimisme tersebut dikemukakan mantan Menteri Transmigrasi dan Pemukiman Perambah Hutan, Siswono Yudo Husodo; Staf Ahli Menteri Pertanian bidang Perdagangan dan Hubungan Internasional, Mat Syukur; Guru Besar IPB Bogor bidang Bioteknologi dan Genetika Molekuler Dwi Andreas Santosa, Anggota Komisi IV DPR Mindo Sianipar; pengusaha benih Adhie Widiharto pada Forum Group Discussion (FGD) bertema 'Menjadikan Indonesia Eksportir Jagung' di Jakarta pada Kamis malam (7/7).

Siswono mengingatkan Pemerintah RI khususnya Kementerian Pertanian dan instansi terkait untuk menyusun program terencana dan berkesinambungan untuk mencapai target menjadi 'lumbung pangan 2045' karena pencanangan Indonesia untuk 'feed the world' bukan hal mustahil.

"Upaya pencapaian swasembada jagung dan tujuan ekspor menjadi tugas pemerintah meskipun berganti rezim, jangan gonta-ganti program dan kita harus belajar dari keberhasilan Brazil sebagai pengekspor jagung terbesar karena menerapkan kebijakan yang konsisten," kata Siswono yang juga menjabat Ketua Yayasan Pembina Pendidikan Universitas Pancasila.

Dwi Andreas Santosa menyoroti konversi lahan sebagai kendala dan tantangan utama Indonesia yang selama ini menjadi penyebab utama penurunan produksi pertanian, khususnya jagung sehingga harus dikembangkan strategi dan pendekatan komprehensif untuk mengatasi kendala lahan dengan peningkatan produksi jagung ke depan.

Mat Syukur menegaskan bahwa Kementerian Pertanian RI menerapkan strategi yang terintegrasi untuk meningkatkan produktivitas, memperluas areal lahan melalui peningkatan intensitas tanam dan pengembangan area lahan baru, dengan fokus pada keterpaduan area lahan satu juta hektar.

"Strategi berikutnya peningkatan teknologi pasca panen melalui pengenalan pengeringan mekanik dan lumbung. Diikuti strategi peningkatan pemasaran, kredit tanpa agunan untuk petani, penerapan petani kontrak, dan kebijakan harga yang menguntungkan petani," kata Mat Syukur.

Menurutnya, tantangan dan kendala tersebut berhasil dikendalikan oleh Kementan, produksi jagung telah meningkat signifikan untuk mencukupi kebutuhan domestik, baik untuk industri pakan ternak dan kebutuhan konsumsi. Dengan demikian, kita tidak lagi mengimpor jagung, pada saat ini, Indonesia telah memulai upaya untuk mengekspor jagung ke beberapa negara tetangga.

Capai Swasembada
Politisi PDI Perjuangan Mindo Sianipar mengingatkan Kementan untuk memprioritaskan pemenuhan kebutuhan dalam negeri atau swasembada jagung sebelum mengincar peluang ekpor.

"Indonesia menjadi eksportir jagung bukanlah hal yang mustahil, dengan menyusun dan menetapkan regulasi tepat sasaran, memperhitungkan persoalan harga jagung harus dapat menjadi insentif yang menarik bagi petani, perluasan lahan tanam," kata Mindo.

Adhie Wiharto menilai Indonesia mampu swasembada jagung dan membidik pasar ekspor namun hal itu harus dilakukan berkesinambungan dari pemerintah saat ini ke pemerintahan berikutnya meskipun berganti rezim.

Adhie mengatakan saat ini, jagung menjadi komoditas nasional yang cukup strategis, dominan digunakan sebagai bahan baku pakan ternak namun fluktuasi harga pakan ternak akan mempengaruhi harga hasil ternak seperti daging dan telur. Kenaikan harga jagung, akan berdampak kenaikan harga pakan ternak, dan berakibat meningkatnya harga telur dan daging.

Mat Syukur menambahkan perkembangan produksi jagung di Indonesia pada periode 1980-2016 cenderung berfluktuasi namun secara umum meningkat. Produksi jagung tertinggi pada 2016 sebesar 23,19 juta ton atau naik 18,23% dari tahun sebelumnya. Peningkatan ini merupakan peningkatan tertinggi selama delapan tahun terakhir akibat peningkatan luas panen jagung untuk memenuhi kebutuhan nasional.

Data Kementan menyebutkan kebutuhan jagung untuk konsumsi langsung hampir 398.520 ton pipilan kering per tahun, kebutuhan untuk industri pakan setiap tahun mencapai 8.250.000 ton pipilan kering, kebutuhan jagung untuk pakan peternak lokal 6.613.345 ton per tahun, kebutuhan untuk benih 83.947 ton per tahun, dan industri 4.092.007 ton per tahun.

"Melimpahnya hasil panen jagung petani ini makin menguatkan tekad pemerintah menutup impor jagung paling lambat 2018. Sementara tingginya produksi jagung dapat memenuhi kebutuhan industri pakan ternak dan tidak bisa lagi berdalih kekurangan bahan baku untuk meminta kuota impor," kata Mat Syukur.
Jakarta (B2B) - Indonesia could become a corn exporting country due to the potential land area in tropical countries, integrated and comprehensive regulation becomes the determinant of self-sufficiency to meet domestic needs before targeting exports by 2018, while corn production in 2016 reaches 23.19 million tons or an increase of 18,23% or 19 million tons in 2015.

The optimism was stated by former transmigration minister Siswono Yudo Husodo; expert staff to agriculture minister Mat Syukur; Professor of the Bogor Institute of Agriculture (IPB Bogor) Dwi Andreas Santosa, member of parliament (MP) Mindo Sianipar and seed entrepreneur Adhie Widiharto at Forum Group Discussion (FGD) entitled 'Indonesia as a Corn Exporter' here on Thursday evening (July 7).

Mr Husodo reminded the Indonesian government especially the agriculture ministry and related institutions to formulate a planned and sustainable program to achieve the target of '2045 food barn' because it is not impossible.

"The target of self-sufficiency of corn and export target is the responsibility of the government despite the regime change, and Indonesia must learn from Brazil's success as the biggest corn exporter because it implements consistent policy," he said.

Dwi Andreas Santosa highlights land conversion as Indonesia's main obstacle and challenge, which has been the cause of the decline of agricultural production, especially corn, so a comprehensive strategy and approach must be developed to overcome these obstacles and challenges.

Mat Syukur asserted that the ministry of agriculture implemented an integrated strategy to increase productivity, land expansion through increased cropping intensity and new land development, with a focus on the integration of one million hectares of land.

"The next strategy of improving post-harvest technology through the introduction of mechanical drying and barns is supported by marketing strategies, light credits for farmers, contract farmers, and prices to benefit farmers," Mr Syukur said.

According to him, the challenges and obstacles have been overcome by the ministry, corn production has increased significantly to meet domestic demand, supplying animal feed industry and consumption needs.
Indonesia is no longer importing corn, and Indonesia is now preparing to export to the international market.

Stop Import
Indonesian politician of PDI Perjuangan party Mindo Sianipar PDI-P politicians Mindo Sianipar reminded ministries to prioritize domestic needs before corn exports.

"Being a corn exporter is not impossible for Indonesia, as long as it is supported by regulation on target, overcomes the issue of corn price as an incentive for farmers, and expansion of planting land," Mr Sianipar said.

Adhie Wiharto considers Indonesia capable of self-sufficiency of corn, and targeting export markets but must be continuous from the current government to the next government despite regime change.

Mr Wiharto said at this time, corn became a strategic national commodity, dominantly used as raw material for livestock feed but fluctuations in feed prices will affect the price of meat and eggs. The increase in corn prices, will affect the price of animal feed, eggs and meat.

Mr Syukur added the development of maize production in Indonesia in the period 1980-2016 tends to fluctuate but generally increase. The highest corn production in 2016 reached 23.19 million tons, up 18.23% from the previous year. The highest increase in production over the past eight years after increasing harvested areas to meet national needs independently.

Data agriculture ministry said maize for consumption needs is almost 398,520 tons of dry kiln per year, the need for feed industry per year 8.250.000 tons of dry kiln, feed requirement for local breeder 6,613,345 tons per year, seed requirement 83,947 tons per year, and industry 4,092,007 tons per year.

"Farmers' corn harvest strengthens the government's determination to close maize import by 2018. Meanwhile, corn production can meet the needs of the animal feed industry, so there is no need for imports," Mr Syukur said.