`Mobile Corn Dryer`, Charoen Pokphand Uji Coba Prototipe versi 2.3 di Tuban
Charoen Pokphand Indonesia Develops Mobile Corn Dryers for Farmers
Editor : M. Achsan Atjo
Translator : Dhelia Gani

PUBLISHED: Sabtu, 16 Februari 2019 , 05:41:00 WIB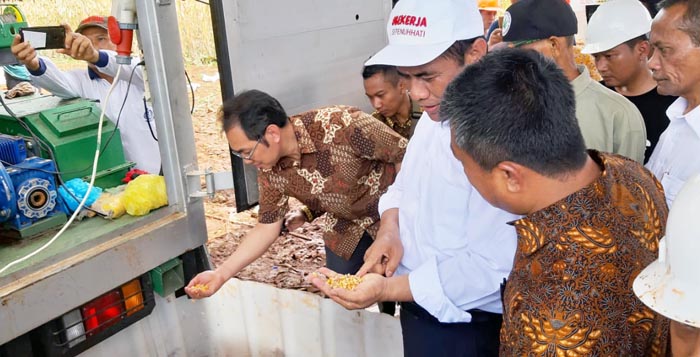 HASIL PANEN: Mentan Amran Sulaiman (kemeja putih) didampingi Kepala BKP Kementan, Agung Hendriadi mencermati hasil olahan dari Mobile Corn Dryer yang dikembangkan Charoen Phokpand Indonesia (Foto: Humas)
Tuban, Jatim (B2B) - Mengusung konsep ´menjemput bola dan bukan menunggu bola´ mendasari PT Charoen Pokphand Indonesia (CPI) melakukan uji coba ´pengering jagung bergerak´ atau mobile corn dryer (MCD) versi 2.3 pada panen raya jagung di Kabupaten Tuban, Provinsi Jawa Timur yang dihadiri Menteri Pertanian RI Andi Amran Sulaiman di Desa Talun, Kecamatan Montong pada Jumat (15/2).
Dukungan dan arahan Kementerian Pertanian RI mendukung sukses prototipe pertama MCD yang terpasang pada tiga unit truk pada April 2018, dan diapresiasi oleh Presiden RI Joko Widodo pada eksibisi bisnis peternakan, Indo Livestock 2018 di Jakarta yang berlangsung awal Juli tahun lalu.
Pada eksibisi tersebut, Presiden Jokowi mengapresiasi dan menyemangati sekaligus menantang CPI untuk membuat protipe lebih baik dari versi perdana, sehingga lebih efisien dan tepat guna untuk dimanfaatkan petani jagung mengolah hasil panen.
Apresiasi Presiden Jokowi kian menyemangati CPI untuk melakukan penyempurnaan, dimulai dengan visi ´mencari solusi terbaik pasca panen untuk petani jagung" maka terbentuklah misi ´Menjemput bola dan bukan menunggu bola´. Maksudnya, mendekatkan fasilitas pengering jagung ke sentra produksi pada daerah yang jauh dari pabrik pakan dan fasilitas pengering jagung. Solusi yang dikembangkan menjadi sebuah harapan ´bermanfaat untuk korporasi petani jagung.´
"Prototipe kedua selanjutnya akan diserahkan kepada Kementan, dalam hal ini Balai Besar Pengembangan Mekanisasi Pertanian (BB Mektan) sebagai ´proof of concept´ untuk disempurnakan lebih lanjut," menurut pernyataan tertulis CPI kepada B2B.
Ditambahkan, pengembangan prototipe terus dilakukan, hingga saat ini telah mencapai prototipe versi 2.3 yang telah diujicobakan pada panen raya jagung di Tuban, yang dihadiri oleh Mentan Amran Sulaiman.
"Besar harapan MCD yang merupakan hasil karya anak bangsa dapat menjadi solusi mengatasi masalah pasca panen jagung yang selama ini selalu dihadapi oleh petani saat menjual hasil produksinya menjadi bernilai minimum,´ menurut siaran pers CPI.
Tuban of East Java (B2B) - PT Charoen Pokphand Indonesia or CPI tested mobile corn dryer version 2.3 in the corn harvest in Tuban district of East Java province, which was attended by Indonesia Agriculture Minister Indonesia Andi Amran Sulaiman in Talun village of Montong district on Friday (February 15).
The attention and direction of Indonesian Agriculture Ministry supports the successful first prototype was installed in three trucks, April 2018, and appreciated by Indonesian President Joko Widodo at the farm business exhibition, Indo Livestock 2018 in Jakarta which took place early July last year.
During the exhibition, President Widodo appreciated and challenged Charoen Phokpand Indonesia to make the next prototype better than the first version, to make it more efficient and effective for corn farmers to process their crops.
Appreciation of President Widodo encouraged Charoen Phokpand Indonesia to make improvements, the goal is to bring the corn drying machine closer to production centers in remote areas far from feed mills and corn drying facilities.
"The second prototype will then be submitted to the ministry, in this case the Center for Agricultural Mechanization Development as a ´proof of concept´ for improvement," according to the company´s written statement to B2B.
The continued prototype development, until now there is a prototype version 2.3 which has been tested on the corn harvest in Tuban, which was attended by Minister Sulaiman.
"We hope that this innovation can be a solution to the post-harvest corn problem which has been an obstacle for corn farmers to sell their produce."