Kontribusi Pertanian ke PDB Lampaui Sektor Perdagangan dan Konstruksi
Indonesia´s Economic Growth in 2nd Qquarter of 2017 is Positive Trend
Reporter : Gusmiati Waris
Editor : Cahyani Harzi
Translator : Dhelia Gani

PUBLISHED: Kamis, 24 Agustus 2017 , 18:32:00 WIB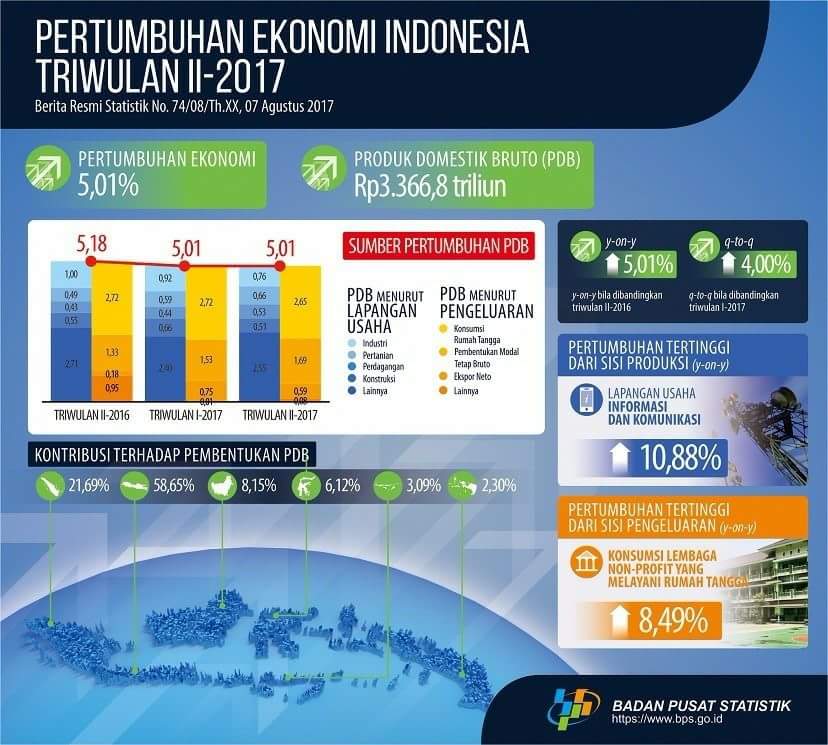 Infografis: Kementan
Jakarta (B2B) - Pertanian menjadi sektor kedua, di bawah industri pengolahan, sebagai sektor yang paling berpengaruh terhadap pertumbuhan ekonomi nasional, kontribusinya 13,92% pada triwulan II - 2017, dan pada triwulan I - 2017 mencapai 13,59%, sektor pertanian berada di atas perdagangan dan konstruksi.
Peranan sektor pertanian terungkap dari data Badan Pusat Statistik (BPS) yang melansir kinerja ekonomi RI pada triwulan II - 2017 berdasarkan besaran produk domestik bruto (PDB) sebesar Rp3.668,8 triliun.
Kepala BPS Suhariyanto mengatakan ekonomi Indonesia pada triwulan II - 2017 dibandingkan triwulan II - 2016 year on year (y-o-y) tumbuh 5,01% dibandingkan triwulan I - 2017 maka pertumbuhan PDB (q to q) tumbuh 4% dan disebut BPS sebagai ´cukup baik´.
"Kita cuma di bawah China 6,9 persen. Dengan kondisi ketidakpastian perekonomian global dan penurunan harga komoditas, hasil ini cukup bagus," kata Suhariyanto kepada pers di Jakarta, belum lama ini.
Suhariyanto menambahkan ketimbang triwulan pertumbuhan PDB sebelumnya (q to q) maka pertanian menjadi sektor dengan pertumbuhan tertinggi, 8,44%, yang diperoleh dari meningkatnya produksi sejumlah komoditas perkebunan seperti kopi, tebu, dan hortikultura.
BPS menilai pertumbuhan ini tidak lepas dari berbagai program pemerintah untuk mewujudkan swasembada pangan sejumlah komoditas pertanian strategis dengan menetapkan visi Indonesia menjadi Lumbung Pangan Dunia 2045.
Indonesia akhirnya mewujudkan impian untuk tidak mengimpor komoditas strategis: beras, bawang merah dan cabai pada 2016 meski dihantam El Nino dan dihadang La Nina, tahun ini Kementerian Pertanian RI menargetkan swasembada jagung, swasembada bawang putih dan gula 2019, swasembada kedelai 2020, dan swasembada daging sapi 2026 setelah Menteri Pertanian Andi Amran Sulaiman tiada jeri bergerak memberantas mafia dan membendung ruang gerak praktik kartel pangan.
"Untuk beras, bawang merah, dan cabai, Indonesia sudah tidak impor sejak tahun lalu. Untuk jagung, hingga saat ini kami belum keluarkan rekomendasi impor, dan bahkan bawang merah, kami balikkan keadaan dengan mengekspor ke Thailand dan direncanakan juga untuk beberapa negara Asia Tenggara," kata Menteri Pertanian RI Andi Amran Sulaiman di Jakarta, belum lama ini.
Jakarta (B2B) - The contribution of the agricultural sector to Indonesia´s economic growth in the second quarter of 2017 reached 13.29% above the trade and construction sectors, and the manufacturing sector recorded the highest growth in Indonesia, according to statistics agency.
The positive contribution of the Indonesian agricultural sector is revealed by data from the Statistics Agency which released Indonesia´s economic performance in the second quarter of 2017 based on gross domestic product amounted to 3,668.8 trillion rupiah.
Head of Indonesian Statistics Agency Suhariyanto said Indonesia´s economy in the second quarter of 2017 compared to the second quarter of 2016 year on year (y-o-y) grew 5.01% compared to the first quarter of 2017, economic growth (q to q) grew 4% and called the statistical agency as ´quite good´.
"Indonesia is just below the Chinese economy which grew 6.9 percent. Global economic uncertainty and declining commodity prices hence Indonesia´s economic growth is quite good, "said Suhariyanto to the press in Jakarta, not long ago," Suhariyanto toldthe press here recently.
Suhariyanto added from the previous GDP growth (q to q), Indonesia´s agriculture became the highest growth sector, 8.44%, with increasing production of plantation commodities and horticulture.
The statistical agency assessed Indonesia´s positive economic growth is closely related to the government´s program to achieve self-sufficiency in food, especially strategic food commodities, and the vision of Indonesia into the 2045 world´s food barn.
Agriculture Minister Andi Amran Sulaiman said Indonesia has finally realized its dream of not importing strategic commodities: rice, onion and chili in 2016 despite being hit by El Nino and La Nina, his year the Indonesian agriculture ministry is targeting maize self-sufficiency, garlic and sugar self-sufficiency in 2019, soybean self-sufficiency in 2020, and beef self-sufficiency 2026.