PJ Upsus Pajale Kebumen Dukung Percepatan LTT Desa Indrosari, Ini Foto-fotonya
Indonesia`s Students Support Farmers in Central Java Province in Pictures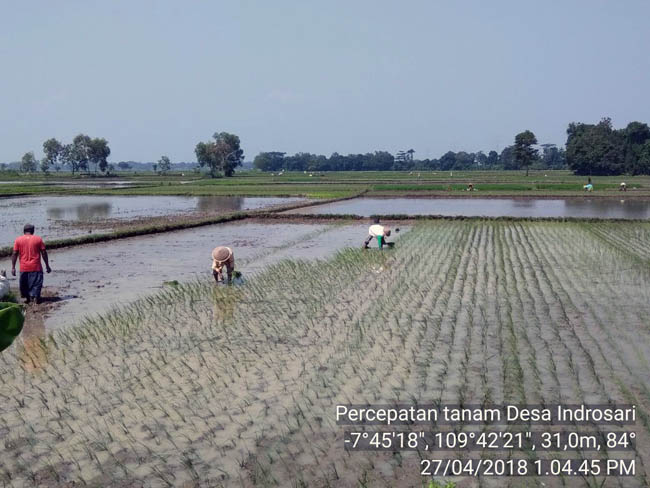 PENANGGUNG Jawab Upaya Khusus Padi, Jagung, dam Kedelai - PJ Upsus Pajale Kabupaten Kebumen, Jateng terus berupaya untuk mendorong percepatan luas tambah tanam (LTT) Pajale meskipun untuk saat ini curah hujan sudah mulai berkurang.

Peranan STPP Magelang sebagai PJ Upsus Pajale Kebumen dipimpin Ali Rachman mengupayakan para petani dapat memanfaatkan alat dan mesin pertanian (Alsintan) pompa air untuk mengatasi masalah kurangnya air untuk pengairan.

Dilatar belakangi beberapa tahun terakhir ini petani sering mengalami gagal panen pada musim gadu (April - September) karena pendangkalan sungai Kalitolang, yakni sungai yang mengairi sawah di dua pedukuhan di Desa Indrosari, lebih tepatnya sungai yang mengairi persawahan milik dua kelompok tani yaitu Sekar Jaya dan Mardi Utomo.

"Pompa yg digunakan dalam usaha Optimalisasi Alsintan ini adalah pompa air bantuan pemerintah pada 2009 yang sudah dimodifikasi sehingga dapat bekerja lebih maksimal," kata Kabag Administrasi Umum Irwan Johan Sumarno (inset foto 2)
PERSON in Charge of increase strategic food production or PJ Upsus for Kebumen district of Central Java province continues to encourage acceleration of extensification of rice cultivation or LTT although for now the rainfall began to decrease.

The PJ Upsus Kebumen seeks farmers to utilize agricultural machinery such as water pumps to overcome the problem of lack of water for irrigation.

Farmers often experience crop failures in recent years, especially the planting season of April to September due to silting the Kalitolang river, ie rivers that irrigate rice fields in two dukuhs in Indrosari village, especially rivers that irrigate rice fields belonging to two farmer groups: Sekar Jaya and Mardi Utomo.

"The water pump used is government assistance in 2009 that is modified so that it can work more leverage," said Head of Public Administration Irwan Johan Sumarno.