Berita Foto Ribuan THL Penyuluh Dialog dengan Presiden Jokowi
Indonesia`s Widodo Dialogue with Agricultural Extensionists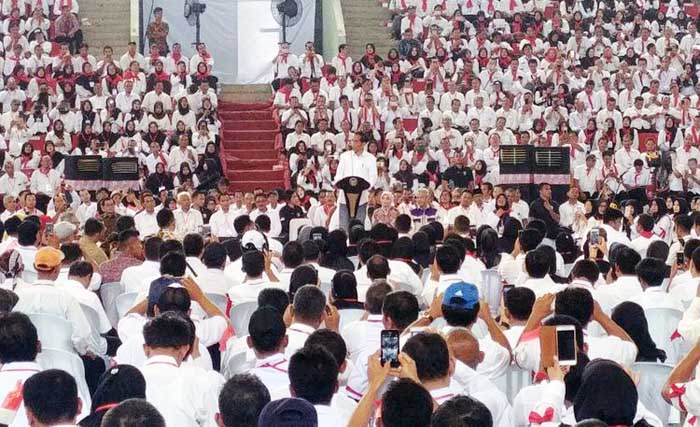 RIBUAN Tenaga Harian Lepas - Tenaga Bantu Penyuluh Pertanian disingkat THL-TBPP dialog dengan Presiden RI Joko Widodo di Stadion Jatidiri, Semarang, Minggu siang (3/2).
Ketua THL-TBPP Nasional, Gunadi menyampaikan pada Presiden Jokowi tentang kepastian THL-TBPP di seluruh Indonesia menjadi pegawai negeri sipil (PNS).
"Saya baru tahu jika THL ingin diangkat menjadi PNS. Saya tidak bisa jawab sekarang, karena harus melihat payung hukumnya dahulu. Indonesia masih butuh 40 ribu penyuluh pertanian," kata Jokowi yang didampingi Mentan Andi Amran Sulaiman dan Kepala Badan Penyuluhan dan Pengembangan SDM Pertanian (BPPSDMP) Kementan, Momon Rusmono.
Jokowi berjanji akan memanggil Menpan RB, Senin (4/2) untuk membahas pengangkatan THL, dan pada Rabu akan menjawab kepastian nasib para THL. "Jangan paksa saya menjawab sekarang." (Foto2: Humas Kementan)
THOUSANDS of honorary agricultural extensionists dialogue with Indonesian President Joko Widodo at the Jatidiri Stadium in Semarang, Central Java provincial capital on Sunday afternoon (February 3).
Chair of the Indonesian Honorary Agricultural Extensionist Organization, Gunadi conveyed to President Widodo about the certainty of his organization members being appointed as civil servants or the PNS by the government.
"I just found out if they want to be appointed as civil servants. I can't answer now, because I have to see the legality first. Indonesia still needs 40 thousand agricultural extensionists," said Widodo was accompanied by Agriculture Minister Andi Amran Sulaiman and Director General of Extension and Agricultural HR Development, Momon Rusmono.
President Widodo promised to call the relevant minister tomorrow, to discuss the matter, and Wednesday will provide certainty. "I can't answer now."