Polbangtan Medan Juara Umum Kompetisi Pramuka, Ini Foto-fotonya
Indonesia`s Polbangtan Medan Scout Team Win in Pictures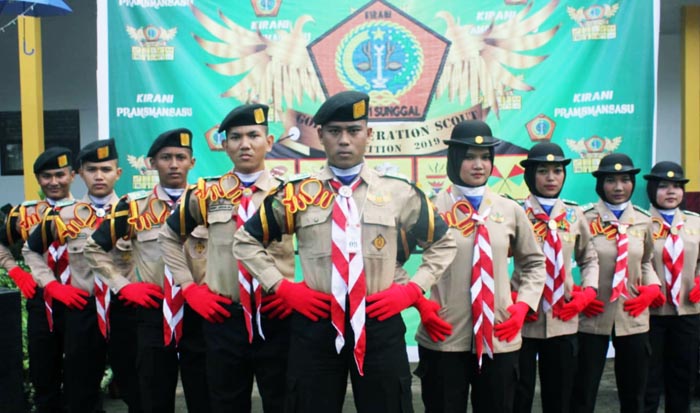 GUGUS DEPAN Pramuka Polbangtan Medan juara umum kompetisi pramuka Gold Generation Scout Competition 2019 di di Kabupaten Deli Serdang, Provinsi Sumatera Utara. Dua tim dari Gudep Polbangtan Medan meraih delapan gelar juara dari 'kompetisi pramuka generasi emas 2019 yang berlangsung tiga hari, pekan lalu.
Polbangtan Medan meraih tiga gelar juara pertama kategori: pioneering, memasak, dan tari komando pramuka. Keterampilan baris-berbaris: juara kedua dan ketiga; juara tiga dan harapan pertama kategori cepat tanggap pramuka; dan juara harapan kedua kategori karnaval pakaian dari bahan bekas.
Direktur Politeknik Pembangunan Pertanian Sumatera Utara (Polbangtan Medan) Yuliana Kansrini menyatakan bangga atas prestasi mahasiswa/i. "Semoga prestasi ini dipertahankan." (Foto2: Humas Polbangtan Medan)
THE POLBANGTAN Medan Scout Team won the overall title of scout competition called the 2019 Gold Generation Scout Competition in in Deli Serdang district of North Sumatra province, who was won eight race titles of the scout competition which lasted three days, February 1 - 3.
The Polbangtan Medan won the first winner of category: pioneering, cooking, and scout commando; marching skills: second and third winner; the third and first hope winner for fast response category; and second hope winner of used clothing carnival.
Direktur of Polbangtan Medan, Yuliana Kansrini said the scout as the compulsory extracurricular for new students to get a basic scout diploma.