Berita Foto Mahasiswa STPP Jurluhtan Yogyakarta PKL di Cilacap
Indonesian`s Students must be Apprenticed in Rural Areas in Pictures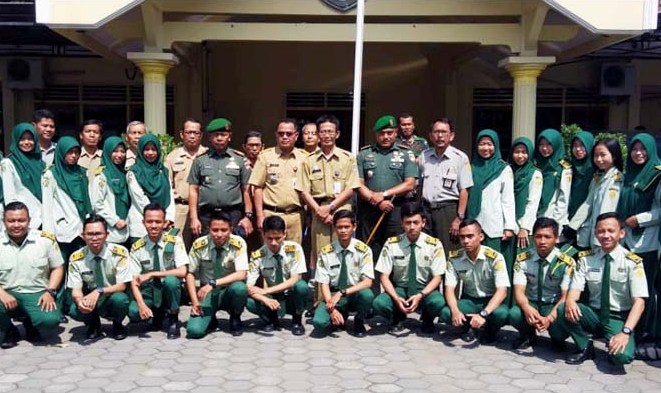 SEDIKITNYA 36 mahasiswa Sekolah Tinggi Penyuluhan Pertanian - STPP Magelang dari jurusan penyuluhan pertanian (Jurluhtan Yogyakarta) mengikuti praktek kerja lapangan (PKL) selama dua bulan, Juli dan Agustus di Kabupaten Cilacap, Provinsi Jawa Tengah.
Ketua STPP Magelang Jurluhtan Yogyakarta, Ali Rachman diwakili Kabag Administrasi Umum, Irwan Johan Sumarno melepas ke-36 mahasiswanya kepada Kepala Dinas Pertanian Cilacap, Gunawan MM disaksikan oleh Komandan Kodim 0703/Cilacap Letkol Inf Yudi Purwanto dan Instruktur Alsintan STPP Yogyakarta sekaligus Koordinator PKL, Budi Wijayanto di Cilacap, Senin (2/7).
"PKL dua bulan di Cilacap fokus pada belajar sambil bekerja atau magang pada penyuluh pertanian lapangan (PPL) dan petani khususnya PKL tematik optimalisasi Alsintan di delapan kecamatan di Cilacap," kata Ali Rachman diwakili Irwan JS.
AT LEAST 36 students of Magelang's Agriculture Extension College or STPP Magelang undergo fieldwork practices for two months, July and August in Cilacap district of Central Java province.
Rector of STPP Magelang, Ali Rachman represent by the Head of General Affairs of STPP Yogyakarta, Irwan Johan Sumarno handed over 36 students for apprenticeship in Cilacap on Monday (July 2) and received by the Head of Cilacap agriculture office, Gunawan MM. It was attended Cilacap Regional Military Commander Lt. Col. Yudi Purwanto.
"The internship activity aims to improve students' knowledge and insight outside campus to get experience of agricultural extensionist and the farmers," said Mr Sumarno represent his boss, Mr Rachman.