Berita Foto BPPPSDMP Siapkan ´Temu Nasional Penyuluh & Petani di Makassar´
Indonesian Govt Prepare Big Event for Agriculture Extension and Farmers in Pictures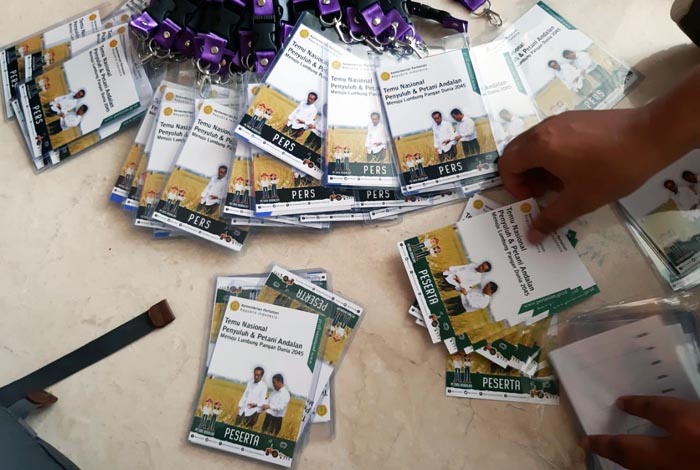 12 ribu kartu peserta disiapkan [Foto: Bima PS]
KOORDINASI, kebersamaan dan gotong royong mendasari langkah Badan Penyuluhan dan Pengembangan SDM Pertanian [BPPSDMP] menyiapkan hajat besar 'Temu Nasional Penyuluh & Petani Andalan Menuju Lumbung Pangan Dunia 2045' yang akan dipimpin Menteri Pertanian RI Andi Amran Sulaiman di GOR Sudiang, Makassar, Rabu pagi [10/4].
Kabid Penyelenggaraan Penyuluhan - Pusluhtan, I Wayan Ediana selaku 'kapten lapangan' menyatukan langkah ketiga pilar BPPSDMP Kementan yang dipimpin Momon Rusmono, untuk menyiapkan kegiatan penting Kementerian Pertanian RI 'mengapresiasi petani dan penyuluh' di Indonesia bagian timur khususnya Provinsi Sulawesi Selatan sebagai lumbung pangan nasional.
"Ini event besar untuk mengapresiasi mereka yang berjuang menyediakan pangan untuk rakyat," kata I Wayan Ediana mewakili Kapusluhtan, Siti Munifah, dengan mengedepankan koordinasi, monitoring dan check and recheck [One76/Foto2: Pusluhtan/Septalina P/Iwan Mularso/Bima PS/Purwanto]
THE COORDINATION, togetherness and mutual cooperation underlie the steps of Indon esian Agriculture Ministry set up an important event 'meeting with farmers and extension agents' in Makassar, Wednesday morning [April 10] which will be led by Agriculture Minister Andi Amran Sulaiman.
I Wayan Ediana as the 'field captain' uniting step of the ministry's Directorate General of Agricultural HR who was led by Momon Rusmono as the director general preparing appreciation activities for farmers and agricultural extensionist in eastern Indonesia especially South Sulawesi province as the national food barn.
"This is a big event to appreciate those who struggle to provide food for the people," said I Wayan Ediana.