Kapal Selam Mewah untuk Tuan Berkantong Tebal, Ini Foto-fotonya
Inside the New 60-ft Submarine with Its Own Library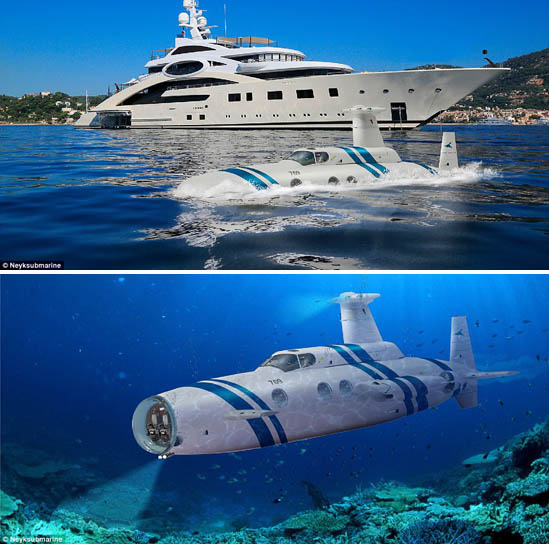 BOSAN dengan kapal pesiar pribadi Anda? Bosan dengan helikopter? Sebentar lagi Anda yang berkantong tebal menambah kapal selam ke armada pribadi Anda.

Lihatlah, Neyk, kendaraan bawah air sepanjang 18 meter yang dapat menampung hingga 20 orang dan mencapai kedalaman laut hampir 500 meter (1.640 kaki; Lengkap dengan lounge yang mewah, bar, perpustakaan dan dapur lengkap.

Layaknya kapal selam James Bond dilengkapi dengan kaca lebar yang berfungsi ganda sebagai area pandang 270 derajat, dan dikendalikan dengan joystick di kokpit pilot.

Pembuatnya mengklaim bahwa kapal selam ramping itu 'tangkas seperti hiu' dengan mesin yang nyaris tak bersuara, didukung sistem penerangan dan penyejuk udara yang dirancang khusus untuk kebutuhan spesifik setiap klien.

Neyk, sebuah kolaborasi antara Ocean Submarine dan Rolls-Royce, saat ini sedang bekerja keras di Belanda dengan prototipe pertama yang diharapkan dapat dipamerkan pada Januari 2018.

Belum ada kabar mengenai harganya, tapi kita bisa berasumsi bahwa Anda harus menggali kocek dengan sangat dalam untuk membelinya seperti dilansir MailOnline.
TIRED OF your private yacht? Bored of your helicopter? Well soon you can add a submarine to your fleet.

Behold, the Neyk, a 60-ft underwater vehicle which can accommodate up to 20 guests and reach depths of 1,640 feet; complete with a lavish lounge area, a bar, a library and a complete galley.

The James Bond-worthy submarine is fitted with a clear nose that doubles up as a 270-degree viewing area, and is controlled by joysticks in the pilot`s cockpit.

Its makers claim the sleek vessel is as `agile as a shark` with a virtually noiseless engine, and that its lighting and air conditioning systems will be custom-designed for each client`s specific needs.

The Neyk, a collaboration between Ocean Submarine and Rolls-Royce, is currently being built in the Netherlands with the first prototype expected to be presented in January 2018.

There`s no word yet on its price, but we can safely assume you`ll have to dig very deep to afford it.