FIFA Dukung PSSI Membangun Sepak Bola Indonesia
FIFA Supports PSSI in Building Indonesian Football
Editor : Ismail Gani
Translator : Novita Cahyadi

PUBLISHED: Kamis, 20 Oktober 2022 , 00:47:00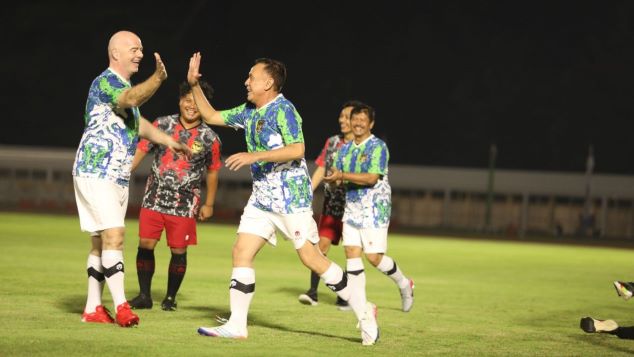 REFORMASI SEPAKBOLA: IFA akan mengirim tim ke Indonesia untuk membangun sepak bola dari berbagai aspek dari pembangunan sepak bola sampai soal sekolah-sekolah sepak bola. Terdekat, adalah ajang Piala Dunia U-20 pada 2023. (Foto: PSSI)
Jakarta [B2B] - Presiden FIFA Gianni Infantino meminta PSSI untuk tenang menghadapi situasi saat ini. Ia juga meminta federasi yang dipimpin oleh Mochamad Iriawan [Iwan Bule] itu untuk fokus melakukan perbaikan agar tragedi Kanjuruhan tidak terulang lagi.
"Jadi kita harus lebih tenang dalam menghadapi situasi ini. Situasi ini akan mereda dalam sendirinya. Tidak usah fokus terhadap opini orang, tapi kita harus fokus bagaimana ke depannya agar tidak terjadi lagi kejadian seperti di Kanjuruhan, Malang," kata Gianni Infantino.
Presiden FIFA menjelaskan alasan utama berkunjung ke Indonesia adalah tragedi Kanjuruhan, Malang. Sebab, Kejadian tersebut telah menyakiti dan memakan korban banyak.
"Tapi saya bisa jamin, FIFA di sini untuk Anda [PSSI]. FIFA di sini akan bekerja bersama pemerintah, AFC, dan federasi Indonesia untuk transformasi sepak bola. Sebab, sepak bola adalah kebahagiaan," jelasnya.
"Indonesia adalah negara sepak bola. Sepak bola adalah passion di sini. Mereka mencintai sepak bola. Maka ketika mereka menonton sepak bola di stadion, mereka harus aman," lanjutnya.
Sebelumnya ia bertemu Presiden Republik Indonesia Joko Widodo di Istana Merdeka, Jakarta. Dalam pertemuan itu juga dibahas banyak hal termasuk agar sepak bola ke depan lebih baik lagi.
Ke depannya, FIFA akan mengirim tim ke Indonesia untuk membangun sepak bola dari berbagai aspek dari pembangunan sepak bola sampai soal sekolah-sekolah sepak bola. Terdekat, adalah ajang Piala Dunia U-20 pada 2023.
"Kami akan bawa para expert, kami memastikan Indonesia bisa bersinar melalui sepakbola," tegasnya.
Jakarta [B2B] - FIFA President Gianni Infantino asked PSSI to be calm in dealing with the current situation. He also asked the federation led by Mochamad Iriawan [Iwan Bule] to focus on making improvements so that the Kanjuruhan tragedy does not happen again.
"So we have to be more calm in dealing with this situation. This situation will subside by itself. We don't have to focus on people's opinions, but we have to focus on how in the future so that an incident like Kanjuruhan, Malang doesn't happen again," said Gianni Infantino.
The FIFA president explained that the main reason for visiting Indonesia was the tragedy of Kanjuruhan, Malang. Because, the incident has hurt and claimed many victims.
"But I can guarantee you, FIFA is here for you [PSSI]. FIFA here will work with the government, AFC, and the Indonesian federation for the transformation of football. Because football is happiness," he explained.