Pemberantasan Narkoba, Pemerintah Siapkan Sejumlah Alternatif Kebijakan
Indonesian Govt Preparing a Number of Alternative Drug Eradication and Handling Policies
Editor : Ismail Gani
Translator : Novita Cahyadi

PUBLISHED: Kamis, 12 Oktober 2023 , 19:42:00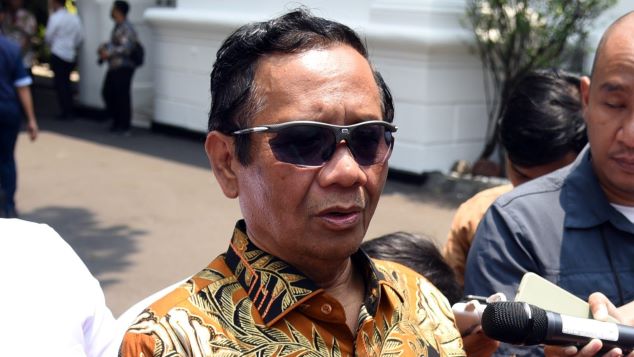 PEMBERANTASAN NARKOBA: Menteri Koordinator Bidang Politik, Hukum, dan Keamanan Mahfud MD saat memberikan keterangan usai mengikuti rapat terbatas yang dipimpin oleh Presiden Jokowi di Istana Negara, Jakarta. (Foto: Setkab RI)
Jakarta [B2B] - Menteri Koordinator Bidang Politik, Hukum, dan Keamanan [Menko Polhukam] Mahfud MD mengatakan bahwa pemerintah tengah menyiapkan sejumlah kebijakan yang menyasar para pengguna, pengedar, hingga bandar narkoba.
Hal tersebut disampaikan usai menghadiri rapat terbatas [ratas] yang dipimpin oleh Presiden Jokowi terkait pemberantasan dan penanganan narkoba di Indonesia, Kamis [12/10], di Istana Merdeka, Jakarta.
"Yang paling banyak tentu yang jadi korban itu pengguna, yang menyebabkan lapas-lapas [lembaga permasyarakatan] itu sudah sangat padat. Kemudian, untuk pengedar, bandar dan sebagainya nanti akan diadakan tindakan-tindakan tertentu yang sekarang sedang dirancang oleh Polri, oleh Kepala BNN," ujar Mahfud.
Selain itu, kata Mahfud, pemerintah juga menyiapkan sejumlah infrastruktur pendukung pemberantasan dan penanganan narkoba. Salah satunya penyiapan lapas dengan sistem keamanan tinggi yang dilakukan oleh Kementerian Hukum dan Hak Asasi Manusia [Kemenkumham].
"Kemenkumham itu sudah menyiapkan penjara atau lapas yang super security, yang nanti juga insyaallah akan ditinjau oleh Presiden. Untuk satu peresmiannya mungkin di Nusa Kambangan," ujarnya.
Lebih lanjut Mahfud mengatakan bahwa pihaknya juga tengah mengkaji pemberian grasi massal kepada para pengguna narkoba.
"Itu nanti akan diteliti satu-satu, lalu kita akan usulkan pemberian grasi massal. Pemberian grasi massal itu tentu harus didiskusikan juga dengan Mahkamah Agung, itu sedang kami rancang sekarang," ujarnya.
Menko Polhukam mengatakan, pemberian grasi massal ini bukan yang pertama kali di Indonesia. Sebelumnya hal serupa pernah dilakukan saat pandemi COVID-19 lalu. Mahfud pun berharap kebijakan pemberian grasi massal bagi para pengguna narkoba tersebut akan dapat dilaksanakan dalam waktu dekat.
"Untuk rencana pemberian grasi massalnya itu diusahakan sebelum 2024 berakhir, itu sudah bisa dilaksanakan. Tapi ini sekarang baru pada tingkat Menko Polhukam dengan para menteri, nanti sesudah semuanya siap akan disampaikan ke Presiden untuk keputusan sidang kabinet," tandasnya.
Jakarta [B2B] - Indonesian President Joko Widodo (Jokowi) chaired a limited meeting (ratas) discussing the eradication and handling of drugs in Indonesia, Thursday (12/10/2023), at the Merdeka Palace, Jakarta.
In his press statement after the meeting, the Coordinating Minister for Political, Legal and Security Affairs (Menko Polhukam) Mahfud MD said that the government was preparing a number of policies targeting drug users, dealers and drug dealers.
"Of course the most victims are the users, which causes the prisons [correctional institutions] to be very overcrowded. "Then, for dealers, bookies and so on, certain actions will be taken which are currently being designed by the National Police, by the Head of BNN," said Mahfud.
Apart from that, said Mahfud, the government is also preparing a number of supporting infrastructure for the eradication and handling of drugs. One of them is preparing prisons with a high security system carried out by the Ministry of Law and Human Rights (Kemenkumham).
"The Ministry of Law and Human Rights has prepared super security prisons or prisons , which God willing, will later be reviewed by the President. "For one inauguration, it might be in Nusa Kambangan," he said.
Mahfud further said that his party was also reviewing granting mass pardons to drug users.
"We will examine them one by one, then we will propose granting mass pardons. "The granting of mass pardons must of course also be discussed with the Supreme Court, we are currently planning that," he said.
The Coordinating Minister for Political, Legal and Security Affairs said that this was not the first time this mass pardon had been granted in Indonesia. Previously, something similar had been done during the COVID-19 pandemic. Mahfud also hopes that the policy of granting mass pardons to drug users will be implemented in the near future.
"The plan to grant mass pardons is being attempted before the end of 2024, it can already be implemented. "But this is now only at the level of the Coordinating Minister for Political, Legal and Security Affairs with the ministers, later when everything is ready it will be submitted to the President for a decision at the cabinet meeting," he stressed.