`Eropa Dukung Kami`: Koran Italia Seret Isu Brexit jelang Final Euro 2020
`All of Europe Supports Us`: Italy`s Papers Brag that `The Brexit Effect`
Editor : Kemal A Praghotsa
Translator : Novita Cahyadi

PUBLISHED: Minggu, 11 Juli 2021 , 20:20:00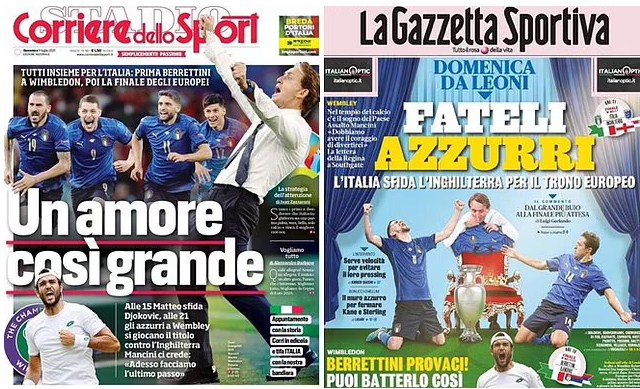 PERANG MEDIA: Koran Tuttosport memasang judul ´Untuk Anda, untuk kami,´ mengatur Berrettini yang mengingatkan dan para pemain dan staf Italia yang merayakan secara berdampingan di halaman depannya [Foto2: MailOnline]
SURAT KABAR Italia tidak sungkan menyeret isu Brexit jelang laga final Euro 2020, Italia vs Inggris, serta mendesak pesepakbola dan bintang tenis mereka yang sudah lama tak terkalahkan Matteo Berrettini untuk mengejutkan khalayak London, meraih juara tenis Wimbledon dan Euro 2020 untuk kebesaran nama Italia.
Petenis peringkat sembilan dunia Berrettini menghadapi ujian besar untuk mengejutkan juara bertahan Novak Djokovic di final Wimbledon, sebelum media Italia akan putus asa agar timnas Italia menang di Wembley dalam pertandingan Euro 2020 yang tampaknya lebih sulit diprediksi.
Inggris dapat memperoleh 'balas dendam yang luar biasa terhadap Eropa', kata surat kabar La Stampa, setelah 'dipermalukan' dalam negosiasi Brexit - dan Inggris menyebut bahwa kemenangan di Wembley akan 'mendorong pemulihan' bagi ekonomi Inggris selama pandemi.
Koran ini menyebut 'Efek Brexit' membuat Uni Eropa bergoyang ke arah Italia dan Presiden Komisi Eropa, Ursula Von der Leyen, dan ketua Dewan Eropa Charles Michel adalah di antara nama-nama politisi besar yang berharap Azzurri akan menang, menurut La Stampa. 'Europe Cheers on Italy', tambahnya.
Koran Tuttosport memasang judul 'Untuk Anda, untuk kami,' mengatur Berrettini yang mengingatkan dan para pemain dan staf Italia yang merayakan secara berdampingan di halaman depannya.
Djokovic menyatakan dukungan pada Italia, di mana ia menghabiskan banyak waktunya sebagai pembicara bahasa Italia yang fasih, dan menyindir bahwa ia berharap mereka akan menjadi satu-satunya kemenangan olahraga utama hari ini dalam warna hijau, putih dan merah, warna bendera Italia.
Beberapa koran merujuk pada dukungan tim Inggris untuk Black Lives Matter dan hak-hak LGBTQ – dua isu yang menonjol selama final.
Inggris ingin menunjukkan 'supremasi moral' ke Eropa, menurut seorang pengamat Italia, menambahkan bahwa Inggris bebas dari 'pembawa otoritas moral yang unggul' dan 'menunjukkan kepada orang asing bagaimana hal-hal harus dilakukan' setelah Inggris meninggalkan Uni Eropa.
Marco Verratti, Gianluigi Donnarumma dan Jorginho adalah 'trio galaksi' yang akan 'menyihir Wembley', menurut Corriere dello Sport, yang memperingatkan bahwa 'pemain top Italia dapat membuat perbedaan'.
Judul halaman depan surat kabar tersebut adalah 'Cinta yang Begitu Besar', yang mencerminkan salah satu lagu resmi Italia.
Mantan pemain Valencia Amedeo Carboni meyakini Inggris memiliki peluang lima persen lebih tinggi daripada Italia untuk menang karena mereka bertanding di kandang, meskipun ia juga memperingatkan bahwa timnas Inggris bisa merasakan tekanan itu.
Di media Spanyol Diario AS, ahli taktis Axel Torres meyakini bahwa laga bisa bermuara pada persaingan penjaga gawang saat adu penalti – dan dia memilih Donnarumma untuk mengungguli Jordan Pickford.
'Tulis cerita', desak Quotidiano Sportivo, bahkan melibatkan Big Ben saat mereka menempatkan Italia livewire Federico Chiesa dan Berrettini di sayap.
Surat kabar Prancis L'Equipe memperkuat tema Eropa yang mendukung Italia, mengklaim bahwa 69% penggemar Prancis akan berada di belakang tim tamu, Italia, dan hanya seperlima yang mendukung Inggris menang dan 20% lainnya memilih netral.
Koran Corriere della Sera menegaskan bahwa Italia 'meluncurkan serangan' ke Inggris dalam upaya mereka untuk menjadi juara untuk pertama kalinya dalam 53 tahun. Lawan mereka, seperti yang disadari oleh sebagian besar pendukung Inggris, belum pernah meraih Juara Eropa seperti dilansir MailOnline.
ITALIAN papers have not been shy to bring Brexit into the equation as they urge their long-unbeaten footballers and tennis star Matteo Berrettini to take one more step in London, winning Wimbledon and Euro 2020 to seal a momentous day for their nation.
World number nine Berrettini faces a huge test to shock defending champion Novak Djokovic in the final at SW19 this afternoon, before the Italian media will be desperate for their side to win at Wembley in a contest that looks far more difficult to predict.
England can earn 'wonderful revenge against Europe', says La Stampa, after being 'humiliated' in Brexit negotiations – and the outlet even claims that victory would 'light the fire of recovery' for the British economy during the pandemic.
The paper notes the 'Brexit Effect' has the EU swaying towards Italy and Ursula Von der Leyen, the president of the European Commission, and European Council chief Charles Michel are among the major political names hoping the Azzurri will win, according to La Stampa. 'Europe Cheers on Italy', it adds.
Tuttosport uses the headling 'For you, for us,' setting the roaring Berrettini and the celebrating Italy players and staff side-by-side on its front page.
Djokovic has backed Italy, where he spends plenty of his time as a fluent Italian speaker, and quipped that he hopes theirs will be the only major sporting victory of the day in green, white and red.
Several papers reference the England team's support for Black Lives Matter and LGBTQ rights – two issues that have been prominent during the finals.
England wants to demonstrate 'moral supremacy' to Europe, according to one Italian observer, adding that the English are free from being 'the bringers of a superior moral authority' and 'showing foreigners how things should be done' in the aftermath of leaving the EU.
Marco Verratti, Gianluigi Donnarumma and Jorginho are a 'galactic trio' who will 'bewitch Wembley', according to the Corriere dello Sport, which warns that 'Italy's top players can make the difference'.
The paper's front page headline is 'Such a big love', reflecting one of Italy's official songs.
Ex-Valencia player Amedeo Carboni believes England have a five percent higher chance than Italy of winning because they are at home, although he also cautions that they could feel the pressure because of that.
In Spanish oracle Diario AS, tactical expert Axel Torres believes that the contest could boil down to a battle of goalkeepers – and he picks Donnarumma to outshine Jordan Pickford.
'Write the story', urges Quotidiano Sportivo, even involving Big Ben as they place Italy livewire Federico Chiesa and Berrettini either side of the landmark.
French paper L'Equipe reinforces the theme of Europe rooting for Italy, claiming that 69 per cent of French fans will be behind the visitors, with a mere fifth wanting England to win and a further 20 percent remaining neutral.
The Corriere della Sera insists that Italy 'launch an assault' on England in their bid to become champions for the first time in 53 years. Their opponents, as the vast majority of the Wembley crowd will be keenly aware, have never won the title.
The now-familiar subversion of England's unofficial anthem is used by Il Romanista on its front page, advertising that 'It's Coming Rome' alongside a photo of Leonardo Spinazzola enjoying himself on Italy's flight to London.