Pertandingan Liga Champions Terbaik Cristiano Ronaldo di Old Trafford
Cristiano Ronaldo´s Greatest Champions League Nights at Old Trafford
Editor : Ismail Gani
Translator : Novita Cahyadi

PUBLISHED: Selasa, 28 September 2021 , 22:05:00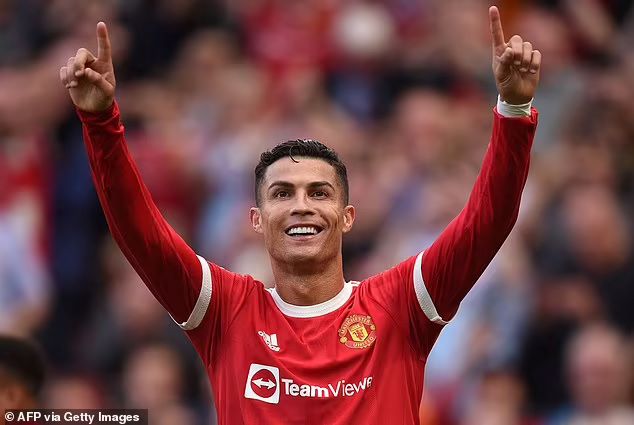 KILAS BALIK: Beberapa malam terbaik bagi penyerang asal Portugal bersama Manchester United pada Liga Champions. [Foto: AFP/MailOnline.
Cristiano Ronaldo akan bermain pada pertandingan penyisihan Grup F Liga Champion pertamanya di Old Trafford sejak bergabung kembali dengan Manchester United ketika menjamu Villareal pada Rabu malam waktu setempat atau Kamis dinihari WIB, 30 September 2021.
Penyerang asal Portugal tersebut telah mencatat beberapa malam terbaik dalam Liga Champions bersama Manchester United, yang memenangkan satu dari lima Liga Champion sekaligus pencetak gol terbanyak saat itu, menurut PA Media.
Manchester United 7 - 1 Roma [leg kedua perempat final, 10 April 2007]
Setelah sebelumnya tidak mencetak gol di kompetisi tersebut, Ronaldo mencetak dua gol saat United mengalahkan Roma yang tercengang untuk maju ke semifinal dengan agregat 8-3. Pasukan Sir Alex Ferguson unggul 4-0 pada babak pertama pada malam itu melalui upaya dari Michael Carrick, Alan Smith, Wayne Rooney dan Ronaldo, yang kemudian menambahkan gol kelima tak lama setelah turun minum. Carrick membuat skor menjadi 6-0, Daniele De Rossi membalaskan satu gol bagi tim tamu dan Patrice Evra menyelesaikan kemenangan di menit akhir.
Manchester United 3 AC Milan 2 [leg pertama semifinal, 24 April 2007]
Ronaldo memberi United keunggulan awal dalam pertandingan empat terakhir dengan sundulan sebelum Kaka mencetak dua gol untuk membawa Milan unggul. Rooney kemudian menyarangkan dua golnya sendiri untuk memberi United keunggulan lagi, gol keduanya datang pada masa tambahan waktu. Leg kedua akan membuktikan urusan yang mengecewakan bagi tim Ferguson karena Italia menang 3-0 untuk menang agregat 5-3.
Manchester United 2 Sporting Lisbon 1 [babak penyisihan grup, 27 November 2007]
Pertandingan lain dengan drama di penghujung pertandingan ketika Ronaldo menghasilkan gol penentu kemenangan di masa tambahan waktu melawan klub lamanya, membawa pulang tendangan bebas setelah Carlos Tevez membatalkan gol pembuka Abel Ferreira untuk tim tamu. Gol tersebut, yang memastikan posisi teratas di Grup F, adalah gol kelima Ronaldo di pool, yang juga termasuk gol penentu dalam kemenangan tandang 1-0 United melawan Sporting, seperti dikutip PA Media yang dilansir MailOnline.
Manchester United 1 Barcelona 0 [leg kedua semifinal, 29 April 2008]
Final Liga Champions pertama menunggu Ronaldo setelah dia membantu United mengalahkan Barca menyusul hasil imbang 0-0 di leg pertama. Meskipun dia tidak masuk dalam daftar pencetak gol, Ronaldo terlibat dalam membangun serangan luar biasa Paul Scholes tepat sebelum seperempat jam. United kemudian mengalahkan Chelsea melalui adu penalti di final di Moskow setelah bermain imbang 1-1, dengan Ronaldo mencetak gol pembuka dan tendangan penalti diselamatkan dalam adu penalti.
Manchester United 2 Inter Milan 0 [16 leg kedua terakhir, 11 Maret 2009]
Setelah bermain imbang 0-0 di leg pertama, United berhasil melewati Inter asuhan Jose Mourinho dan melaju ke perempat final dengan kemenangan yang membuat Nemanja Vidic memberi tuan rumah keunggulan lebih awal dan Ronaldo kemudian mengakhiri pertandingan dengan sundulan di babak kedua.
Manchester United 1 Arsenal 0 [leg pertama semifinal, 29 April 2009]
Kesempatan lain ketika Ronaldo tidak mencetak gol, tetapi dia melakukan beberapa penyelamatan bagus dari Manuel Almunia dan membentur mistar gawang dalam pertandingan yang diselesaikan oleh gol awal John O´Shea. Pelatih asal Portugal itu kemudian menjadi bintang pertunjukan di leg kedua, mencetak dua gol saat United mengalahkan Arsenal 3-1 untuk maju ke final yang mereka kalahkan 2-0 dari Barcelona asuhan Pep Guardiola di Roma.
Manchester United 1 Real Madrid 2 [16 leg kedua terakhir, 5 Maret 2013]
Setelah meninggalkan United untuk bergabung dengan Real pada musim panas 2009, Ronaldo kembali menghantui mantan majikannya, mencetak gol kedua Spanyol untuk mengamankan kemenangan agregat 3-2. Setelah bermain imbang 1-1 pada leg pertama di Madrid – di mana Ronaldo juga mencetak gol – United unggul terlebih dahulu di Old Trafford melalui gol bunuh diri Sergio Ramos, sebelum Nani secara kontroversial diusir keluar lapangan. Luka Modric kemudian menyamakan kedudukan dan Ronaldo memiliki keputusan akhir segera setelahnya.
Cristiano Ronaldo is set to play his first Champions League match at Old Trafford since rejoining Manchester United when they host Villarreal on Wednesday.
Here, the PA news agency takes a look at some of the best nights at the stadium in the competition for the Portugal forward, who won the first of his five European Cups with United and is the Champions League's record scorer.
Manchester United 7 Roma 1 (quarter-final second leg, April 10 2007)
Having not previously scored in the competition, Ronaldo notched a brace as United thrashed a stunned Roma to advance into the semi-finals 8-3 on aggregate. Sir Alex Ferguson's men were 4-0 up by half-time on the night via efforts from Michael Carrick, Alan Smith, Wayne Rooney and Ronaldo, who then added the fifth shortly after the break. Carrick made it 6-0, Daniele De Rossi pulled a goal back for the visitors and Patrice Evra completed the rout late on.
Manchester United 3 AC Milan 2 (semi-final first leg, April 24 2007)
Ronaldo gave United an early lead in the last four tie with a header before Kaka struck twice to put Milan in front. Rooney then netted a double of his own to give United the advantage again, his second coming in stoppage time. The second leg would prove a disappointing affair for Ferguson's team as the Italians won 3-0 to triumph 5-3 on aggregate.
Manchester United 2 Sporting Lisbon 1 (group stage, Nov 27 2007)
Another contest with late drama as Ronaldo produced a stoppage-time winner against his old club, driving home a free-kick after Carlos Tevez had cancelled out Abel Ferreira's opener for the visitors. The goal, which sealed top spot in Group F, was Ronaldo's fifth in the pool, which also included the decisive effort in United's 1-0 away win against Sporting.
Manchester United 1 Barcelona 0 (semi-final second leg, April 29 2008)
A first Champions League final awaited Ronaldo after he helped United see off Barca following a 0-0 draw in the first leg. While he did not get on the scoresheet, Ronaldo was involved in the build-up to Paul Scholes' superb strike just before the quarter hour. United went on to beat Chelsea on penalties in the final in Moscow after a 1-1 draw, with Ronaldo scoring the opener and having a spot-kick saved in the shootout.
Manchester United 2 Inter Milan 0 (last 16 second leg, March 11 2009)
After a 0-0 draw in the first leg, United got past Jose Mourinho's Inter and into the quarter-finals with a victory that saw Nemanja Vidic give the hosts the lead early on and Ronaldo then wrap things up with a second-half header.
Manchester United 1 Arsenal 0 (semi-final first leg, April 29 2009)
Another occasion when Ronaldo did not score, but he brought some fine saves out of Manuel Almunia and rattled the crossbar in a contest settled by John O'Shea's early goal. The Portuguese was then the star of the show in the second leg, netting twice as United beat Arsenal 3-1 to progress to a final that they lost 2-0 to Pep Guardiola's Barcelona in Rome.
Manchester United 1 Real Madrid 2 (last 16 second leg, Mar 5 2013)
Having left United to join Real in the summer of 2009, Ronaldo returned to haunt his former employers, scoring the Spaniards' second to secure a 3-2 aggregate win. After a 1-1 first-leg draw in Madrid – in which Ronaldo had also scored – United went ahead at Old Trafford through a Sergio Ramos own goal, before having Nani controversially sent off. Luka Modric then drew things level and Ronaldo had the final say soon after.