Program TV Spanyol Tuding Euro 2020 ´Kondisikan´ Inggris Menang
Spanish TV Hosts Say Euro 2020 has been `Conditioned` by UEFA for England to Win
Editor : Ismail Gani
Translator : Novita Cahyadi

PUBLISHED: Jum'at, 09 Juli 2021 , 23:58:00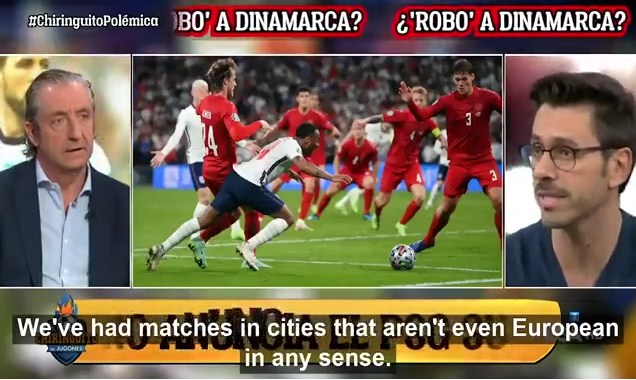 UNTUNGKAN INGGRIS: Pemandu program El Chiringuito, Josep Pedrerol [kanan] tanya Morales: ´Menurut Anda UEFA mengaturnya untuk final Inggris?´ Morales jawab: ´ini adalah kompetisi paling memalukan yang pernah saya liput.´ Foto2:
PROGRAM tivi terkemuka di Spanyol menuding organisasi sepakbola Eropa [UEFA] 'mengkondisikan' Euro 2020 bagi Inggris untuk mencapai final - merujuk pada penalti yang menjadi penentu hasil pertandingan Inggris versus Denmark sebagai keputusan bias.
Skuad asuhan Gareth Southgate akan tampil melawan Italia di final, Minggu [11/7], di Stadion Wembley setelah mengalahkan Denmark pada Rabu [7/7], setelah timnas Italia berjuluk Azzurri mengalahkan Spanyol sehari sebelumnya di London.
Inggris telah memainkan semua pertandingan kecuali satu pertandingan di Wembley musim panas ini dan program tv El Chiringuito, yang terkenal karena kata-kata kasar pasca-pertandingan mereka, meyakini keputusan wasit untuk memberi penalti kontroversial setelah 'aksi terjatuh' Raheem Sterling melawan Denmark adalah bukti dari tudingan tersebut.
Wartawan Roberto Morales, pembicara tamu pada program tersebut, juga menyarankan agar fnal Euro 2020 itu tidak diadakan di Wembley setelah Inggris memilih keluar dari Uni Eropa [Brexit].
Pemandu program El Chiringuito, Josep Pedrerol, yang menjadi viral setelah mengecam Eden Hazard karena tertawa setelah kekalahan Real Madrid di Liga Champions dari Chelsea awal tahun ini, bertanya kepada Morales: 'Menurut Anda UEFA mengatur ini untuk final Inggris?'
Wartawan itu menjawab: 'Bagi saya, ini adalah kompetisi paling memalukan yang pernah kami liput. Sangat menyedihkan.'
"Kami meliput pertandingan di kota-kota yang bahkan bukan Eropa dalam arti apa pun. Kita harus mendapati final yang disiapkan untuk negara yang meninggalkan Uni Eropa.'
'Ini sudah benar-benar disiapkan. Mereka telah memainkan setiap pertandingan tandang kecuali Wembley. Ini telah sepenuhnya dikondisikan untuk Inggris.'
"Semua yang hilang adalah dukungan yang diberikan (pada Selasa) dengan penalti dalam permainan yang terbukti rumit."
Pemain sayap Inggris Sterling terjatuh di kotak penalti saat laga dengan Denmark, termasuk yang terakhir dari gelandang Brentford Mathias Jensen, sebelum wasit Belanda Danny Makkelie menunjuk titik putih.
Kapten timnas Inggris berjuluk Three Lions, Harry Kane awalnya gagal mengeksekusi penalti setelah ditepis oleh kiper Kasper Schmeichel tetapi bola rebound kemudian ditendang ke gawang Denmark sehingga skor berubah menjadi 2 -1 untuk keunggulan Inggris.
Inggris akan menghadapi Italia di final pada Minggu dan sebagian besar warga Eropa diharapkan untuk mendukung Italia ketimbang Inggris.
Sebuah jajak pendapat di surat kabar Prancis L'Equipe - dalam bahasa Inggris, The Team - mengungkapkan bahwa dari 80.000 responden, 69 persen mengatakan mereka akan mendukung Italia sementara 11 persen mengatakan mereka tidak akan mendukung kedua timnas.
Presiden Komisi Eropa Ursula von der Leyen juga melemparkan dukungannya bagi timnas Italia pada Jumat.
Juru bicaranya mengatakan kepada wartawan: "Hatinya bersama Skuadra Azzurra jadi dia akan mendukung Italia pada Minggu."
Komisi Eropa biasanya tetap netral dalam kompetisi olahraga antar negara anggota, tetapi tampaknya persahabatan seperti itu tidak lagi berlaku bagi Inggris setelah Brexit," seperti dilansir MailOnline.
A POPULAR Spanish football TV programme has accused UEFA of 'conditioning' Euro 2020 for England to reach the final - and even insisted the Three Lions' decisive penalty against Denmark highlighted the bias.
Gareth Southgate's side will play Italy in Sunday's final at Wembley after defeating Denmark on Wednesday, with the Azzurri knocking out Spain the day before in London.
England have played all but one match at Wembley this summer and El Chiringuito, famed for their infamous post-match rants, believe the decision to award Raheem Sterling a controversial penalty against Denmark is a clear sense of favouritism.
Journalist Roberto Morales, a guest on the show, also suggested that the tournament should not have been held in England because of Brexit.
El Chiringuito host Josep Pedrerol, who went viral after slamming Eden Hazard for laughing after Real Madrid's Champions League loss to Chelsea earlier this year, asked Morales: 'You think UEFA organised this for an England final?'
The journalist responded: 'For me, this has been the most shameful competition that we have covered. It has been pathetic.
'We've had matches in cities that aren't even European in any sense. We've got a final that was prepared for a country that left the European Union.
'It has been totally prepared. They've played every game at home except one. It has been totally conditioned for England.
'All that was missing was the help received (on Tuesday) with the penalty in a game that was proving complicated.'
England winger Sterling went down under several Denmark challenges, including a final one from Brentford midfielder Mathias Jensen, before Dutch referee Danny Makkelie pointed to the spot.
Three Lions captain Harry Kane saw his initial spot kick saved by Kasper Schmeichel but the rebound fell into the path of the England striker who scored to put them 2-1 up.
England will face Italy in the final on Sunday and many Europeans are expected to support the Azzurris over the Three Lions.
A poll in French paper L'Equipe - in English, The Team - revealed that of 80,000 respondents, 69 per cent said they would support Italy while 11 per cent said they would support neither side.
European Commission President Ursula von der Leyen threwhas also thrown her support behind the Italian team on Friday.
Her spokesperson told reporters: 'Her heart is with the Squadra Azzurra so she will be supporting Italy on Sunday.'
The Commission usually remains neutral in sporting competitions between member states, but it appears such camaraderie no longer applies after Brexit.