John Lennon Jam Session di Dapur di Awal Kelahiran The Beatles, Ini Kisahnya ...
John Lennon`s Half-sister Reveals how He Used to Jam in the Kitchen
Editor : Ismail Gani
Translator : Novita Cahyadi

PUBLISHED: Minggu, 26 Agustus 2018 , 12:55:00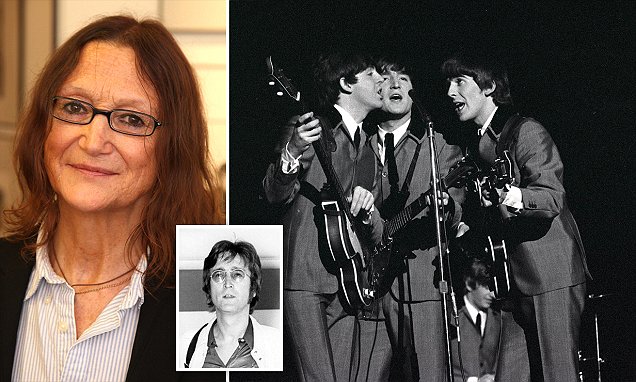 Foto2: MailOnline
JULIA BAIRD, 71, tumbuh bersama legenda pop di sebuah gedung milik pemerintah kota Liverpool. Dia mengaku belajar gitar dengan Paul McCartney dan George Harrison di dapur. Julia dan John berjuang untuk mengatasi kesedihan atas kematian ibu mereka dengan Beatlemania. Mereka berbicara berjam-jam di telepon setelah dia pindah ke New York dengan Yoko Ono pada 1971. Legenda Beatles tidur di lantai ruang tamu rumah keluarganya selama kunjungan pada 1964.
Adik tiri John Lennon mengungkap tentang hubungan dekatnya dengan kakak laki-lakinya ketika Beatlemania merajai musik dunia pada dekade 1960-an.
Julia Baird, kini berusia 71 tahun, tumbuh dengan legenda pop masa depan di gedung milik pemerintah kota Liverpool di Springwood Allerton di Liverpool.
Lennon kemudian menjadi salah satu musisi paling dikenal di planet ini sebelum mati ditembak oleh Mark Chapman di New York pada Desember 1980.
Minggu ini, pembebasan bersyarat Mark Chapman, pembunuh Lennon, ditolak untuk ke-10 kalinya.
Kini Julia, mantan guru, mengungkapkan bahwa dia tidak pernah merasa terasing dari kakak laki-lakinya meskipun dia menjadi bintang dunia.
Berbicara saat peringatan 40 kematian mendiang Lennon, dia mengatakan kepada The Mirror: ´Tidak ada jalan keluar. Dan tidak ada gunanya berpura-pura.
"Akan lebih menyakitkan jika saya berpura-pura tidak ada hubungannya dengan dia."
Dia mengatakan, sebagai remaja, John kerap latihan bermain gitar dengan Paul McCartney dan George Harrison di dapur rumah mereka.
Saat Lennon memetik senarnya, dia dan saudara perempuannya Jackie, saudara tiri John Lennon yang lain, menirukan goyang rock n´roll Elvis.
Ibu mereka, Julia, bahkan mengajar John untuk memainkan banjo buatan ibunya yang dihiasi mutiara, katanya.
Julia percaya John ´benar-benar percaya diri´ ketika dia di rumah berlatih gitar di dapur - yang dia katakan adalah ´tempat tak dikenal´ dari lahirnya The Beatles.
John tinggal bersama Bibi Mimi yang disiplin, saudara perempuan ibunya, sejak usia lima tahun.
Dia tidak menyetujui kehidupan ibunya yang tinggal serumah dengan Bobby Dykins tanpa ikatan pernikahan, kata Julia.
Pasangan itu mulai hidup bersama setelah Julia berpisah dari ayah John, pelaut Alfred Lennon.
Julia dan Bobby memiliki dua putri: Julia dan Jackie.
John dekat dengan saudara perempuan kecilnya dan sering mengunjungi mereka. Dan Julia mengatakan John tidak berbeda dengan kakak laki-laki lain.
Perjalanan karier musik menjadi The Beatles dimulai ketika John mengundang Paul McCartney dan George Harrison untuk bergabung dengan bandnya The Quarrymen.
John disebutkan telah bertemu Paul McCartney di sebuah gereja di Woolton pada 1957, di mana mereka bermain dengan band.
Julia ingat bagaimana dia dan saudara perempuannya, Jackie, mencoba menarik John dari truk batu bara, padahal saat itu sang ´kakak tiri´ sedang asyik bermain gitar.
John ´tertawa terbahak-bahak´ ketika kedua adik perempuannya masing-masing menarik satu kaki.
The Quarrymen membuat rekor pertama mereka dengan Percy Phillips ´Sound Recording Services 60 tahun yang lalu.
Itu adalah rendition dari karya Buddy Holly That´ll Be The Day dan yang orisinil, In Spite of All The Danger.
Namun pada 1958, hanya beberapa hari setelah The Quarrymen merekam lagu pertama mereka, ibu John dan Julia tewas akibat kecelakaan lalu lintas.
Dia ditabrak oleh sebuah mobil yang dikendarai oleh seorang perwira polisi yang sedang tidak bertugas.
Ketika Beatlemania menyapu dunia musik pada 1960-an, sulit bagi Julia dan John untuk mengatasi kesedihan mereka bagi ibu mereka dengan fokus intens pada band.
´Kami masih menderita dan kemudian sejarah besar musik terjadi hampir bersamaan. Kami semua belajar mengatasi kesedihan dengan cara masing-masing,´kata Julia.
Pada tahun-tahun awal mereka, The Beatles bermain di The Cavern Club, di mana Julia kini memegang hak atas sahamnya.
Namun dia menjelaskan bahwa dia terlalu muda untuk pergi ke sana di masa remajanya.
Sebaliknya, ia pergi untuk melihat saudara laki-lakinya dan teman-teman bandnya tampil di Finsbury Park Astoria di London bersama saudara perempuannya Jackie pada 1964.
"Tirai naik dan itu adalah kekacauan instan, saya tidak menyukainya," kenangnya.
Dia mengatakan John pulang ke rumah pada tahun yang sama dan tidur di lantai di ruang depan.
Pasangan ini tetap dekat ketika John pindah ke Surrey bersama istri pertamanya Cynthia dan putra mereka, Julian.
Julia ingat mengunjungi mereka dan membalas surat penggemar dengan John, menulis: ´Ya, saya akan menikahimu, aku akan menemuimu di gereja besok´.
Namun mereka kehilangan kontak setelah John pindah ke New York dengan Yoko Ono pada 1971.
John akhirnya menelepon pada 1974 dan mereka berbicara selama empat jam, tertawa dan menangis.
John memintanya untuk mengirimkan foto-foto keluarga yang kemudian ditempelkan di dinding ruang tengah dan kamar, setelah Julia mengirimkan foto-foto keluarga.
John tidak pernah pulang ke Liverpool untuk sebelum kematiannya. Dia tidak pernah melihat foto-foto itu lagi seperti dilansir MailOnline.
JULIA BAIRD, 71, grew up with the future pop legend in a Liverpool council house. She says he strummed with Paul McCartney and George Harrison in the kitchen. Julia and John struggled to juggle grief of their mother´s death with Beatlemania. They spoke for hours on phone after he moved to New York with Yoko Ono in 1971. Beatles legend slept on living room floor of his family home during a visit in 1964.
John Lennon´s half-sister has spoken out about her close relationship with her big brother as Beatlemania took over the music world in the 1960s.
Julia Baird, now 71, grew up with the future pop legend in a semi-detached council house in Allerton´s Springwood estate in Liverpool.
He went on to become one of the planet´s most recognisable musicians before being assassinated by Mark Chapman in New York in December 1980.
This week, Chapman was refused parole for the tenth time.
Now Julia, a former teacher, has revealed that she never felt estranged from her big brother despite his rapid rise to stardom.
Speaking as the 40th anniversary of his death approaches, she told The Mirror: ´There is no escape. And there is no point in pretending.
´It would hurt more to pretend I had nothing to do with him.´
She said, as a teenager, John used to jam with his future bandmates Paul McCartney and George Harrison in the kitchen of their family home.
As he plucked the strings, she and her sister Jackie, John´s other half-sister, danced to Elvis and skiffle.
Their mother Julia even taught John to play her mother-of-pearl backed banjo, she said.
Julia believes John was ´truly himself´ when he was at home practising guitar in the kitchen - which she says is where the magic of The Beatles was born.
John lived with his strict Aunt Mimi, his mother´s sister, from the age of five.
He disapproved of his mother Julia´s unmarried life with Bobby Dykins, said Julia.
The pair began living together after Julia split from John´s father, merchant seaman Alfred Lennon.
Julia and Bobby had two daughters together: Julia and Jackie.
John was close with his little sisters and often visited them. And Julia say he was no different to any other big brother.
His road to becoming one quarter of The Beatles began with him inviting Paul McCartney and George Harrison to join his band The Quarrymen.
John is said to have met Paul McCartney at a church fete in Woolton in 1957, where he was playing with the band.
Julia remembers how she and her sister Jackie tried to yank John off a coal lorry where he was happily strumming his guitar.
John ´laughed his head off´ as his little sisters grabbed a leg each.
The Quarrymen made their first record with Percy Phillips´ Sound Recording Services 60 years ago.
It was a rendition of Buddy Holly´s That´ll Be The Day and an original, In Spite of All The Danger.
But in 1958, just days after The Quarrymen had recorded their first tracks, John and Julia´s mum was killed.
She was struck by a car being driven by an off-duty police officer.
As Beatlemania swept the music world in the 1960s, it was challenging for Julia and John to juggle their grief for their mother with the intense focus on the band.
´We were still suffering and then this huge thing was parallel. We all learned to separate things off in boxes,´ said Julia.
In their early years, The Beatles played at The Cavern Club, where Julia now has a directorship.
But she explained that she was too young to go there in her teenage years.
Instead, she went to see her brother and his bandmates perform at the Finsbury Park Astoria in London with her sister Jackie in 1964.
´The curtain went up and it was instant mayhem, I hated it,´ she recalled.
She said John came home the same year and slept on the floor in the front room.
The pair remained close when John moved to Surrey with his first wife Cynthia and their son Julian.
Julia recalls visiting them and replying to fan letters with John, writing: ´Yes, I will marry you, I´ll meet you at the church tomorrow´.
But they lost touch after John moved to New York with Yoko Ono in 1971.
He finally rang in 1974 and they spoke for four hours, laughing and crying.
He asked her to send him family photographs plastered on her walls, and she did.
He never made it home for a visit before his death. She never saw the photographs again.