Maradona Wafat, Pengacaranya Tuntut Investigasi Kematian Sang Legenda
Diego Maradona`s Lawyer Demands Investigation into the Player`s Death
Editor : Ismail Gani
Translator : Novita Cahyadi

PUBLISHED: Kamis, 26 November 2020 , 23:27:00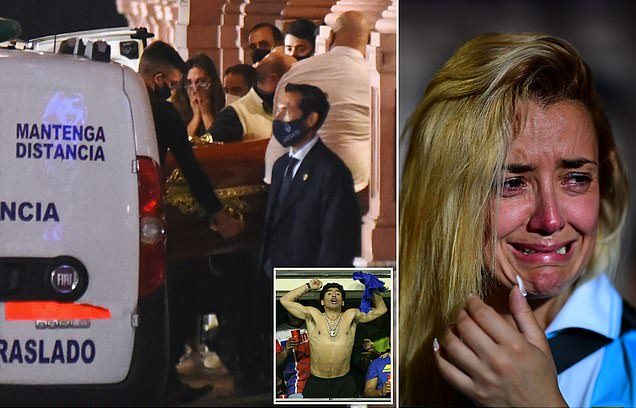 LEGENDA ARGENTINA: Jenazah Maradona dibawa ke istana kepresidenan dengan ambulans Kamis pagi waktu setempat, di mana jasadnya dibaringkan, ditutupi dengan bendera Argentina dan jersey nomor 10 yang bertanda tangan [Foto2: MailOnline]
PENGACARA Diego Maradona di Buenos Aires, Kamis [26/11] waktu setempat, menuduh petugas medis melakukan 'kebodohan kriminal' dan menuntut penyelidikan atas kematian legenda sepak bola itu, sementara warga yang terus berdatangan melayat peti matinya yang disemayamkan di Istana Presiden Argentina.
Pengacara Matias Morla mengklaim pemenang Piala Dunia itu dibiarkan selama 12 jam tanpa bantuan medis sebelum meninggal karena serangan jantung pada usia 60, hanya dua minggu setelah keluar dari rumah sakit pasca operasi untuk menghilangkan bekuan darah di otaknya.
Morla juga mengklaim hal itu sebagai 'kebodohan kriminal' ketika ambulans membutuhkan waktu 30 menit untuk tiba dan bersumpah bahwa teka-teki di balik kematian Maradona akan 'diselidiki sampai tuntas'.
Jenazah Maradona dibawa ke istana kepresidenan dengan ambulans Kamis pagi waktu setempat, di mana jasadnya dibaringkan, ditutupi dengan bendera Argentina dan jersey nomor 10 yang bertanda tangan.
Ribuan warga Argentina berbondong datang untuk melayat dan harus antri melintas di depan peti mati Maradona di istana kepresidenan, dengan raut duka, mengepalkan tangan, dan melemparkan bunga, bendera, dan kaos sepak bola di dekat peti mati pada hari pertama dari tiga hari berkabung nasional.
Keluarga Maradona dan teman-teman terdekat datang saat fajar sebelum warga berdatangan menyampaikan duka cita, dan sempat terjadi kericuhan ketika kerumunan berdesakan untuk masuk dan polisi harus menertibkan antrian warga.
Prosesi melayat berlangsung hanya beberapa jam sebelum Maradona akan dimakamkan di pinggiran Buenos Aires, di pemakaman Jardin de Paz yang sama tempat orang tuanya juga dimakamkan.
'Maradona bagi saya adalah hal luar biasa sepanjang hidup saya. Saya mencintainya seperti ayah saya dan sepertinya orang tua saya meninggal," kata Cristian Montelli, 22, salah satu pelayat yang menyambangi istana hari ini.
"Jika saya mati muda, semoga di atas sana saya bisa bermain bola dan menonton pertandingan Boca dengannya," tambah Montelli, yang memiliki tato wajah Maradona di kakinya, setelah melihat peti mati itu.
Ribuan pelayat lainnya berkumpul di luar stadion Buenos Aires tempat Maradona memulai karirnya dan nama statdion diganti dengan namanya untuk menghormati sang legenda, yang menyediakan venue sementara untuk mengenang pemenang Piala Dunia yang legendaris itu seperti dilansir MailOnline.
DIEGO MARADONA'S lawyer today accused medics of 'criminal idiocy' and demanded an investigation into the football legend's death, as grieving fans filed past his coffin at the presidential palace in Argentina.
Matias Morla claimed the World Cup winner was left for 12 hours without aid before he died of a heart attack aged 60, just two weeks after he was discharged from hospital following surgery to remove a blood clot on his brain.
Morla also claimed it was 'criminal idiocy' that an ambulance took 30 minutes to arrive and vowed that the circumstances surrounding Maradona's death would be be 'investigated to the end'.
Maradona's body was taken to the presidential palace in an ambulance this morning, where it is lying in state, covered in an Argentinian flag and his signature number 10 shirt.
Thousands of fans streamed past Maradona's body at the palace today, clapping, pumping their fists and throwing flowers, flags and football shirts at the foot of the casket on the first of three days of national mourning.
Maradona's family and closest friends came at dawn before the start of the public wake, before scuffles briefly broke out as crowds jostled to enter and police had to hold people back.
The coffin procession took place just hours before Maradona is due to be buried on the outskirts of Buenos Aires, in the same Jardin de Paz cemetery where his parents were also laid to rest.
'Maradona for me is the greatest thing that happened to me in life. I love him as much as my father and it's like my old man died,' Cristian Montelli, 22, one of the mourners at the palace today.
'If I die young, hopefully upstairs I can play ball and watch a Boca game with him,' added Montelli, who had a tattoo of Maradona's face on his leg, after he saw the casket.
Others gathered last night outside the Buenos Aires stadium where Maradona began his career and which has since been renamed in his honour, setting up a makeshift shrine to celebrate the legendary World Cup winner.
Maradona's death has also been keenly felt in Europe, especially in Naples where he steered an unfashionable side to two Italian league titles and where fans let off flares in tribute outside the stadium last night.