90 Tahun LAX, Foto-foto Jadul dan Terkini Ungkap Sejarah Bandara Los Angeles
The Amazing Story of Los Angeles Airport as it Celebrates its 90th Anniversary
Editor : Ismail Gani
Translator : Novita Cahyadi

PUBLISHED: Senin, 12 November 2018 , 01:37:00 WIB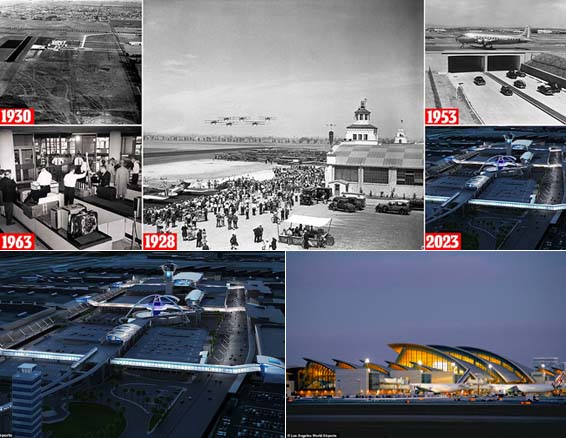 Foto tertua diambil pada 1928 - setahun setelah Charles Lindbergh menjadi manusia pertama yang terbang dari New York ke Paris tanpa henti, maskapai Delta menjalankan layanan udara terjadwal pertama (Foto2: MailOnline)
INDUSTRI penerbangan sipil Amerika dimulai pada 1920 barulah menggeliat.
Ketika Bandara Los Angeles (LAX) dibuka pada 1 Oktober 1928, itu seperti semua bandara AS lainnya - hanyalah sebuah lapangan. Sejarawan LAX, Ethel Pattison menggambarkannya sebagai ´lahan luas yang terbengkalai´ namun dianggap sebagai kawasan terbaik saat itu. Namun waktu telah berubah.
MailOnline mengungkap kisah LAX yang merayakan ulang tahunnya yang ke-90 - dulu, sekarang, dan mendatang - menggunakan foto-foto jadul yang menarik dan mengurai sejarah panjang dari salah satu bandara tertua di dunia.
Foto-foto jadul tersebut menunjukkan bahwa deskripsi dari Ethel Pattison sangat tepat.
Meskipun saat itu masih berupa lahan luas yang digambarkan sebagai ´lapangan kelinci´ tapi telah didukung landasan pacu lebih 600 meter dan parkir untuk pesawat.
Foto tertua diambil pada 1928 - setahun setelah Charles Lindbergh menjadi manusia pertama yang terbang dari New York ke Paris tanpa henti, maskapai Delta menjalankan layanan udara terjadwal pertama di Amerika dan setahun sebelum gedung pertama bandara, Hangar 1, didirikan.
Saat ini LAX memiliki sembilan terminal - termasuk terminal Suite Pribadi untuk VIP dengan BMW yang dikemudikan sopir yang membawa penumpang menyeberangi aspal ke pesawat mereka - lebih dari 62 tempat makan dan belanja, dek observasi dengan pemandangan 360 derajat dan ´anjing terapi´ yang menawarkan kebahagiaan dan dukungan emosional kepada para pembeli yang gugup.
Bandara ini, bagaimanapun, diatur untuk benar-benar berubah sekali lagi, berkat program renovasi US$14 miliar.
AMERICA´S civilian air industry in the 1920s was, to all intents and purposes, non-existent.
When Los Angeles Airport (LAX) opened on October 1, 1928, it was just like all the other U.S airports - a field. LAX historian Ethel Pattison described it as 'a dirt patch with rabbits running around', which was a good standard for that time. But how times have changed.
Here we tell LAX's story as it celebrates its 90th anniversary – past, present and future – using fascinating vintage photographs and renderings of what's in store for users of the hub in the years to come.
The earliest images show that Ms Pattison's rabbit patch description was spot on.
Though it was a rabbit patch with a 2,000ft runway and parking for 40 planes.
The oldest image was taken in 1928 – a year after Charles Lindbergh became the first to fly from New York to Paris non-stop, the year Delta ran America's first ever scheduled air service and a year before the airport's first proper building, Hangar 1, was erected.
Present day LAX has nine terminals – including a Private Suite terminal for VIPs with chauffeur-driven BMWs that take passengers across the tarmac to their aircraft - over 62 dining and shopping venues, an observation deck with 360-degree views and 'therapy dogs' that offer emotional happiness and support to nervous fliers.
The airport is, however, set to totally transform once again, thanks to a $14billion renovation program.