157 Tewas, Ethiopian Airlines Jatuh setelah Lepas Landas
Bodies of 157 are Recovered from Site of Ethiopian Airlines Plane Crash
Editor : Ismail Gani
Translator : Novita Cahyadi

PUBLISHED: Senin, 11 Maret 2019 , 00:19:00 WIB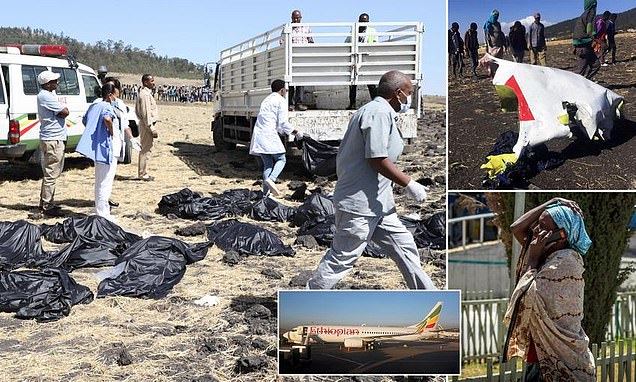 Keluarga dan kerabat korban sudah mendatangi Bandara Internasional Jomo Kenyatta di Nairobi (Foto2: MailOnline)
149 PENUMPANG dan delapan awak tewas setelah pesawat Ethiopian Airlines jatuh. Pesawat naas tersebut diyakini jatuh beberapa menit setelah lepas landas.
Pernyataan resmi dari pihak maskapai menyatakan operasi pencarian dan penyelamatan penumpang dan awak pesawat sedang berlangsung.
Media resmi pemerintah mengumumkan bahwa tidak ada penumpang yang selamat.
Keluarga dan kerabat korban sudah mendatangi Bandara Internasional Jomo Kenyatta di Nairobi.
Pesawat naas, 737 MAX 8, diyakini sebagai pesawat baru memperkuat maskapai EA yang bergabung mendukung EA sejak Juli tahun lalu - dan merupakan model yang sama dengan pesawat Lion Air yang jatuh di perairan Karawang, Jabar pada Oktober 2018.
Produsen pesawat, Boeing mengeluarkan peringatan keselamatan tentang 737 Max. Pesawat MA 8 diluncurkan pada 2016 dan digunakan oleh banyak maskapai terkemuka di seluruh dunia seperti dilansir MailOnline.
AN ETHIOPIAN Airlines plane has crashed with 149 passengers and 8 crew onboard. The plane is believed to have gone down minutes after take off.
A statement from the carrier said search and rescue operations are in progress.
The nation´s state broadcaster has announced there were no survivors.
Families of those onboard have begun gathering at the Jomo Kenyatta International Airport in Nairobi (pictured).
The plane, a 737 MAX 8, is believed to be a new addition to the EA fleet having been delivered in July last year - and is the same model as the Lion Air plane which crashed in Indonesia in October.
Boeing issued a safety warning last November about its new 737 Max jets which could have a fault that causes them to nose-dive. The MAX-8 planes were launched in 2016 and are used by major airlines all around the world.