71 Tewas setelah Pesawat Saratov Airlines Jatuh Dekat Moskow
71 Died when a Russian Passenger Plane Crashed Near Moscow
Editor : Ismail Gani
Translator : Novita Cahyadi

PUBLISHED: Senin, 12 Februari 2018 , 03:46:00 WIB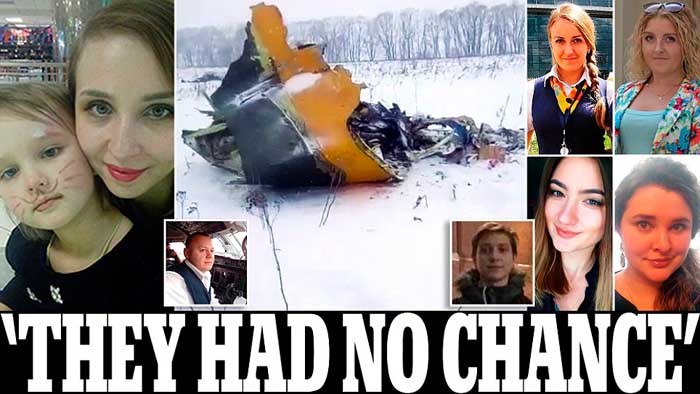 Gubernur wilayah Orenburg, tempat pesawat naas tersebut lepas landas, mengatakan kepada media Rusia bahwa ´lebih dari 60 orang´ berada di dalam pesawat berasal dari wilayah tersebut (Foto2: MailOnline)
SEORANG gadis berusia lima tahun dan ibunya termasuk di antara 71 orang yang tewas saat sebuah pesawat penumpang Rusia jatuh di dekat Moskow sesaat setelah lepas landas.

Nadezhda Krasova, lima, korban termuda dalam kecelakaan tersebut, tewas dengan ibunya Oksana Krasova, 32, setelah pesawat Antonov An-148 meledak di udara, menurut laporan saksi mata.

Pesawat domestik Saratov Airlines menghilang dari layar radar beberapa menit setelah lepas landas dari Bandara Domodedovo di ibukota Moskow.

Pesawat itu jatuh, dengan 65 penumpang dan enam awak pesawat, hanya beberapa menit setelah berangkat dari Orsk, sebuah kota di Ural, sekitar 1.000 mil tenggara Moskow.

Seperti korban tewas lainnya, Nadezhda dan ibunya berasal dari Orsk, di wilayah Orenburg, yang akan menandai hari berkabung pada Senin.

Turut menjadi korban tewas adalah Evgeny Livanov, 12, dan Ilya Poletayev, 17, menurut laporan media lokal. Pramugari Anastasia Slavinskaya, 29, dan Viktoria Koval, 21, dan pilot kedua Sergey Gambaryan, 34, juga tewas.

Penumpang lain yang tewas adalah Ulyana Son, 28, Kriskentia Alexeenko, 25, dan dokter Lyudmila Kovchuga, 53, juga tewas.

Gubernur wilayah Orenburg, tempat pesawat naas tersebut lepas landas, mengatakan kepada media Rusia bahwa ´lebih dari 60 orang´ berada di dalam pesawat berasal dari wilayah tersebut.

Namun, sumber Rusia mengatakan warga asing dari Swiss, Azerbaijan dan Kazakhstan juga menjadi korban dalam penerbangan naas tersebut. Seorang juru bicara kedutaan Inggris mengatakan bahwa mereka tidak mengetahui adanya korban tewas dari warga Inggris.

Situs penerbangan FlightRadar melaporkan bahwa pesawat tersebut terakhir diperkirakan jatuh pada ketinggian 22.000 kaki per menit.

Puing-puing dari pesawat Antonov An-148 ditemukan di daerah Ramenskoye, sekitar 40 kilometer (25 mil) dari bandara. Rekaman di televisi pemerintah menunjukkan puing-puing pesawat berserakan di tengah lapangan bersalju tanpa bangunan di dekatnya.

Menteri Transportasi Maxim Sokolov mengatakan pada Minggu sore bahwa ´dilihat dari reruntuhan puing pesawat, tidak ada yang selamat dari kecelakaan ini´. Komite Investigasi Rusia mengatakan semua kemungkinan penyebab jatuhnya pesawat sedang diselidiki seperti dilansir MailOnline.
A FIVE-YEAR-OLD girl and her mother were among 71 people who died when a Russian passenger plane crashed near Moscow shortly after taking off.

Nadezhda Krasova, five, the youngest victim in the crash, died along with her mother Oksana Krasova, 32, after the Antonov An-148 airliner broke up in mid-air, according to eyewitness reports.

The Saratov Airlines regional jet disappeared from radar screens a few minutes after departing from the capital´s Domodedovo Airport.

The plane crashed, with 65 passengers and six crew aboard, just a few minutes after setting off Orsk, a city in the Urals, around 1,000 miles southeast of Moscow.

Like many of the victims, Nadezhda and her mother were from Orsk, in Orenburg region, which will mark a day of mourning on Monday.

Also among the dead were Evgeny Livanov, 12, and Ilya Poletayev, 17, according to local reports. Stewardesses Anastasia Slavinskaya, 29, and Viktoria Koval, 21, and second pilot Sergey Gambaryan, 34, also died.

Other passengers who died included Ulyana Son, 28, Kriskentia Alexeenko, 25, and doctor Lyudmila Kovchuga, 53, also died.

The governor of the Orenburg region, where the plane was flying to, told Russian media that ´more than 60 people´ on board the plane were from the region.

However, Russian sources said foreigners from Switzerland, Azerbaijan and Kazakhstan were also on the doomed flight. A British embassy spokesman said they were not aware of any British victims.

Aviation website FlightRadar reported the aircraft was last measured falling at a rate of 22,000ft per minute.

Fragments from the Antonov An-148 airliner were found in the Ramenskoye area, about 40 kilometers (25 miles) from the airport. Footage on state television showed them strewn across a snowy field with no buildings nearby.

Transport Minister Maxim Sokolov said Sunday afternoon that ´judging by everything, no one has survived this crash.´ Russia´s Investigative Committee said all possible causes were being explored.