Joe Biden Ungguli Donald Trump di Pennsylvania dan Georgia
Biden overtakes Trump in Pennsylvania and Georgia and is Hours from Victory
Editor : Ismail Gani
Translator : Novita Cahyadi

PUBLISHED: Sabtu, 07 November 2020 , 00:08:00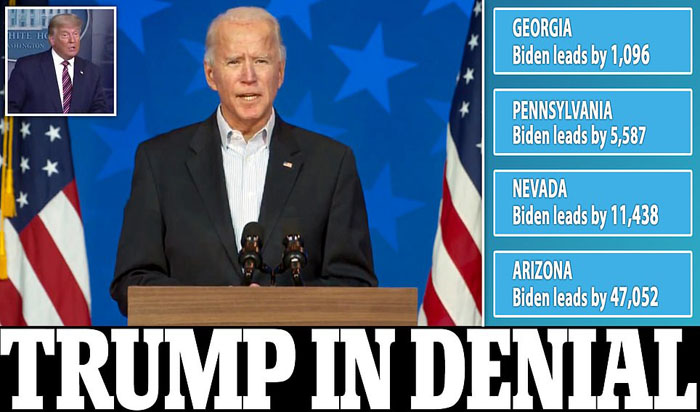 GEDUNG PUTIH: Biden sekarang memimpin di Pennsylvania dengan 0,1% suara. Dia juga memimpin di Georgia, Nevada dan Arizona, negara bagian yang tersisa yang akan dihitung. [Foto & Data: MailOnline]
JOE BIDEN memimpin perolehan suara di Pennsylvania dengan 5.5870 suara dan sedang bersiap menuju kemenangan untuk menduduki Gedung Putih, memimpin di keempat negara bagian yang tersisa, meskipun kandidat petahana Donald Trump menolak menerima kekalahan dan mengklaim bahwa dia adalah korban dari konspirasi kecurangan.
Sisa suara di Pennsylvania - yang memiliki 20 suara electoral college - sebagian besar berada di kantong suara Biden di Pittsburgh dan Pennsylvania. Ada sekitar 140.000 yang tersisa untuk dihitung.
Biden sekarang memimpin di Pennsylvania dengan 0,1% suara. Dia juga memimpin di Georgia, Nevada dan Arizona, negara bagian yang tersisa yang akan dihitung.
Hal itu terjadi setelah Trump muncul di TV Kamis malam [kiri], dalam penampilan pertamanya sejak hari pemilihan, untuk meluncurkan serangan luar biasa terhadap surat suara, mengklaim konspirasi besar terhadapnya yang mencakup ´teknologi besar, uang besar, media, lembaga survei dan Demokrat.
Setidaknya tujuh jaringan, termasuk penyiar utama ABC, NBC dan CBS, semua memutus tayangan pidatonya, seraya mengatakan bahwa Trump telah membuat ´sejumlah pernyataan palsu´.
Itu adalah kata-kata kasar yang dia lanjutkan di Twitter pada pukul 2.30 pagi, meminta Mahkamah Agung untuk turun tangan [kiri atas] seperti dilansir MailOnline.
JOE BIDEN has taken the lead in Pennsylvania with 5,5870 votes and is now poised for White House victory, leading in all four of the remaining swing states, despite Trump´s refusal to accept defeat and claiming he is the victim of an elaborate conspiracy.
The remaining votes in Pennsylvania - which holds 20 electoral college votes - are mostly in Biden strongholds of Pittsburgh and Pennsylvania. There are around 140,000 left to count.
Biden now leads in Pennsylvania by 0.1% of the vote.He is also leading in Georgia, Nevada and Arizona, the remaining swing states that are to be called.
It comes after Trump went on TV Thursday night [left], in his first appearance since election day itself, to launch an extraordinary attack on the ballot, claiming a vast conspiracy against him that includes ´big tech, big money, the media, pollsters and Democrats´.
At least seven networks, including major broadcasters ABC, NBC and CBS, all cut away during the speech, saying that Trump had made ´a number of false statements´.
It was a rant he continued on Twitter at 2.30am, calling for the Supreme Court to get involved [top left].