Joe Biden Janji Rangkul Pendukung Trump yang Kecewa pada Pidato Pertamanya
Joe Biden Promises to Reaches Out to Disappointed Trump Supporters in His First Speech
Editor : Ismail Gani
Translator : Novita Cahyadi

PUBLISHED: Minggu, 08 November 2020 , 20:12:00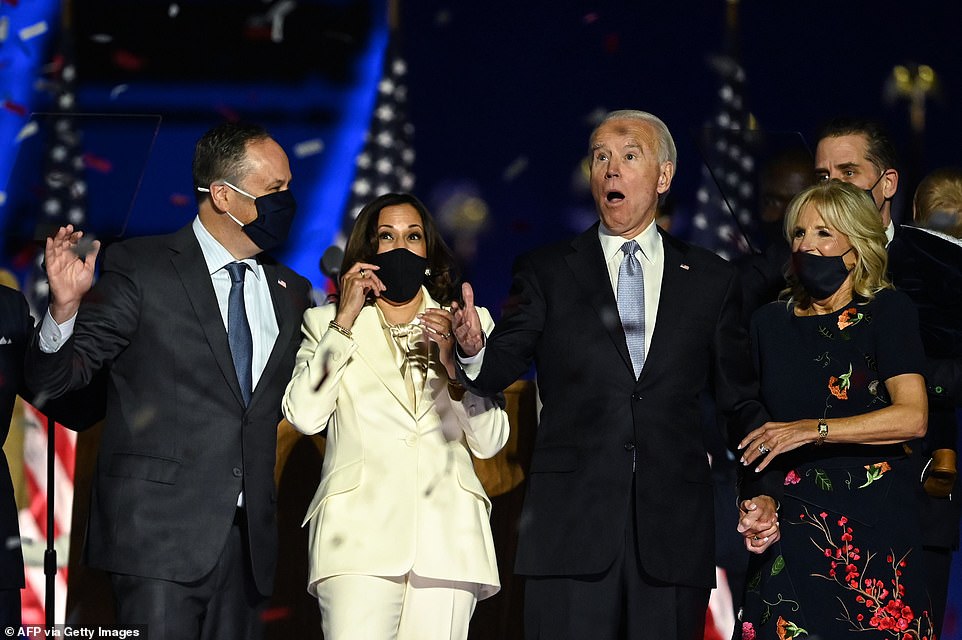 REKOR BIDEN: Joe Biden akan menjadi presiden tertua ketika dia menjabat pada usia 78 tahun, presiden Katolik kedua dan orang ketiga yang mengalahkan petahana dalam 100 tahun terakhir [Foto: MailOnline]
JOE BIDEN menyampaikan pidato kemenangan pada Pilpres AS 2020, untuk pertama kalinya sejak penghitungan suara yang berlangsung sengit.
Presiden terpilih yang baru naik ke panggung di Wilmington, Delaware setelah diperkenalkan oleh Kamala Harris, wakil presiden terpilihnya.
Biden berjanji untuk mempersatukan bangsa, berjanji untuk menjadi ´presiden untuk semua orang Amerika - apakah Anda memilih saya atau tidak´, saat dia meminta seluruh bangsanya untuk kembali bersatu.
Dalam pidatonya sebelumnya, Kamala Harris memuji Biden sebagai ´penyembuh´. Pemersatu. Bukan politisi karbitan dan siap bekerja sama´.
Biden meraih kemenangan tipis untuk kursi kepresidenan dan mengalahkan Presiden Donald Trump setelah mencapai 273 suara Electoral College dengan memenangkan Pennsylvania.
Pada pukul 11.25 pagi, saat Presiden petahana Donald Trump bermain golf di lapangannya di Virginia, jaringan TV hampir secara bersamaan menyatakan kemenangan untuk Biden.
Di Wilmington, Delaware, klakson mobil dibunyikan untuk perayaan dan komentator CNN Van Jones menangis, seperti dilansir MailOnline.
Trump kembali nge-tweet di Twitter tentang kecurangan Pilpres pada Sabtu pagi dan mengeluarkan pernyataan yang mengatakan: ´Penghitungan suara ditentukan keputusan hukum, bukan oleh media.´
Biden akan menjadi presiden tertua ketika dia menjabat pada usia 78 tahun, presiden Katolik kedua dan orang ketiga yang mengalahkan petahana dalam 100 tahun terakhir, dan yang pertama sejak Clinton mengalahkan George H.W. Bush pada 1992.
JOE BIDEN addressed the nation for the first time since the drawn out election was called in his favor Saturday.
The new president-elect took to the stage in Wilmington, Delaware after being introduced by Kamala Harris, his vice-president elect.
Biden vowed to unite the nation, pledging to a be a ´president for all Americans - whether you voted for me or not´, as he called on the country to heal.
During her speech earlier, Kamala Harris praised Biden as ´a healer. A uniter. A tested and steady hand´.
Biden scored a narrow victory for the presidency and defeated President Donald Trump after reaching 273 Electoral College votes by winning Pennsylvania.
At 11.25am, as the president played golf at his Virginia course, TV networks almost simultaneously called the election for Biden.
In Wilmington, DE, car horns honked in celebration and on CNN commentator Van Jones cried.
Trump had tweeted claims of election fraud earlier in the morning and issued a statement saying: ´Legal counts decide the election not the news media.´
Biden will become the oldest president when he takes office at 78, the second Catholic and and is the third person to knock off an incumbent in 100 years, and the first since Clinton defeated George H.W. Bush in 1992.