Vietnam dan Indonesia Sepakat Tingkatkan Kerjasama Maritim
Vietnam and Indonesia Vow to Settle Fishing Violations
Editor : Ismail Gani
Translator : Novita Cahyadi

PUBLISHED: Selasa, 17 April 2018 , 17:06:00 WIB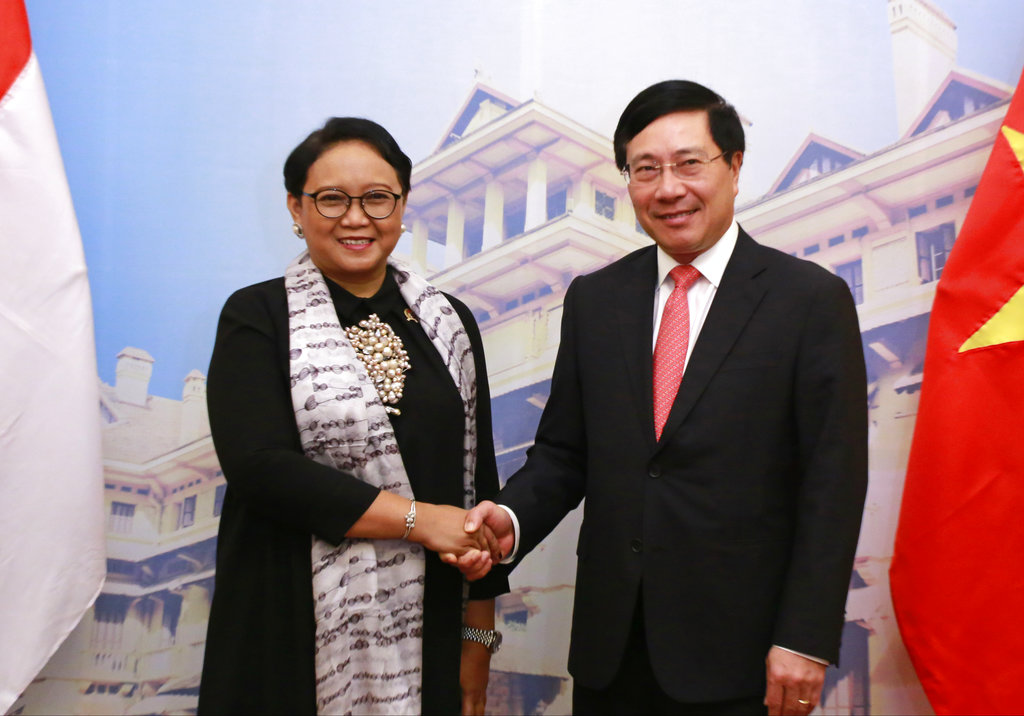 Menlu Retno Marsudi (kiri) dan Menlu Vietnam Pham Binh Minh (Foto: news.mb.com.ph)
VIETNAM dan Indonesia menandatangani perjanjian kerjasama untuk mengatasi penangkapan ikan ilegal di Laut China Selatan sebagai bagian dari upaya kedua negara untuk meningkatkan perdagangan bilateral.

Menteri Luar Negeri Indonesia Retno Marsudi, kepada pers pada Selasa mengatakan bahwa pejabat kedua negara mengadakan pertemuan bilateral, untuk memperkuat kerjasama kedua negara terutama dalam hal penangkapan ikan dan isu-isu maritim lainnya.

"Dalam kerja sama maritim dan perikanan, kami sepakat tentang bagaimana mengatasi masalah yang terkait dengan sektor maritim," katanya melalui seorang penerjemah. "Kami juga sepakat untuk bersama-sama menyelesaikan demarkasi zona ekonomi eksklusif, karena demarkasi ZEE antara kedua negara dapat menjaga kepentingan kedua negara dan menjamin keamanan antara kedua negara."

Sejak 2014, Indonesia meledakkan dan menenggelamkan ratusan kapal penangkap ikan, sebagian besar dari Vietnam, Filipina, Malaysia dan Thailand, karena melanggar perairan Indonesia. Pemerintah Presiden Joko "Jokowi" Widodo menerapkan kebijakan untuk menindak tegas penangkapan ikan ilegal, sebagian didorong oleh kebutuhan untuk menunjukkan kepada negara tetangganya bahwa Indonesia mampu mereka mengendalikan wilayahnya yang luas dari 17.000 pulau.

Menteri Luar Negeri Vietnam Pham Binh Minh mengatakan kedua negara sepakat untuk membentuk sebuah mekanisme dalam menangani pelanggaran penangkapan ikan sesuai dengan hukum kedua negara.

"Pada bagian kami, Vietnam akan terus memperkuat pendidikan dan informasi sehingga dapat meningkatkan kesadaran nelayan kami untuk tidak melanggar perairan negara lain," katanya.

Marsudi mengatakan perdagangan dan investasi antara kedua negara menunjukkan perkembangan positif, terutama setelah pembentukan kemitraan strategis pada 2013.

Perdagangan bilateral mencapai US$6,8 miliar tahun lalu dan kedua negara menargetkan untuk meningkatkan hingga US$10 miliar dalam beberapa tahun mendatang, katanya seperti dikutip Associated Press yang dilansir MailOnline.
VIETNAM and Indonesia have pledged to work together to resolve fishing violations in the South China Sea as the two countries seek to boost their bilateral trade.

Indonesian Foreign Minister Retno Marsudi, speaking to reporters Tuesday at a joint briefing with his Vietnamese counterpart, said the two countries would strengthen their partnership, cooperating particularly on fishing and other maritime issues.

"In maritime and fishing cooperation, we agreed on how to conclude the ongoing issues in this regard," she said via a translator. "We have also agreed to try together to complete the demarcation of the exclusive economic zone, because the demarcation of the EEZ between our two countries can enhance the interests of our two peoples as well as ensure security between our two countries."

Since 2014, Indonesia has destroyed several hundred fishing vessels, most of them from Vietnam, the Philippines, Malaysia and Thailand, for violating its waters. The government of President Joko "Jokowi" Widodo has taken a hard-line stance against illegal fishing, partly driven by the need to show its neighbors that it is in control of its vast territory of 17,000 islands.

Vietnamese Foreign Minister Pham Binh Minh said the two sides agreed to establish a mechanism to handle fishing violations in line with both countries´ laws.

"On our part, Vietnam will continue to strengthen education and information so as to raise awareness of our fishermen not to violate other countries´ waters," he said.

Marsudi said trade and investment between the two countries have seen positive developments, especially after the establishment of the strategic partnership in 2013.

Bilateral trade stood at $6.8 billion last year and the two countries are targeting to bring it up to $10 billion in the next few years, she said.