Pesawat Militer Peru Jatuh di Tengah Pemukiman Warga di Lima
Shocking Moment a Military Plane Falls from the Sky in Peru
Editor : Ismail Gani
Translator : Novita Cahyadi

PUBLISHED: Rabu, 06 Februari 2019 , 17:43:00 WIB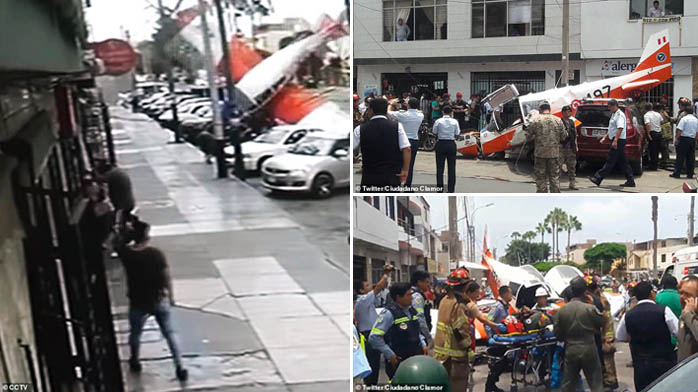 PILOT SELAMAT: Warga bergegas keluar dari rumah dan toko terdekat untuk membantu pilot yang terluka yang terjebak di dalam pesawat kecil (Foto2: MailOnline)
PERISTIWA mengejutkan di Lima, ibukota Peru di Amerika Latin ketika sebuah pesawat militer jatuh saat mengudara dan menghancurkan sebuah mobil SUV.
Hebatnya pilot dan co-pilot berhasil menyelamatkan diri dan berhasil dievakuasi dari lokasi kejadian.
Sebuah kamera pengintai menunjukkan beberapa warga berjalan di samping sebuah bangunan sebelum pesawat Angkatan Udara Peru meluncur melalui deretan kabel yang menggantung dari tiang-tiang jalan.
Kapten Julio Pinedo Centurión dan Juan Carlos Valdivia Rodríguez diselamatkan dari pesawat yang hancur oleh empat unit pemadam kebakaran sebelum pilot yang terluka dibawa ke Rumah Sakit Pusat Angkatan Udara Peru pada Senin pagi.
Menurut surat kabar Peru El Comercio, pilot, Pinedo Centurión, menderita memar parah.
Pesawat yang mendadak jatuh menghancurkan sebuah SUV di jalan sepi di kota pesisir Surco, sebuah distrik di ibu kota Peru Lima.
Seorang wanita, yang berdiri hanya beberapa meter jauhnya dari lokasi jatuhnya pesawat itu tidak mengalami cedera, sementara beberapa pria berlarian menyelamatkan diri dengan menutupi kepalanya.
Warga bergegas keluar dari rumah dan toko terdekat untuk membantu pilot yang terluka yang terjebak di dalam pesawat kecil.
Kecelakaan itu terjadi hanya delapan blok jauhnya dari Pangkalan Angkatan Udara Las Palmas.
Para pejabat militer mengatakan para perwira militer sedang melakukan penerbangan instruksional rutin dan kembali ke pangkalan ketika kecelakaan itu terjadi.
Penyelidik militer belum menentukan apa yang menyebabkan pesawat tersebut jatuh seperti dilansir MailOnline.
THIS IS the astonishing moment a military plane falls from the sky and crushes an SUV in Lima, Peru.
Amazingly the pilot and co-pilot were pulled to safety and survived.
A surveillance camera shows a couple of residents walking next to a building before the Peruvian Air Force aircraft barreled through a row of wires dangling from street poles.
Captains Julio Pinedo Centurión and Juan Carlos Valdivia Rodríguez were rescued from the wrecked plane by four firefighting units before the injured servicemen were taken to the Peruvian Air Force Central Hospital on Monday morning.
According to Peruvian newspaper El Comercio, the pilot, Pinedo Centurión, suffered severe bruises.
The sudden impact crushed an SUV on the quiet street in the coastal town of Surco, a district in the Peruvian capital city of Lima.
A woman, who was standing just a couple feet away from were the plane finally rested on its belly, could be seen on the video running for safety while another man could just cover his head.
Residents rushed out of nearby homes and businesses to help the injured pilots who were stuck inside the tiny plane.
The accident occurred just eight blocks away from the Las Palmas Air Force Base.
Military officials said the military officers were conducting a routine instructional flight and were returning to the base when the accident happened.
Investigators are still determining what made the plane malfunction.