Pesawat Boeing 737 Jatuh, Tim Penyelamat Dikerahkan ke Lokasi Kejadian
Passengers on Doomed Chinese Jet were ´Totally Incinerated´
Editor : Ismail Gani
Translator : Novita Cahyadi

PUBLISHED: Selasa, 22 Maret 2022 , 18:24:00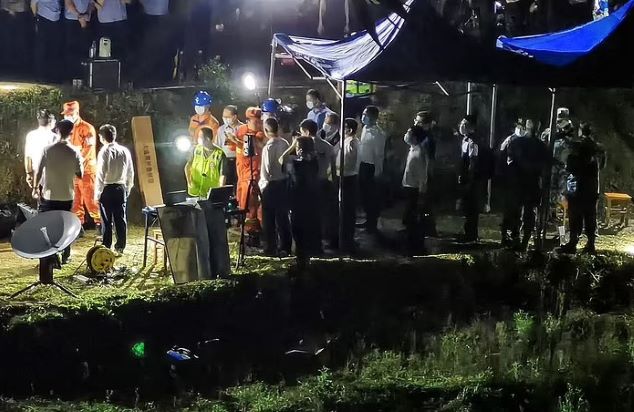 INSIDEN KECELAKAAN: Tim penyelamat dan pejabat kesehatan berbondong-bondong ke lokasi kecelakaan. [Foto: AFP]
SEBUAH pesawat maskapai China Eastern Airlines berjenis Boeing 737-800 jatuh akibat menabrak lereng gunung di kawasan perbukitan di Guangxi, yang membawa 132 orang di dalamnya.
Tim Penyelamat China pada hari Selasa memunguti puing-puing pesawat jet tanpa ada yang selamat, dan petugas penyelamat berspekulasi bahwa api yang dihasilkan dari kecelakaan itu telah 'membakar total' penumpang dan barang-barang mereka.
Insiden tersebut merupakan kecelakaan udara paling mematikan di China dalam hampir tiga dekade. Kecelakaan penerbangan komersial China yang paling mematikan adalah kecelakaan China Northwest Airlines pada tahun 1994, yang menewaskan semua 160 penumpang.
Membuat China Eastern mengandangkan semua pesawat Boeing 737-800 setelah insiden itu, di mana pesawat tiba-tiba menukik dan jatuh 30.000 kaki dalam dua menit sebelum terbanting ke tanah dengan kecepatan 350 mph.
Presiden Xi Jinping dengan cepat menyerukan penyelidikan penuh setelah kecelakaan itu ketika tim pencari, petugas pemadam kebakaran, dan personel lainnya turun ke lokasi di daerah pedesaan provinsi Guangxi.
Media pemerintah menunjukkan tim pencari berseragam memanjat di atas tanah yang terbalik, pohon-pohon yang hancur dan puing-puing yang berserakan, termasuk bagian dari pesawat yang membawa warna biru dan merah kapal induk.
Tim lain diperlihatkan meluncurkan drone, dalam misi pencarian yang diperumit oleh medan yang curam dan vegetasi yang lebat.
Maskapai penerbangan sebelumnya pada hari Senin mengakui bahwa beberapa penumpang jet, yang melakukan perjalanan dari kota Kunming ke pusat selatan Guangzhou, telah meninggal, tetapi tidak memberikan rincian lebih lanjut.
"Perusahaan menyampaikan belasungkawa yang mendalam untuk penumpang dan anggota awak yang tewas dalam kecelakaan pesawat," kata China Eastern dalam sebuah pernyataan Senin malam tanpa memberikan informasi lebih lanjut, seperti dilansir MailOnline.
Keluarga penumpang dan awak masih menunggu untuk mendengar informasi lebih lanjut tentang bencana itu.
CHINESE recovery teams were today picking through the debris of a crashed China Eastern jet after it inexplicably plummeted from the sky into a mountainside yesterday with 132 people on board.
The Chinese Boeing 737-800 smashed into a mountainside with no survivors, and rescue workers speculated that the fire resulting from the crash had 'totally incinerated' the passengers and their belongings, before causing damage to the surrounding forest.
China Eastern yesterday grounded all of its Boeing 737-800 aircraft after the incident, in which the plane suddenly nose-dived and plummeted 30,000ft in two minutes before slamming into the ground at 350mph.
The incident represents China's deadliest air crash in nearly three decades. The deadliest Chinese commercial flight accident was a China Northwest Airlines crash in 1994, which killed all 160 onboard.
President Xi Jinping quickly called for a full probe following the crash as search teams, firefighters and other personnel descended upon the site in a rural area of Guangxi province.
State media showed uniformed search teams clambering over a scene of upturned earth, blasted trees and scattered debris, including a section of plane bearing the carrier's blue and red livery.
Other teams were shown launching drones, in a search mission complicated by the steep terrain and dense vegetation.
The airline earlier on Monday acknowledged that some aboard the jet, which was travelling from the city of Kunming to the southern hub of Guangzhou, had died, but did not offer more details.
'The company expresses its deep condolences for the passengers and crew members who died in the plane crash,' China Eastern said in a statement late Monday without providing more information.
Families of the passengers and crew members are still waiting to hear more information about the disaster.