Jet Tempur Stealth F-35 Uji Coba Pendaratan Pertama di HMS Queen Elizabeth
The very First British F-35 Stealth Fighter to Land on HMS Queen Elizabeth
Editor : Ismail Gani
Translator : Novita Cahyadi

PUBLISHED: Sabtu, 29 September 2018 , 18:26:00 WIB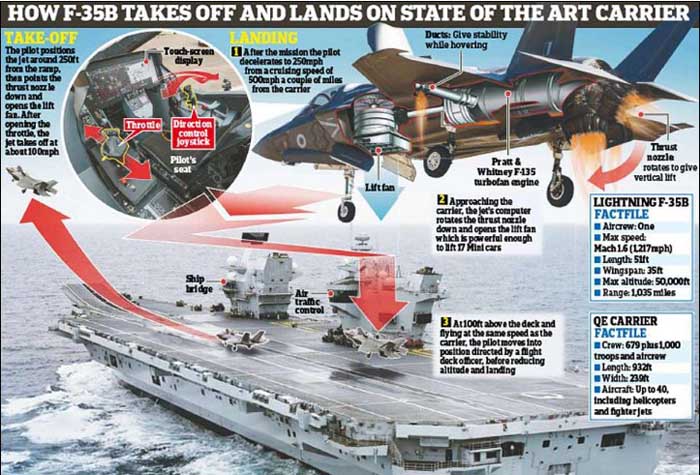 The Daily Mail menyaksikan jet AS yang diterbangkan oleh pilot uji Inggris lepas landas dari kapal induk seharga Rp60 triliun dan kemudian mendarat lagi (Foto & Sketsa: MailOnline)
MENDARATKAN jet tempur ke kapal induk di tengah laut adalah salah satu tantangan terbesar yang dihadapi pilot jet tempur, meskipun sudah berpengalaman.
Namun ketika penerbang AL Kerajaan Inggris, Kolonel Nathan Gray mendaratkan Lightning F-35B di kapal induk HMS Ratu Elizabeth untuk pertama kalinya, dia ternyata mampu melakukannya dengan mudah.
Sukses tersebut bukan lantaran pendaratan vertikal yang didukung oleh berbagai macam teknologi tinggi jet tempur siluman tercanggih di dunia, dia juga sebelumnya telah melatihnya ribuan kali kali dengan simulator.
Berbicara di atas kapal induk di lepas pantai timur Amerika, dari lokasi uji coba pendaratan, dia mengaku: ´Saya sangat bangga. Saya tidak dapat menemukan kata-kata yang tepat sehingga saya harus menarik nafas berulang kali. Saya bahkan harus mencubit diri saya sendiri untuk membuktikan saya tidak bermimpi.
The Daily Mail menyaksikan jet AS yang diterbangkan oleh pilot uji Inggris lepas landas dari kapal induk seharga Rp60 triliun dan kemudian mendarat lagi.
Jet stealth supersonik - yang mampu terbang dengan kecepatan 1,6 Mach (hampir 2.000 km per jam) - memiliki kemampuan untuk menghindari pertahanan udara musuh dengan tanda radar terendah sekali pun.
Pesawat canggih ini memiliki kipas angkat di belakang kokpit yang memberikan kemampuan pendaratan lepas landas dan vertikal secara singkat, bekerja bersama-sama dengan putaran jet di bagian belakang seperti dilansir MailOnline.
Cdr Gray, 41, dari Stoke-on-Trent, yang telah melakukan uji terbang pesawat jet tempur di seluruh dunia, berkomentar: ´F35 adalah lompatan kuantum - yang akan mengejutkan dunia.´
"Siapa pun yang ingin berhadapan dengan kami harus berfikir dua kali."
LANDING a fighter jet on an aircraft carrier at sea is one of the biggest challenges a pilot can face.
But when Royal Navy Commander Nathan Gray landed the Lightning F-35B on HMS Queen Elizabeth for the first time, he made it look almost effortless.
For not only was his vertical landing aided by a vast array of high technology in the world´s most advanced stealth fighter jet, he had also practised it several thousand times on a simulator beforehand.
Speaking aboard the carrier off the east coast of America, where the aircraft is beginning flight trials, he said: ´I was immensely proud. I couldn´t find the words so I punched the air several times. I had to pinch myself coming around the corner to land.´
The Daily Mail watched as US jets flown by UK test pilots took off from the £3.1billion carrier and returned to land.
The supersonic stealth jet – which can reach speeds of Mach 1.6 (1,217mph) – has the ability to evade enemy air defences with the lowest possible radar signature.
It has a lift fan behind the cockpit that gives it short take-off and vertical landing capabilities, working in tandem with rotating jet thrusters at the rear.
Cdr Gray, 41, from Stoke-on-Trent, who has test flown warplanes around the world, said of the jet: ´The F35 is a quantum leap – it´s the world beater.
´Anybody who wants to face off with us should be very, very nervous and should think twice.´